Forget pension plan or investments, Nazi memorabilia like Hitler's clothes & Eva Braun's knickers can fund your dream retirement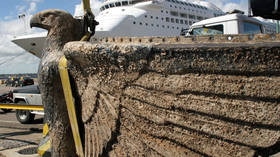 The auctioning off of a Nazi bronze eagle for an expected $26 million has turned the spotlight on the ethics of selling Third Reich artefacts. But it's a booming business where there is serious money to be made.
Uruguay is finally set to auction off its 400kg bronze Nazi eagle. The massive artefact was recovered in 2006 in an operation financed by private investors.
It was lost after a German gunship, the Admiral Graf Spee, was scuttled back in December 1939, having been engaged by Britain's Royal Navy.
However, its price is almost as interesting as its history.
Back in 2014, it was valued at $15 million; now it's expected to fetch $26 million.
The rapid rise in value neatly encapsulates the little acknowledged phenomenon of rising price tags attached to Nazi memorabilia.
Also on rt.com
Jewish human rights group urges Uruguay to sell NAZI eagle to museum to prevent purchase by Hitler admirers
For example, a signed copy of Hitler's Mein Kampf was estimated at $3,200, but ended up going for $21,500 at auction.
And ironically, it appears that some of the individuals who are sustaining this growing market are not Nazi supporters, but the exact opposite.
Last year, Lebanese diamond tycoon Abdallah Chatila – one of Switzerland's wealthiest people – paid $660,000 at auction for several items including Hitler's top hat, his cigar box and a silver-plated edition of Mein Kampf.
He then donated it all to a Jewish organization, explaining: "I did not want these objects to fall into the wrong hands and be used by people with dishonest intentions."
Another example is a pair of Eva Braun's knickers complete with her embroidered initials, which fetched $6,000; the same anonymous buyer also paid $3,300 for her nightdress.
The disparity in value in Nazi items and other war-related memorabilia is stark. Clearly, condition and scarcity have a bearing on price.
But as an example, a Vietnam-era US Army helmet would carry a price tag of around $100, while an aluminium Nazi SS insignia helmet would cost 50 times more.
Hitler's Iron Cross sold for $700,000 but the highest ever price paid for a Victoria Cross is less than half of that.
A simple Nazi flag pole top sold for $560 and an SS Officer's cap earned $5,150. Even a simple Nazi bread bag fetches $220 and a roll of Nazi Edelweiss toilet paper is worth $130.
One expert feels the rise in value of Nazi items was set in motion decades ago.
Experienced dealer Robert Tredwen said: "The collecting of Third Reich memorabilia can be traced back to the end of World War II, when many British and allied servicemen brought back war souvenirs.
The Americans were the biggest looters of Third Reich memorabilia. This, in turn, created an interest that formed the basis of collecting Third Reich memorabilia among other World War II military souvenirs."
Robert – who runs Military Antiques – explained how the ornate designs and build quality of Nazi artefacts has made them more desirable. Their uniforms, for example, were designed by Hugo Boss.
He added: "You must realise that their style and flair for uniforms and insignia was often admired by the British.
Unfortunately, all they had was khaki brown rough BD (British Battledress) to wear and this did not compare to the nicely tailored German uniforms.
Along with this, the collecting of Third Reich memorabilia has meant prices have increased because of the desirability for obtaining these historical items and worldwide interest in them."
This is also a view shared by Dante Gambino of SMG War Relics. He commented: "Back then, if you compare German made items to almost anything allied or from the other axis powers, there is a noticeable quality difference.
So, many of these items have stood the test of time and are still in great shape. This attracts collectors who are looking for fine examples of items.
That's not to say the allies made junk. But the detail just wasn't there. The Germans had the capacity and skill to produce really great-quality items, even before the war."
Also on rt.com
Nazis are VICTIMS of hate crime? Police launch probe into graffiti on monument to SS soldiers, Canadians stunned it even exists
However, there's a constant backlash to the proliferation of Nazi items being sold. Uruguay has been petitioned by the Jewish global human rights organization Simon Wiesenthal Center not to auction the eagle.
Dr Shimon Samuels said: "Both the German authorities and the Wiesenthal Center have taken the position that such artefacts cannot serve a growing extreme right market and white supremacists."
Despite the ethical concerns, there's no lack of interested buyers. Bizarrely, one party even wanted to buy the eagle to use as the centerpiece for the 2022 World Cup in Qatar.
When it is finally auctioned, the money will be split between Uruguay's government and the investors who financed the salvage operation.
However, Nazi artefacts are not allowed to be legally sold everywhere. It is strictly against the law in parts of Europe, including Germany and Austria.
There are no similar rules in the UK and the US, so sellers are able to list their stock on niche websites or attend auctions without consulting the authorities.
But the major auctions houses like Christie's, Sotheby's and Bonhams refuse to trade items connected to the Nazi regime, as do eBay and Yahoo Auctions.
And it's not uncommon for scheduled auctions to be canceled due to local pressure, as happened last year in Belfast where tableware produced for Hitler's 50th birthday was set to go under the hammer.
Belfast Jewish Community chairman Michael Black said: "Nobody is breaking the law with this, but the less oxygen these things get, the better."
Most experts agree that the people shelling out the cash for Nazi gear aren't white supremacists. Some have an interest in history, but others are just keen to make a profit on their investment.
Jerry from Military Collectibles revealed: "None of the people I know or deal with who collect are white supremacists or neo-Nazis in any way. The collectors I know are all students of history, fairly educated, well read, some are re-enactors and the rest like me are basically wannabe museum curators.
Comparing Japanese souvenirs to German is interesting, as I would say a Japanese helmet is 50 to 100 times rarer than a German helmet. But German helmets can generally sell for $500 to $2,500, although the most I ever paid was $6,000.
A Japanese helmet will only bring $500-1,000, around the same as a basic German helmet, which in reality are much more common. But there are more collectors looking for German helmets than Japanese helmets.
One of the freedoms that we have here in the US is to be able to buy and sell, for the most part, whatever we want. You may not agree with it, but that is also a right. Freedom is for everyone or it is for no one."
With investments in turmoil globally in the post-Covid 19 world and interest rates at record lows, Nazi memorabilia appears to be one of the safest financial bets around, almost guaranteed to rise in value.
A lot of people will find that unpalatable and will regard any profits generated as immoral.
Regardless, it looks like the trade is only going to continue, even if it is hidden away from mainstream outlets.
Quite simply, money talks.
Think your friends would be interested? Share this story!
The statements, views and opinions expressed in this column are solely those of the author and do not necessarily represent those of RT.
You can share this story on social media: