Two can play the petition game: monument defenders launch NoChange.org to petition their cause, but it's not a level field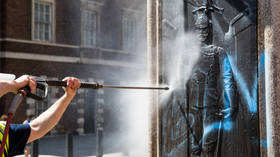 The liberal penchant for garnering signatures to support a cause is now being adopted by their conservative rivals. But it doesn't look like the attention given to each side of the debate reflects the levels of support.
The petition used to be a tool for raising awareness about mundane issues, like dog fouling or speeding on residential streets. Now, it's become the battleground where liberals and conservatives lock horns.
Ever since the Black Lives Matter movement's resurgence in the wake of the police killing of George Floyd in the US, there's been a plethora of petitions to remove statues because of their links to racism and slavery. That movement has been very effective and has received plenty of coverage.
Things came to a head when a riled-up crowd in Bristol, UK hauled Edward Colston's likeness down from a plinth in the city, before tossing him in the river.
The pro-keepers are now turning liberals' petition tactics right back at them, on a worldwide scale. A new website NoChange.Org has sprung up allowing anyone to locate on a map where a petition has been started – and users can click a link to sign a rival petition, advocating the opposite: keeping the statues.
New petition added to our website - please sign!Stop Swansea Council renaming street, statues etc without public consenthttps://t.co/fFsQnhGkBF

— nochange.org (@nochangeorg) July 24, 2020
This leads us all to an interesting fork in the road.
Petitions are intended to give the people a voice, but which people? You can't allow one group to have their say without allowing the other to do the same.
According to a recent poll, there's a 52-44 percent split in favour of removing Confederate statues in America. This was reported by most news outlets.
But on closer inspection, eight out of 10 Republicans are against it, while 85 percent of Democrats support it. Among Independents, the split is 50-46 in favour of removal.
When voters were asked, 43 percent said they regarded the Confederate flag as a sign of "Southern Pride", but this is down from 52 percent in 2015. But US Defense Secretary Mark Esper effectively banned it from Pentagon buildings last week, saying: "The flags we fly must accord with the military imperatives of good order and discipline, treating all our people with dignity and respect, and rejecting divisive symbols."
The situation in Britain is just as polarising, with 71 percent of people against pulling down the statues. Granted, this is not the same as them being orderly removed by the authorities, but even that initiative only received the support of 27 percent of those asked.
Another recent British poll found that 65 percent said it was "unfair to make judgments about people in the past based on today's values" and agreed that "statues of people who were once celebrated should be allowed to stand."
Also on rt.com
Noah Carl: I fear CHARLES DARWIN might not survive this purge of science & history
Whatever your own personal views on these issues, those figures will likely come as a surprise to most. The numbers suggest that removing the statues is a contested call at best, a marginal one at worst. But when the mainstream media report on this, there seems to be an over-amplification of the side keen to see the status quo changed.
If a statue is covered in paint, defaced, damaged or pulled down – then it's pushed for all to see. The other side, who are keen to see it remain, don't seem to get the same traction. Unless it's the widely despised football yobs 'protecting' the statues, whose behavior in many cases is an own goal for the keepers' cause.
NoChange.Org doesn't appear to be that kind of activism. They launched their campaign by placing floral tributes spelling out 'Hero' next to Winston Churchill, Captain Cook and Clive of India – but they were either unnoticed or ignored.
This is not about making excuses for racism or allowing hate speech to flourish.
The debate is, why are the petitions calling for removal of statues seemingly given a higher priority by politicians and state leaders? And will this type of response be afforded to the petitions calling for them to remain?
So far, almost 3,000 have signed to keep Cecil Rhodes in place at Oxford University and 10,000 are backing the McDonough Confederate Soldier Statue in Georgia.
The volume control is what needs modifying. Some of us may not agree with what other members of society think or say, but tolerance is the mark of civilised societies.
It appears as if NoChange, who describe themselves as "a global community dedicated to resisting threats to our heritage," feel they are being overrun and pounded into submission. Petitions have no binding power to enforce anything. So it speaks to the frustration of the pro-keepers, who feel they have to fight fire with fire.
What happens from hereon in to all of these controversial statutes is far from clear, and will likely differ depending on local concerns. But governments need to take the bull by the horns and deal with this in an open and transparent fashion, so the debates and rankles don't keep simmering away – decisions have to be made.
But what is clear is that we need to listen and make sure all peaceful and respectful opinions are considered on an equal basis. The rampant proliferation of petitions suggests this isn't happening.
Like this story? Share it with a friend!
The statements, views and opinions expressed in this column are solely those of the author and do not necessarily represent those of RT.
You can share this story on social media: