Harry Potter sales are booming because kids will NEVER cancel JK Rowling, whatever the trans lobby & woke luvvies say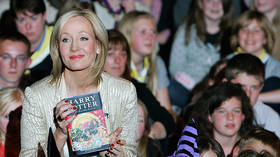 Trans activists and their supporters have made JK Rowling public enemy No. 1 for her comments on transgenderism. But with Harry Potter book sales soaring, they've failed miserably to affect her popularity or earnings.
When those who have made themselves rich beyond most people's dreams off the back of JK Rowling turned against her, claiming offense on behalf of the estimated 0.75 percent of the UK population which identifies as transgender, the aim was to discredit the Harry Potter author and turn her from publishing phenomenon into a pariah.
Seems it didn't quite work out as hoped for them.
How those liberals and luvvies, like actors Daniel Radcliffe, Emma Watson and Rupert Grint, must be gnashing their teeth and tearing out their hair to learn from her publisher, Bloomsbury, that Rowling's Harry Potter books have enjoyed a surge in popularity and sales during the lockdown as both kids and parents explore the world of Hogwarts.
She's been busy during the pandemic lockdown, lifting copyright restrictions on her work so teachers could read them for free to online classrooms, writing a new book, The Ickabog, and winding up those who cannot resist the bait she lays on Twitter.
If sex isn't real, there's no same-sex attraction. If sex isn't real, the lived reality of women globally is erased. I know and love trans people, but erasing the concept of sex removes the ability of many to meaningfully discuss their lives. It isn't hate to speak the truth.

— J.K. Rowling (@jk_rowling) June 6, 2020
Bloomsbury announced that Rowling's works were a "bestseller" during lockdown as the company posted a 27 percent increase in sales of books in its children's division.
The Harry Potter novels form the best-selling book series in history with sales of more than 500 million worldwide, so it was always going to take more than a messy foray into the ongoing gender war to damage either her reputation or her popularity.
The series featuring the adventures of Harry, Hermione Granger and Ron Weasley is generally aimed at nine to 12-year-olds, although plenty of younger children and adults read the books as well.
The younger readership couldn't give a hoot about what Rowling thinks about men who identify as women, or the reverse. They are far more interested in owls, griffins and unicorns.
The books are simply fantastic adventures that everyone, wizard or not, can enjoy, and they will still sell in their millions for years to come.
But for those who have earned millions of pounds and achieved untold fame, the fact that Rowling is still out there, writing more books, making shedloads of money and posting the odd provocative tweet is all too much to stomach. She. Must. Be. Stopped.
Also on rt.com
As a trans woman, parent and teacher, I say JK Rowling is absolutely right; it's child abuse to push kids towards changing sex
Remember, her initial 'crime' was to object to a reference about "people who menstruate" rather than using the word women. She then wouldn't back down in the face of a concerted attack from social justice warriors and the gender brigade, and that drove them nuts.
The Harry Potter trio were joined in their woke outrage by others given a break in Rowling's film adaptations, like Evanna Lynch, who played the popular character Luna Lovegood in several flicks, Eddie Redmayne, who starred in Fantastic Beasts, and others whose acting careers post-Potter have stuttered somewhat.
In an outpouring of stomach-churning luvvie-speak, these young people who are paid to play dress-up and speak in funny voices for a living lectured the world about how their brave, strong trans friends deserved so much more than the slights apparently aimed their way by people like Rowling.
Bearing in mind that estimates put the entire transgender population in the UK at, tops, 500,000 people – less than one percent of the 67 million souls who live here – then the amount of those in the performing arts or have Twitter accounts who count them among friends is astounding.
Chances are if you're transgender, some actor with a huge social conscience is out there just dying to be your new best pal, respect your 'lived experience' and fight your corner on Twitter.
Surely, that must be terribly reassuring, even if JK Rowling isn't one of them.
Think your friends would be interested? Share this story!
The statements, views and opinions expressed in this column are solely those of the author and do not necessarily represent those of RT.
You can share this story on social media: