Joe Biden's green energy has a lot of convincing to do before it topples Trump's fossils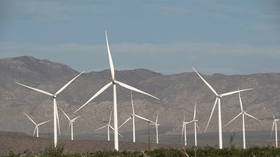 The left is lavishing Joe Biden with praise for his energy and environmental policies. But he still has to reassure those who work in the oil and gas field that he won't abandon them.
Biden, who revised and released his energy plans this week, would eliminate CO2 emissions by 2035 by moving to green energy – a move that accelerates what former President Barack Obama had started in 2009. But Biden's push comes as the US is suffering from high unemployment and a negative gross domestic product. The question now is whether going green is a good policy, and whether it will lift the country out of recession.
"Meeting the threat of climate change presents a once-in-a-lifetime opportunity to jolt new life into our economy," the former vice president under Obama tweeted. "We're going to create millions of high-quality, union jobs by building a modern infrastructure and a clean energy future."
Biden is walking a fine line, and the US oil and gas sector is the perfect illustration of this balancing act. About 145,000 people are employed in those industries, according to Data USA. And, indirectly, those same businesses support millions more jobs – everything from suppliers to restaurants. Oil and gas companies are already suffering from low demand and even lower prices as a result of the coronavirus, causing producers like Chesapeake Energy to file for bankruptcy. Oil and gas workers can't take much more.
Consider the state of Pennsylvania, which is one of the key battleground states in the 2020 election. The eastern section of the state, which consists of Philadelphia, is solidly behind Biden. But the western portion, which incorporates the Marcellus Shale basin, needs to be reassured; shale gas supports 609,000 jobs in Pennsylvania, according to the Global Energy Institute. And if fracking is banned or it becomes increasingly difficult to construct pipelines, the institute notes that would also cost the state $261 billion in revenues.
Make no mistake: Trump will pounce on this. He will make Biden out to be a puppet of the far left and of Senator Bernie Sanders and Representative Alexandria Ocasio-Cortez of New York, who have called for a ban on fracking. And his foot soldiers in the US Congress will echo his sentiments.
"Americans want relief and results – not radicalism," the House Republicans on the Energy and Commerce Committee tweeted.
Already, Trump has tried to reverse at least 100 of the environmental regulations put in place by the Obama administration. That includes proposing to do away with limits on such emissions as CO2 and methane, while also making it easier for coal companies to dump their waste into streams and working to erase Obama's fuel efficiency standards for cars.
What the frack?
To be clear, Biden has never said that he would propose a ban on fracking. He told a television station in Pittsburgh, PA that he had no intention of shutting down fracking. He did say that he would oppose new leases to drill on federal lands, emphasizing that the states are free to pursue the policies that they choose while noting that 90 percent of all such drilling leases are on private land.
"I would make sure … the water is not being contaminated, but I would not shut it down, no," Biden told station KDKA. Fracking involves injecting water, sand and chemicals deep underground to pry loose the shale gas from the rocks where it is held – a process that must be guarded to ensure that it does not contaminate drinking water supplies.
Moreover, it would be impossible to shut down the American natural gas industry. It is now the largest supplier for electric generation in the US at 35 percent. And it is gaining market share at the expense of coal, which is nearly twice as carbon-heavy. Beyond that, the green energy that Biden wants to accelerate is dependent on natural gas. That is because natural gas units are quickly fired up when the sun stops shining or the wind stops blowing.
General Electric, for example, told this writer that 61 percent of its new power plants through 2026 will be fueled with renewables. According to the National Bureau of Economic Research, a one percent increase in "fast-reacting" fossil fuel technologies leads to a .88 percent increase in renewables over the long run.
Back to Biden's energy plan: He would spend $2 trillion over four years – a price to be paid by reversing Trump's tax cuts for corporations. About 40 percent of that money would go to disadvantaged communities, such as those hurting from the loss of coal jobs. Altogether, the clean energy field has lost between 500,000 and 600,000 clean energy jobs since the coronavirus broke out, according to various estimates.
"Clean energy jobs pay above-average wages, offer more opportunities for low and middle-skilled workers, and have lower educational barriers to entry, even in high paying positions," says Climate Power 2020. "In rural areas, the clean energy economy employed over 400,000 people, outnumbering jobs in the fossil fuel industry by more than 82,000."
Americans say they want clean air and clean water. A June poll by the Pew Research Center shows overwhelming support for "alternative" sources like wind and solar. But a sizable number of people don't want to see oil and gas get the shaft. The good news is that the growth of green energy will have a corresponding effect on natural gas. Like it or not, environmentalists have to get their heads wrapped around this fact.
Americans also want jobs. And the question they will face in November is whether Biden's clean energy proposals will produce a better outcome than those positions espoused by Trump, who discounts climate science and who relies on traditional energy solutions. If the past is prologue, renewable energy investments will nurse sick economies back to health – the frame of reference from which Joe Biden now comes.
The statements, views and opinions expressed in this column are solely those of the author and do not necessarily represent those of RT.
You can share this story on social media: