George Galloway: The UK govt's 'almost certainty' of Russian interference is a dead cat for the media's Pavlov's dogs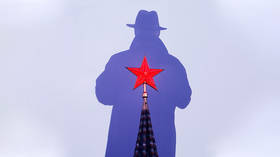 The UK government says it's "almost certain" Russia interfered in British elections. Another step down the "highly likely" path of blaming foreigners for its woes, it shows No. 10's desperation at losing control of the narrative.
Was that the 'Russia Report'? It was treated as such by the Pavlovian British media, right down to the doorstepping of former opposition leader Jeremy Corbyn. Poor Corbyn. Branded as a Czech, an East German and even a Soviet agent for the four ill-starred years of his leadership – right down to a backdrop of the Kremlin being photoshopped behind him on the BBC's flagship 'Newsnight' programme – and door-stepped again in retirement, because it was "almost certainly" "Russian actors" who had "amplified" TRUE information about the Conservatives on the internet.
"Almost certainly" is the new "highly likely." Virtually meaningless, but almost certainly very suggestive. And "Russian actors" is the new "GRU." Evidence- and fact-free, the purpose is to send Pavlov's dogs off running, preferably in the wrong direction.
What is a 'Russian actor'? A Russian citizen? A guy in his underpants in his mother's house in Rostov-on-Don who sits on the internet all day? Or is it supposed to be President Putin taking time out to chill on Reddit? Well, it could be any (or none) of these, but clearly it's meant to mean the latter.
But of course, this was not the 'Russia Report' at all. This was a 'dead cat', produced by a government which knows it can no longer suppress the actual Russia report, after a highly embarrassing parliamentary coup the night before deprived them of control over the powerful Intelligence and Security Committee, which in turn controls the release of the report – suppressed for almost a whole year already.
Renegade Conservative Julian Lewis made a deal with the opposition MPs on the committee to stand against his own colleague, former Cabinet Minister Chris Grayling. Lewis defeated him and was promptly expelled from his party.
When I first encountered new Chairman of the Intelligence and Security Committee Julian Lewis, he was an undercover infiltrator of the Labour Party! Briefly winning control of the Newham North East Constituency Labour Party despite being a known associate of deep-state actors in the Freedom Association – and a Conservative – he joined the Newham Labour Party in London to conduct a rearguard action in defence of then-internally beleaguered Labour Cabinet Minister Reg Prentice, who became the most senior Labour defector to the Conservative Party in history.
The next time I encountered him was in the early 1980s when I walked the four hundred miles from the British nuclear weapons base at Faslane to RAF Burghfield with then-CND leader Monsignor (as he then was) Bruce Kent. Every night the two of us would address a public meeting against the siting of Cruise and Pershing missiles in Europe by President Ronald Reagan. We had no more devoted camp-follower than Dr Julian Lewis! He dogged us every step of the way, and heckled us (politely) every night at every meeting. His mission was simple: keep the NATO flag flying, however inhospitable the surrounding audience. He was good at it.
If the Conservatives thought Dr Julian Lewis had divided loyalties – between the state and the government – now that they have expelled him, they are about to find out just how good he is.
Also on rt.com
Returning to 'highly likely' tactics: Russia rejects UK's 'unsubstantiated' claims of hacking & election meddling 
Because although the attempt will be made to make the Russia report about Russia, in truth it is about the Conservatives.
The 'Russian actors' I'm certain are about to be unmasked as deep-funders of the Conservative cause are not only not agents of the Kremlin – many of them are viscerally hostile to President Vladimir Putin, and some of them are even fugitives from Russia! There may be 'actors' who are 'Russian', but they are NOT 'Russian actors' in the sense the Conservatives and their media will seek to portray.
Many of them were funding the Conservative Party to better feather their own nests in London and the Home Counties, and some of them were doing so to keep themselves and their often ill-gotten gains as far away from Russian justice as they could!
London is full of oligarchs: Russian oligarchs, Saudi oligarchs, Chinese oligarchs, all kinds of oligarchs. As an anti-oligarch myself I have no more affinity with Russian oligarchs than I do with Arab oligarchs. I will not defend them. But I won't defend a British Conservative governing party sucking at their teats either. Especially one which has presided over the worst Anglo-Russian relations in a hundred years.

Think your friends would be interested? Share this story!
The statements, views and opinions expressed in this column are solely those of the author and do not necessarily represent those of RT.
You can share this story on social media: