When there are guns and knives in UK schools, how can ANYONE argue against having police on site to keep kids safe?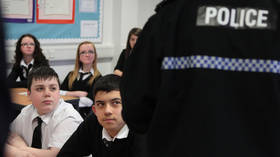 In an effort to reduce the influence of gang culture and rid UK schools of weapons, some have decided to post police on site. But political activists who choose victimhood over safety say this is a bad idea.
When a 13-year-old boy was convicted of assault earlier this month after taking a selfie of himself attacking a police officer who was already grappling on the ground with another man, it occurred to me: Where on earth would the youngster get the idea that this behaviour was okay?
It's the same question that frustrated parents, schools and police are trying to answer as they seek to make it totally clear that this sort of anti-social conduct is simply not acceptable.
So when it was learned that up to 20 officers were to be posted to schools in the Greater Manchester area in a bid to educate kids and build closer relations between communities and those whose job it is to protect them, you might expect the initiative to have been welcomed.
Instead, community groups, the usual rag-tag of liberal identity evangelists and self-appointed warriors for social justice, came out fighting with their paranoia and quest for victimhood tempering their views once again to attack the idea out of hand.
Also on rt.com
Kids as young as FOUR caught carrying knives at UK schools
Local community group the Northern Police Monitoring Project (NPMP) has launched an offshoot No Police in Our Schools campaign, and it is busy attempting to drum up support with other outfits like Kids of Colour as part of its stated manifesto aim to "build community resistance against police harassment, violence and racism."
Quite how this warrants a campaign to undermine efforts to protect children in schools is unclear, particularly when placing police there is considered a positive step in establishing respectful, long-lasting relationships within communities elsewhere, and key to combating the carrying of weapons by schoolchildren, the threat of gang culture and mistrust of law enforcement.
England's Children's Commissioner Anne Longfield made it clear what her view was, saying schools with gang vulnerabilities should have police posted to help combat the problem.
"Those children with most time on their hands – those attending part-time school such as pupil referral units, for instance, or not getting on at home, disengaged and marginalised – are easy pickings for gangs," she said.
In the nation's capital, Met Police Commissioner Dame Cressida Dick followed up on that advice and pledged earlier this year to put more dedicated police officers in schools and pupil referral units in an attempt to divert youngsters away from crime.
Also on rt.com
Knife crime in England and Wales rockets to RECORD HIGH in 2019, and true picture is probably even worse
Undeniably, crime on the streets does have a nasty habit of finding its way into schools.
In the most recent figures reported, for the year ending April 2019 and excluding the Met, the nation's largest force, more than 1,000 weapons were seized from schoolchildren, including knives, knuckle-dusters, machetes, meat cleavers and even guns.
So surely everyone should have welcomed the words of Chief Constable Olivia Pinkney, the National Police Chiefs' Council lead for children and young people, when she said last October that police involvement with – or when based in – schools "helps us to educate young people and explain why carrying a weapon is never the right choice."
Not academic Dr Remi Joseph-Salisbury. He fumed recently, "There should be no doubt that Boris Johnson's election victory was a monumental blow for the anti-racist left" – so you get a feel for where he's coming from.
In a report for the Runnymede Trust think tank, he suggested that the racial composition of teaching staff leading to a lack of "diversity models" was partly to blame for problems in schools, and went on to say that while "panic around knife crime creates fertile ground for an increased police presence," schools should be places of "learning and development."
Also on rt.com
'Insanity mixed with cowardice': UK police memo advises officers to KNEEL to avoid unwanted 'attention' from protesters
And there was a threat to that environment, he wrote, because "several teachers" had warned that a police presence had the potential to disrupt such an environment, particularly for already marginalised students.
That would be the same "marginalised" students that are "easy pickings for gangs," as identified by Anne Longfield, that the police are seeking to help.
To protect the welfare of these vulnerable youngsters, isn't it a far better thing to have them on the same team as those keeping an eye out for them? Positive reinforcement can be used to build healthy relationships that are sustained throughout their education and beyond into adult life.
Surely that's a better way forward than being told by highly politicised adults with a self-determined social justice agenda that they are victims of institutionalised police racism and therefore the natural enemy of law enforcement.
Because that approach will get us absolutely nowhere.
Like this story? Share it with a friend!
The statements, views and opinions expressed in this column are solely those of the author and do not necessarily represent those of RT.
You can share this story on social media: