Why are Northern Ireland's reckless Orange Walks endangering the lives of thousands of people in a pandemic?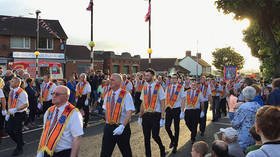 It's marching season in Northern Ireland, when loyalists hit the streets to celebrate defeat of the Catholics 330 years ago. It's ridiculous these divisive marches are going ahead amid the threat of Covid-19.
Sane people are gently easing their way out of lockdown.
They're wondering in what scenarios it's ok to remove masks in public, and pondering if grandparents can travel in a car with their grandkids. Is it safe to return to the office? Do we need to set aside any parcels that are delivered for 72 hours?
Understandably, no one with any sense of responsibility wants to help Covid-19 linger any longer than need be. But not in Northern Ireland, as 'marching season' officially kicks off on Saturday.
First up is the Grove Pipe Band, who'll set off at 2pm from Kurin Road in Garvagh for a two-hour procession. The marches (known as Orange Walks) are a significant part of the culture in the country, and also parts of Scotland. Some of the participants, known as Orangemen, wear white gloves and black bowler hats.
They are commemorating the victory of Protestant King William of Orange over Catholic King James II at the Battle of the Boyne, back in 1690. Without trawling through centuries of history, the marches are notorious for flashpoints. Religious divide was the major cause of the Northern Irish Troubles, which only ended after Tony Blair and Bill Clinton brokered the 1998 peace deal.
Also on rt.com
Feeling apathetic? Brits 'don't care' if Northern Ireland leaves UK to reunite with Ireland, poll reveals
Despite that, there is still division between the protestant and catholic communities of Northern Ireland. For example the vast majority of children attend a school based on religion, so separation is ingrained. There is similar division in Scotland's biggest city, Glasgow, which has a large Irish diaspora, although the local authorities have outlawed marches this year due to the pandemic.
So it's staggering to see the amount of Northern Irish marches planned. According to the official body that regulates them, the Parades Commission, there are 285 marches lined up this weekend alone. Some will last up to nine hours. More are planned for later this month, plus some in August, too.
Legal restrictions mean that each march can only contain 30 people, but that puts at least 8,550 individuals out on the streets. Each application to march has a section where the expected number of supporters is declared. It has to be zero if the full limit of 30 is used by marchers, but any extra spaces can be allocated to supporters.
While that all seems logical in a bureaucratic world, it's not practical. For some the right to hold these marches is part of their core beliefs. Others attend out of pure hatred and bigotry. But the idea that no one will be on the side of the road to watch the marches as they take place is ludicrous.
We all saw what happened when beaches opened with explicit instructions to avoid overcrowding. Either through naivety or bloody selfishness, people ploughed on and occupied every square inch of sand.
Farcical situations ensued, such as at Durdle Door beach in Dorset where the authorities had to marshal everyone together in a tight huddle, against their own rules, because they needed to land a rescue helicopter to pick up injured thrill-seekers who had been 'tombstoning' into the sea.
Also on rt.com
Boris Johnson doesn't want Northern Ireland, & Brexit is his perfect moment to let it slip away
So, to contemplate even allowing an act that celebrates an old, bitter war, which provokes anger and resentment, is surely a recipe for disaster. If supporters do turn up, are the police supposed to arrest them or send them home? Either way, the officers will have to get close enough to risk spreading or catching Covid-19.
How many officers will be needed if thousands spill on to the streets? And if violence occurs – as has happened in the past – healthcare workers will have to deal with cases they simply shouldn't have to.
They and the police have been under severe pressure since lockdown began, having to serve the public under tremendously onerous circumstances. Why should they risk themselves in these circumstances?
We've all seen in America of late how sheer stupidity in dealing with the lifting of lockdown has serious implications, and ultimately causes many more deaths. However, it seems the Orange marchers of Northern Ireland are prepared to be just as foolish as their American cousins.
Across the UK and Europe, people have cancelled weddings, stopped attending church and shelved holiday plans. But the marchers are toying with everybody's safety because they have leverage. And that's the political capital around the marches; they constitute the proverbial hot potato that no official wants to clamp down on.
Also on rt.com
Black Lives Matter protests win medical approval, but not Trump rallies. Is Covid-19 a card-carrying Democrat?
They can be so toxic that intimidation, violence, death threats and cries of human rights abuse – if marches are rerouted - have become commonplace over the years. On top of all this, some involved will be full of alcohol, and that is sure to enflame things even more.
Our snowflake culture means we're too tolerant sometimes. This isn't about religious bias or refusing someone's right to exercise their rights. This is about battling a global pandemic.
If the marchers really cared about their community's image and wanted to represent it with dignity, they'd rip up their applications and cancel the walks.
But by ploughing ahead to celebrate a bloody battle – which took place 330 years ago and that most of them won't know the first thing about – they're risking the lives of the elderly, the weak, pregnant women and anyone who for whatever reason can't repel this evil virus.
Is even the risk of that happening to one single person worth the right to bang a drum and twirl a baton in public?
Like this story? Share it with a friend!
The statements, views and opinions expressed in this column are solely those of the author and do not necessarily represent those of RT.
You can share this story on social media: