The Donald's safe space: Trump's new 'national garden' with statues of 'heroes' is his image of America – walled-off and sterile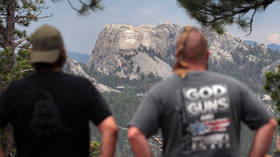 As statues get toppled and defaced around the US, President Donald Trump is creating a safe space for the images of "heroes." It's a projection for the kind of walled-off country he's failed to make of America.
On the eve of July 4, 2020, President Trump signed an executive order"On Building and Rebuilding Monuments to American Heroes." In addition to national parks and national monuments, the US is now set to receive its first national garden, which sounds like a hybrid of the other two categories.
Political standards of beauty
In the words of the freshly minted order: "The National Garden should be located on a site of natural beauty that enables visitors to enjoy nature, walk among the statues, and be inspired to learn about great figures of America's history" (Sec. 3.c.v). The site would be then filled with statues of prominent Americans, ranging from Frederick Douglass to Antonin Scalia and from Harriet Tubman to Billy Graham, whose representations "should be lifelike or realistic…, not abstract or modernist" (Sec. 3.c.iv; repeated in Sec. 4.e). At long last, beauty, whether it be natural or artistic, has been unambiguously defined, set in stone, decreed in an executive order!
What are beautiful monuments, according to Trump-the-art-critic? They are "lifelike or realistic" statues, capable of serving as "silent teachers in solid form of stone and metal" (Sec. 1). Although the heroes to be depicted in this manner include "opponents of national socialism or international socialism" (Sec. 3.c.iii), the forbidden kinds of art invoke precisely the styles that the chief propagandists of Nazi Germany called "degenerate art," Entartete Kunst. What is allowed (and even encouraged) instead is the old paradigm of art imitating life, albeit depicting heroic figures meant to be larger than life.
Plant the garden, build the wall
By comparison with artistic styles, the executive order leaves natural beauty rather vague. If the form of art deemed appropriate to a sculpture is that of a realist or lifelike representation, then the form of the environment suitable for a collection of such sculptures is a garden. It would seem that this is not such a bad choice, after all. Who doesn't like gardens? But, then again, what does a garden really mean? And how is its combination with the nation, as in the national garden, possible?
Trump's ideal of the nation-state is an autonomous political unit, self-enclosed and walled off from the outside world. The garden provides a very similar experience of nature: domesticated, pacified, and at least conceptually walled-in. The art that limits itself to "lifelike figures" is likewise neutralized; it has no resources to ignite the potentially subversive powers of imagination, to instigate thinking and an unorthodox perception of the world. In this way, the three ingredients of the new mix—the nation, the garden, and realistic art—reinforce one another around the mission of watching over and guarding a quickly crumbling ideal, to which Trump has tied his political fate. Needless to say, just as they support one another, so these three ingredients evanesce together, sinking down into the fogs of history.
Also on rt.com
If all 'problematic' statues have to go, then that includes monuments to Gandhi, Marx, Engels and Che Guevara
Trump can't control his country, but at least he gets a garden
The creation of a national garden is, of course, happening against the turbulent backdrop of statues to Confederate leaders and others being toppled across the US. The tranquility of pacified existence that a garden represents is supposed to tranquilize the nation, to impose civil peace through a rigid form of beauty (as much natural as it is cultural) and, where the imposition is insufficient, through the use of force. (A previous executive order"On Protecting American Monuments" threatened those who destroy or desecrate moments with ten-year jail sentences [Sec. 2.a].) The subdual of monstrous plant growth in a carefully cultivated garden and of imagination in art "faithful" to the original matches like a glove the task of quelling social and political tensions—the very task, which Trump incidentally also undermines with his message of a culture war.
Garden-variety heroism
Besides a pacified present, America's national garden would present a sterilized version of the past, of historical struggles and their main protagonists. It would be populated by statues of entrepreneurs and labor leaders, "those who fought for the abolition of slavery" and "pioneers and explorers," etc. (Sec 3.c.iii), all sharing the same physical space and included in the same category of a hero.
And that is the blind spot, as well as a significant load-bearing point, in the current situation: heroism.
I doubt that the archetypal figure of a hero—of an exceptional individual almost single-handedly capable of steering the course of history—is anywhere close to being removed from the American pedestal. What we are witnessing is merely a fissuring of this otherwise monolithic figure. While the American tradition associates it with radical change, Trump's essentially conservative rendering of heroism has to do with guardianship, preserving, protecting, and rebuilding the status quo. According to this view, he would consider himself the biggest hero (no surprises there!), a mega- or a meta-hero called upon to save the heroes themselves from the depths of destruction and oblivion.
Keep America Great! is Trump's garden-variety of heroism. The question, though, is: what is worth keeping, or guarding, when the status quo has shamelessly revealed its lethal underside?
Think your friends would be interested? Share this story!
The statements, views and opinions expressed in this column are solely those of the author and do not necessarily represent those of RT.
You can share this story on social media: