With half the state now deemed a Native reservation, is a crime wave coming to Oklahoma?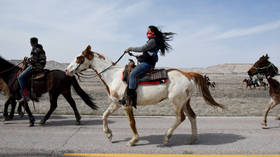 The Supreme Court's recognition of half of Oklahoma as Native land appears to right centuries of historic injustice. It could also make the state a chaotic mess of overlapping jurisdictions where hardened criminals walk free.
In a stunning 5-4 ruling on Thursday, the court found that a massive swath of eastern Oklahoma should be recognized as a Native American reservation. The state's largest city, Tulsa, sits on this land, along with 1.8 million people, of whom only 15 percent are Native Americans.
The court didn't just decide to cede half a state in a fit of social-justice fervor. Instead, and doubly puzzlingly, it ruled in favor of a convicted child rapist, who argued that the state had no jurisdiction to try and imprison him, as his crime – the heinous rape of a four-year-old girl in 1996 – had allegedly been committed on indigenous land.
Also on rt.com
Manhattan next? US Supreme Court opens Pandora's box with ruling that half of Oklahoma is 'Indian country'
Nevertheless, Republican Justice Neil Gorsuch invoked the bloody history of the taming of America when delivering the court's opinion, declaring that "on the far end of the Trail of Tears was a promise," that promise being sovereignty for the Creek Indians over their own land, under an 1833 treaty. As Congress has never said otherwise, Gorsuch and his colleagues decided that the US Government's 19th Century promise was still valid.
The court's decision was a textual one, but one with very real consequences. As well as springing child rapist Jimcy McGirt from jail, it opens the door for 155 murderers, 113 rapists, and more than 200 child abusers to challenge their sentences, according to Oklahoma authorities. Some already have. Among them are Patrick Murphy, who pulled his girlfriend's ex-husband out of his car in 1999, slashed his throat and cut off his genitals, leaving him to bleed out on the side of the road.
Murphy challenged his death sentence and won in 2017, with the Tenth Circuit Court of Appeals ruling that Oklahoma had no jurisdiction to persecute the demented slasher.
The Native population of eastern Oklahoma will no longer be subject to state law, and local police departments, courts, and prisons will have no jurisdiction over them. Until tribal authorities agree to some sort of jurisdiction-sharing setup with state and local authorities, residents of the same area will be subject to two very distinct sets of rules.
In Tulsa, for example, a Native criminal will be arrested and tried by either tribal or federal authorities. As tribal police and courts have no jurisdiction over non-Indians, the white (or black) man will be policed and tried by the same local and state authorities as before.
It's still completely unknown whether Tulsa police would intervene to arrest a Native American, or withdraw completely and leave any incident involving natives to native authorities. Thanks to a 1978 Supreme Court ruling, it's already been established that these native authorities hold no sway over non-natives, meaning a private citizen could in theory stroll onto a reservation and break any tribal law he sees fit to, with little punishment. This situation has already wrought disastrous consequences in North Dakota, where an influx of oil workers triggered a crime wave that tribal police were powerless to stop.
Even where both suspect and victim are natives, tribal courts can only sentence defendants to a maximum of three years in prison.
On the other hand, Oklahoma's newfound inability to police much of its native population may trigger a crime wave. Reservations are already hotbeds of crime that tribal authorities seem unable to control. The rate of violent crime on reservations is double the national average, with rampant methamphetamine use fueling the assaults and killings. Drug use is also twice the national average and alcoholism is common. In addition, Native American women are twice as likely to be raped as their white or black counterparts.
Against this lawlessness, tribal cops can call on the federal government for assistance. However, FBI agents are rarely the first to arrive at a crime scene, and the agency has only around 100 agents assigned full-time to crime in the Indian Country. To put that in perspective, that's 100 agents in 19 offices responsible for 573 tribes on 200 reservations.
These agents may soon have a lot more on their plate. Even though representatives of eastern Oklahoma's five tribes – Cherokee, Creek, Seminole, Chickasaw and Choctaw – promised on Thursday to hold criminals like McGirt accountable for their past crimes, statutes of limitations expire, and crucial witnesses may no longer be around to testify.
Gorsuch wrote an opinion freeing a pedophile who raped a 4 year old and then gave half of Oklahoma away.Cool conservative.

— Cernovich (@Cernovich) July 9, 2020
In siding with his liberal colleagues on Thursday, Gorsuch declared that he was righting "brazen and longstanding injustices over the law." Conservatives saw things differently, and accused him of "freeing a pedophile" and of giving "half of Oklahoma away."
Whether his decision delivers the Indians their promised land, or plunges half an entire state into anarchy, is as up in the air as any of the jurisdictional headaches it's unleashed.
Think your friends would be interested? Share this story!
The statements, views and opinions expressed in this column are solely those of the author and do not necessarily represent those of RT.
You can share this story on social media: