Who will win in the court case everyone is talking about… the world's favourite pirate, or Britain's most famous tabloid?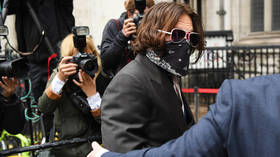 A mountain of graphic details are being laid bare in Johnny Depp's libel trial. But away from the lurid headlines, this is a case that could have a significant impact on the media landscape.
Surreal doesn't cover it. A man who's earned more than $650 million, best known for dressing up as his pirate alter-ego Jack Sparrow, who fired his dead close friend's ashes out of a cannon, is leading the fight against a media giant.
Johnny Depp's case against News Group Newspapers, owner of controversial UK tabloid the Sun, and the title's executive editor Dan Wootton, has begun in London's High Court.
Depp claims libel in a headline from April 2018: "Gone Potty: How can JK Rowling be 'genuinely happy' casting wife beater Johnny Depp in the new Fantastic Beasts film?"
The accusation is that the Sun has falsely painted him as an abusive husband to his ex-wife, actress Amber Heard.
I have no knowledge or opinion if that is true. That's for the judge to decide.
But what's going on in court could have a significant bearing on potential future cases. Will it radically change the landscape for those who feel they've been wronged by the media?
With the trial coming to the end of its first week, it certainly appears a brave move by Depp to go to court, because he has already had to bare all.
In reality, taking on the case was the hardest decision he could have made. If he'd not bothered, the article would have faded away, like so many other celebrity stories do.
He's a superstar and would have carried on living a good life. So throwing himself into the fire is gutsy, particularly when you consider how newspapers can work.
Depp could have let the reports of his alleged misdeeds just linger in the ether, and then fizzle out after a period of time.
Instead, he dove into the court case, even though he would certainly have been warned about how cringeworthy it would become.
He's idolised as a heart-throb, hailed for roles like Edward Scissorhands and Sweeney Todd, and his movies have grossed over $10 billion.
And he is one of the few stars to exhibit that mythical, untouchable quality of yesteryear. You can't ever imagine spotting him in a Starbucks to grab a selfie.
But now he's had that status shattered.
So far in court, there's been a disagreement over whether Ms Heard deliberately defecated in the couple's bed or, as her legal team claim, their pet Yorkshire terriers did.
Also on rt.com
Shia LaBeouf accused of brownface & Halle Berry quits her transgender role… to please woke crowds, we must simply #cancelacting
Depp has claimed she severed his finger and caused him to lose a lot of blood by smashing a bottle of vodka across his hand.
He's been accused of holding her dog out of a moving car's window, threatening to drop it – and vowing to put it in a microwave.
He has denied slapping Ms Heard for laughing at one of his tattoos.
There have even been allegations of Ms Heard having extramarital group sex with Tesla tycoon Elon Musk.
Depp has admitted he'd taken "every drug known to man" by the age of 14.
An email – which Heard ultimately did not send to her husband – referred to Depp as "Dr Jekyll and Mr Hyde" and accused him of paying people "to prevent your feet from having to hit rock bottom."
Pictures have been displayed of lines of cocaine on his table and the actor was revealed to have drunk pints of red wine for breakfast.
A recovering alcoholic, Depp admitted he had "fallen off the wagon" during the marriage.
Depp has also challenged the medical notes of Ms Heard's psychiatrist, which detail him being threatened by her career. He said: "I think she was telling porky pies."
Unedifying is an understatement.
But at least Depp has the courage of his convictions.
Believing himself innocent, he is willingly letting the public feast on the embarrassing inner workings of his chaotic life.
Last week, News Group Newspapers actually tried to stop the trial from happening on a technicality, but it was dismissed.
In my opinion, the company realises that absolutely everything is on the line here, although not financially. If Depp was to win, his top payment would be around £100,000 – a derisory sum for a man of his means. Legal experts suggest each side could spend around £1 million fighting their corner, with the loser likely to be liable for a proportion of the winner's bills.
The Sun has, for many decades, been famed – some would say notorious – for its hard-hitting and controversial content.
There have been some amazing exclusives, but it has also got things badly wrong on occasion and been forced to make some high-profile apologies. Due to its prominence in the media landscape, its words have a profound impact.
However, its trademark style of the 80s and 90s is becoming less popular as social attitudes change. For example, its daily Page 3 topless female picture, once a cornerstone of the brand, was finally pulled from the printed edition in 2015.
The public is now unforgiving of any publication that gets caught out in a web of lies, no matter the context.
So if Depp wins, he'll extinguish the Sun's credibility – the reputation of a newspaper that once sold over four million copies daily, pre-internet, will be in tatters, demolished in a court case by one of the world's most famous people.
Sales are already dropping like a stone, and its last accounts recorded losses of £68 million due to phone hacking damage claims. The wrong verdict could be a knockout blow.
Johnny Depp is fighting for his own reputation, but on a deeper level this is a case about what can and what cannot be printed about any of us.
This is about protecting the right to reclaim your reputation, and it's the noblest of causes – played out in the weirdest of circumstances.
Think your friends would be interested? Share this story!
The statements, views and opinions expressed in this column are solely those of the author and do not necessarily represent those of RT.
You can share this story on social media: