The dream ticket: Donald Trump and Kanye West. Could November become the battle of the black veeps?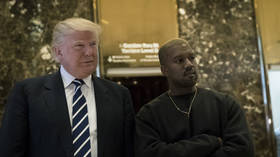 Kanye West says he will run for presidency of the US. His actual chances are around zero, but you know what job he could take? Vice president to the re-elected Trump. Just imagine what a spectacle that would make.
If you believe in opinion polls then President Donald Trump is heading, quite probably kicking and screaming, out of the White House exit door this November.
His campaign desperately needs a kick start, a fillip, a shot in the arm. He has been battered by his stumbling performance on how to handle the Covid-19 pandemic and hobbled by the consequent impact upon the economy.
Protests following the death of George Floyd haven't helped either.
Well, here's an idea – he could dump the faceless robot Mike Pence from his run this November and get the rapper Kanye West on the ticket instead.
Why not? Trump isn't exactly shy of sacking people and he could maybe get Pence to carry the can for the administration's pandemic mess. But, Trump and West? That just doesn't sound right. Think about it.
Also on rt.com
Anti-abortion, anti-vaccine & pro-fun: Kanye West doubles down on White House bid, says he will run for the 'Birthday Party'
Is it any more nuts than the host of the Apprentice TV show actually winning the nomination for the Republican Party and then duly getting elected to be the 45th President of the United States?
Kanye West is rich and famous just like Trump but, far more importantly, Kanye West is black. And Kanye West is young.
It seems pretty certain that Joe Biden will put a woman of color on his ticket, with Senator Kamala Harris touted by many as the most likely choice.
Who actually becomes the VP this time around is way way more important than ever before. And here's why.
Donald Trump is now 74 and Joe Biden will celebrate his 78th birthday a few weeks after the election, which would make him the grandaddy of all presidents if he gets elected.
Old men, it's a sad fact of life, often die on the job. Whoever is vice president could be just a heart beat away from the presidency. Literally.
Kanye West is 43. Kamala Harris is 55. A black man versus a black woman.
Also on rt.com
In an era of fake news, can we trust the MSM polls that show Trump badly trailing Biden in the race for the US presidency?
And it seems that West is mildly serious and is actually going to run this time, under the banner of the Birthday Party "because when we win it's everybody's birthday." He has also managed to simplify the already simple Barack Obama campaign's 'Yes We Can' slogan. West's is just 'YES'.
He aims to end police brutality, return the 'fear and love of God' to schools and appoint Elon Musk to run the space program. His platform is anti-abortion and he says a future Covid-19 vaccine would carry 'the mark of the beast'. And the pandemic was "all about God. We need to stop doing things that make God mad."
"They want to put chips inside of us, they want to do all kinds of things to make it where we can't cross the gates of heaven."
Not exactly pro-science then. Trump and West would be the best of bedfellows. They already get along anyway. West has praised Trump in the past and even wore one of his red 'Make America Great Again' caps when they met in the Oval Office.
Also on rt.com
Bring back Obama! Why Joe Biden's perfect pick for vice president is not a black female, but the former US leader
Trump himself said on Tuesday that West would need to think of his 2020 bid as a 'trial run' for the 2024 election and pointed out that he's actually already missed the deadline for some states.
Oh, and it must be remembered, Kanye West's 10th studio album 'God's Country' is due out soon.
The Trump presidency might be a nightmare come true for many liberal-minded folk and a living dream for his supporters. But, for the neutral observer – few can argue to the contrary – it has been a near four-year long spectacle. And that spectacle might be about to come to an end.
Imagine how 'entertaining' a Trump and West presidency could be?
Think your friends would be interested? Share this story!
The statements, views and opinions expressed in this column are solely those of the author and do not necessarily represent those of RT.
You can share this story on social media: