Lefty Jimmy Kimmel hoped to skewer Trump over use of the n-word. Now the comedian is in trouble for using the phrase HIMSELF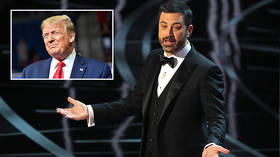 In an interview in 2018, Kimmel hoped that someone would find an elusive tape of the president saying the n-word. Well, an 'n-word tape' was found, but it was of Jimmy. Now the joke (and the woke mob) is on him.
Jimmy Kimmel hating Donald Trump isn't exactly news. Neither is him trying to prove his 'wokeness' to his audience. Oftentimes he will feature long diatribes about how bad he thinks the American system of governance is, and how much he dislikes the president.
Kimmel is a leftist darling because of it, but to those who remember Kimmel's past, it's not as if he's a saint himself. Especially not in the eyes of the 'woke' mob. Like many comedians out there, Kimmel doesn't exactly have a history of being politically correct.
Audio has now emerged of Jimmy Kimmel allegedly using the n-word multiple times during a song he recorded for a Christmas album. This was all the way back in 1996. Obviously to the 'Church of Woke', this is an unforgivable sin.
However, this isn't all that's been in the past for Jimmy Kimmel. Kimmel was recently criticised for his use of blackface in his famous Karl Malone skits on Comedy Central's The Man Show. That show, which he co-hosted with famously anti-PC comedian Adam Carolla, was rife with comedy that in a modern woke lens would be considered worthy of cancelation.
The fact of the matter is that Kimmel is a comedian. He did impersonations of African Americans, and at the time they weren't considered controversial. In fact, they were quite funny at times.
I personally was a big fan of The Man Show, though part of that was likely because of the hot girls bouncing on trampolines. Either way, to any feminist or 'ally' that is out there, this sort of comedy crosses just about every line that they set. Heck, if you sat one of the woke mob in front of a TV and made them watch an episode of The Man Show, they'd likely die of shock.
Also on rt.com
Jimmy Kimmel's non-apology for pushing FAKE NEWS about VP Pence shows partisanship rules MSM
It goes without saying that this situation has a massive tinge of irony to it. There's a good chance that Kimmel could lose his late night TV spot on a show he's hosted for years. Not because of the comedy bits he did, because the network likely hired him based on their success. It's because Kimmel dared to not be appropriately woke even before 'woke' was a term of common parlance. And this comes after wanting to make Trump out to be a hater of black people just because he doesn't agree with the president's politics.
Life oftentimes has its sense of bitter ironies. This is clearly one of them. Jimmy Kimmel courted the far-left woke crowd for ages, portraying his own country as a racist, uncaring place any time that a right-winger was in charge.
What he never understood is that in the Church of Woke, there exists no forgiveness. There exists no redemption. Once you are canceled, it's all over. The world is no longer big enough for you to exist. In this particular case, a white comedian who has used the n-word and worn blackface is simply not allowed.
Maybe next time, Kimmel shouldn't throw stones in glass houses.
Think your friends would be interested? Share this story!
The statements, views and opinions expressed in this column are solely those of the author and do not necessarily represent those of RT.
You can share this story on social media: