Peak woke capitalism: Luxury conglomerate that owns Gucci & YSL appoints Emma Watson as director to promote 'sustainability'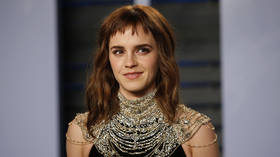 As the world economy tanks, luxury conglomerate Kering, which owns posh brands like Gucci, has appointed actress Emma Watson to chair its sustainability committee. Is this anti-pitchfork insurance or more hollow virtue-signaling?
Watson's appointment was announced on Wednesday in a press release hailing her as "one of the world's most popular actors and best-known activists." Media coverage touted her track record of wearing "sustainable red carpet looks," a phrase that was presumably typed with a straight face, and collaborations with "ethical brands." The media establishment generally agreed that the arrival of the 30-year-old actress was a coup for the conglomerate, whose stable of brands also includes Saint Laurent and Balenciaga.
Also on rt.com
Fred Perry's race-baiting all non-white fashion shoot is the cheapest possible shot at woke publicity
However, the very idea of luxury fashion positioning itself as sustainable comes off as a bad joke. The UN found in 2018 that the $2.5 trillion industry "consumes more energy than the aviation and shipping industry combined," producing 20 percent of global wastewater and sending 85 percent of textiles to the landfill. All the cutesy 'upcycled accessories' in the world aren't going to change the fact that a business model based on buying a new wardrobe every season to keep up with manufactured trends is the antithesis of "sustainable."
That hasn't stopped the industry from wrapping itself in 'green' buzzwords. With the rise of environmental consciousness in the younger generation, largely thanks to deep-pocketed activist groups like Sunrise Movement and Extinction Rebellion, brands must position themselves as "sustainable" unless they want to be shunned by young consumers - or, worse, seen as modern-day Marie Antoinettes crying out for the guillotine. No one needs to know they're not actually saving the planet.
Kering was one of 32 major fashion corporations to sign the "Fashion Pact" at August's G7 summit, committing to a slate of conservation initiatives the document was careful to state were "not legally binding": eliminating single-use plastics, seeking out "more sustainable sources of raw materials," shifting to 100 percent renewable energy, and so on.
But Kering's efforts at reducing emissions have thus far focused on buying "carbon offsets," meaning it continues with business as usual while paying someone else to plant trees - the same model favored by such green stalwarts as Bayer-Monsanto. Money can buy lots of things, but it won't bribe the planet to stay cool.
Appointing Watson to chair Kering's sustainability committee could be seen as a crass quid-pro-quo, since the actress is the celebrity spokesperson for Good on You, an app that rates fashion brands on their sustainability (which seems sort of like rating great white sharks on their table-manners). The app has been somewhat cold to Kering's brands, rating Gucci, Saint Laurent, and Balenciaga "not good enough" or "it's a start." But such green-shaming platforms are the future of environmental activism, at least according to Ingmar Rentzhog, the public relations dynamo behind the Greta Thunberg phenomenon. Rentzhog's own "climate-focused social network," We Don't Have Time, was initially funded with the aim of recruiting 100 million users to pressure political and corporate leaders to act on climate change – to "do for the climate what #MeToo has done for equality," in the group's own words.
It's a bonus for Kering, then, that Watson's history of performative wokeness also runs through the #MeToo movement. She wore a (misspelled) "Time's Up" temporary tattoo to the 2018 Oscars and last year donated £1 million to help found an advice line for women harassed in the workplace. In 2014, she spoke on gender equality before the United Nations, delivering a series of mind-numbingly obvious platitudes that were nevertheless hailed as "powerful" by a sycophantic press. Just last week she managed to weigh in on a "trans-women-aren't-real-women" controversy involving Harry Potter creator J.K. Rowling – whose film adaptations made Watson a star in her breakout role as Hermione Granger – in a way that avoided a direct attack on the author. She presumably means well.
Also on rt.com
Armani piggybacks on #MeToo by likening sexy ads & fashion trends to RAPE… but that's never stopped him from embracing them
But will she keep the baying environmentalist mobs away? As the pool of consumers who can afford the brands Kering owns shrinks, perhaps it makes sense to circle the wagons and focus their energy on celebrity virtue-signaling. And it isn't just Watson who's joined the sustainability club. Kering brand Gucci launched its first "sustainable fashion line" on Tuesday, debuting the collection with a video showing a handful of celebrities including actress Jane Fonda and rapper Lil Nas X - and "environmentalist" David Mayer de Rothschild - building a treehouse in the middle of Los Angeles. Nothing says sustainability like a centuries-old banking fortune!
Experts agree that fashion will be dramatically transformed in the aftermath of the coronavirus crash, with brands seen as "sustainable" being the first (and perhaps only) to recover as consumers reconsider the concept of disposable income. Boston Consulting Group forecast a 30- to 40-percent drop in sales across the industry last month, warning that brands only just now climbing on board the sustainability express are doing too little, too late. If Kering can't get woke, it's very likely to go broke. Time will tell if "woke capitalism" becomes another casualty of Covid-19 or lives on to annoy us with its hypocrisy years into the future.
Like this story? Share it with a friend!
The statements, views and opinions expressed in this column are solely those of the author and do not necessarily represent those of RT.
You can share this story on social media: