Democrats are reportedly HIDING Biden's economic advisers (as well as Joe himself) - and there is a simple reason for that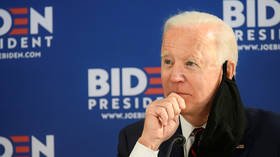 By offering no specifics about his policies or advisers, Democratic presidential hopeful Joe Biden is letting supporters project their hopes and dreams onto his campaign. The strategy works, so long as he doesn't open his mouth.
After drawing outrage from progressives for having Larry Summers – a neoliberal economist who ran the Treasury under Bill Clinton and later Harvard University – advising the campaign, back in April, Biden's handlers have decided to keep mum about his advisers going forward.
Anyone advising Biden has been sworn to secrecy, banned from even acknowledging their relationship with the campaign, let alone revealing the names of other members, according to a New York Times feature on Thursday, titled 'Biden's Brain Trust on the Economy: Liberal and Sworn to Silence'.
"Simply put, do not talk to the press," according to an email from the campaign the Times somehow obtained.
What little is known of Biden's 'brain trust' suggests that it is staffed and overseen by veterans of Barack Obama's administration, which is par for the course in Washington. That raises the question of why the secrecy, since the Obama acolytes are generally proud of their record and can count on sympathetic media coverage to boot.
The obvious answer is President Donald Trump. During the 2016 campaign, he repeatedly hammered Hillary Clinton not just on character ('Crooked Hillary') but on policy positions, such as support for the Trans-Pacific Partnership, for example. By keeping the details of his policies secret, Biden's campaign refuses to present a target for criticism, whether to Trump or to the hard-left activists inside the DNC.
This means Trump's campaign is unable to "define" Biden as election day keeps getting closer, while Trump is being defined by a relentless barrage of mainstream media stories that amount to an in-kind contribution to the Democrats.
Also on rt.com
Transparency and change in the US under Democrats? 'Don't be fooled,' says UN torture expert
From what little is allowed to leak to the public, via the friendly media, Biden is promising not just a restoration of the Obama age, but a wholesale transformation of America into some kind of social and racial justice utopia through "institutional changes" unlocked by the Covid-19 lockdowns and nationwide Black Lives Matter activism. Anyone can read into that what they will, while there is nothing specific to pick apart.
Any objective contradictions in Democrat positions – Biden opposes defunding the police even as Democrat activists across America demand just that – can be handled by spin doctors explaining why words don't actually mean what they mean. Republicans can argue until they're blue in the face that Democrats don't seem to believe in anything except power, only to be silenced by accusations of "racism." From the standpoint of political propaganda, it's pure genius.
The only flaw in the plan is Biden himself, who just can't help making a total mess every time he speaks in public. However hard the friendly press tries to laugh off his "gaffes," the collection grows more extensive by the day.
THREAD.Joe Biden's malfunctions are not a one off occurrence. These malfunctions are part of a scary pattern.Direct quote from Biden: "You know the rapidly rising umm uh in with uh with I don't know." pic.twitter.com/Qn5gUNDUJj

— Steve Guest (@SteveGuest) June 12, 2020
Little wonder, then, that some Democrats believe Biden should be kept out of sight as well, while the media machine does the work against Trump. The former vice president is "fine in the basement" where only two people see him a day, argued Democratic operative Terry McAuliffe on a Facebook stream last weekend. "Let Trump keep doing what Trump's doing," he added.
And if that doesn't do the trick, there's always the military.
Also on rt.com
Whose side are generals on? As Joint Chiefs chairman APOLOGIZES for standing by Trump, Biden confident of military support
The statements, views and opinions expressed in this column are solely those of the author and do not necessarily represent those of RT.
You can share this story on social media: