US Intel complains foreign adversaries are criticising 'hypocritical' America over George Floyd. Duh! So are its foreign friends!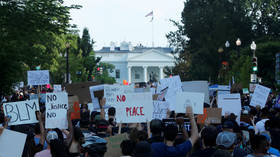 A Washington intelligence report says Russia, Iran and China have been critical of the US government on social media in the aftermath of the death of George Floyd. Must have been a quiet day over at Homeland Security.
Surely there was a time when being a US intelligence officer was hard, and you actually had to go out and find information? Well, these days, as long as you have a Twitter login, you can bash out all the BS reports you need and the suckers in the mainstream media will regurgitate it for you.
This time around, the sucker comes in the form of ABC News, which not only read the report, but then implausibly deemed it worthy of writing about.
Among the string of hard-hitting scoops is the line "China, Russia, and Iran have criticized the United States as hypocritical." That little gem was deemed good enough to be the main subheading, so you know you're in for a treat from the journalistic school of stating the bloody obvious.
After that little scene setter, let's look at some of the text itself: "America's foreign adversaries have flooded social media with content meant to sow division and discord in the wake of George Floyd's death, according to a U.S. government intelligence bulletin obtained by ABC News."
Well firstly, soz America, but your foreign friends are doing it as well, because it's hard to ignore the shit show that is going on over there. Oh, and so are many of your own citizens.
To decode some of ABC's language here, "flooded" just means "posted," and to "sow division and discord" is another way of saying that other countries are reporting things Washington would rather they didn't.
I'm not saying tweets won't bring down a nation (Trump seems to be experimenting with that one), but I think police officers crushing people to death under their knees is more likely to blame.
The ABC report goes on: "These 'malign actors' also appear intent on drawing attention to alleged hypocrisy in the Trump administration's handling of protesters."
Also on rt.com
Guilt and self-loathing pervades the 'we must do better' responses of businesses and institutions over #BLM – it's truly pathetic
Well, that's called journalism – you guys should try it some time.
All this tweeting by those "malign actors," ABC reports, is "part of an ongoing effort to weaken Washington's image on the international stage." Er, not sure any outside help is needed on that front.
The report goes on: "These actors criticize the United States as hypocritical, corrupt, undemocratic, racist, guilty of human rights abuses and on the verge of collapsing."
Maybe that's because the US has shown definite signs of actually being hypocritical, corrupt, undemocratic, racist and guilty of human rights abuses. On the verge of collapse? I think that's going too far, personally. Too many people have too much money at stake to let that happen.
The Homeland Security bods have been keeping up the click counts on RT (thanks guys) and included in their report that "Russian state-run media outlets Ruptly, RT France and Going Underground on RT ... [are] applauding Americans for being 'justified in rioting against the 'corrupt American capitalist system.'" It's just an opinion, but I reckon some of them do feel pretty justified.
And also: "Russian state-media-affiliated social media accounts shared imagery of police responses to the protests, the use of tear gas by the National Guard and called the protests a 'revolt' that 'has reached the front door of the US empire.'" They were reporting the story!! If a country the US likes does this, it's called journalism, but when anyone else does it, then it's trying to bring down the White House.
So to sum up, the intelligence service checks Twitter, leaks it to ABC News, who report it, and people apparently get scared by something other than their trigger happy police force. It's not these so-called "malign actors" I would be worried about if I was in America.

Like this story? Share it with a friend!
The statements, views and opinions expressed in this column are solely those of the author and do not necessarily represent those of RT.
You can share this story on social media: