CNN & Sesame Street's clumsy 'Stand up to Racism' show pushed adult agenda & exploited baffled kids, some hilariously off-message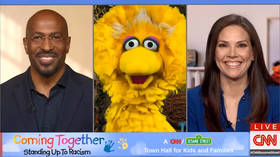 As Black Lives Matter protests continue across the USA, 'Sesame Street' and CNN joined forces to push an adult-oriented agenda using the kid-friendly Muppets in an ill-conceived 'town hall' that shot wide of the mark.
'Sesame Street' used to be all about Bert and Ernie teaching kids the alphabet while Oscar the Grouch sang about how much he loved trash and the Cookie Monster stuffed his face with biscuits, crumbs flying everywhere.
But now it is so convinced of its role as a social educator – there is even a senior VP of social impact at the Sesame Workshop – that it airs shows such as 'Coming Together, Standing up to Racism'. The special, which went out on CNN today, featured the show's characters alongside the channel's stars Van Jones and Erica Hill, pushing pet causes with as much gravity as a man dressed in an eight-foot tall yellow bird suit could muster.
While masquerading as a 'Sesame Street' production, the characters so beloved of children were reduced to linking roles:
"Abby Cadabby wants to say something. Abby?"
"Thank you Mr Van, my friend has a question…"
So any kids with the time on their hands who tuned in to see Elmo & Co would have been left bored and disappointed as one expert after another answered easy questions, but with no real feel for the language needed to engage with their anticipated audience.
This was a show for adults, make no mistake. The puppets are voiced by adults. The scripted questions were written by adults, and the children posing questions were used by adults to push an agenda.
And that agenda wasn't about racism per se, because it wasn't until a question was posed about Asians that racism against people of non-black origins was also admitted as a possibility.
This was a hurried response engineered in the CNN/Sesame Street Department of Virtue Signalling as a knee jerk reaction to the protesters taking to the streets across the States. Any reaction, preferably involving kids and Muppets, was deemed necessary.
Also on rt.com
Education or propaganda? Nickelodeon makes children watch 9 MINUTES of 'I can't breathe' BLM commercial, polarizing parents
It's just that the ugly issue doesn't really lend itself to being addressed by Elmo, a fluffy little monster who annoyingly refers to himself in the third person and who needs sticks to move his hands.
So instead, the heavyweight bores were rolled out. We endured a lecture on white privilege, were told we should read books on social justice to two-year-olds, and had a brief skirt around biology as we touched on skin hue and the role of melanin and Vitamin D. Then we had a song.
That came from Keedron Bryant, a 12-year-old with a YouTube account who belted out his gospel-tinged 'I Just Want To Live' number, currently enjoying more than three million views after going viral and being "liked by Barack Obama" – markedly more hits than the 39 previous videos on his account.
His song is heartfelt and he can hold a tune, but the line "Every day, I'm hunted as prey" made me stop. Hunted as prey? Really?
Then there was Kyle, a six-year-old who announced that he wanted to be a neurosurgeon and wondered if there was some way he could operate on a racist's brain. The expert responding said that we all needed to work on minds and hearts, along with policy, but Kyle would only have heard "hearts." Okay, hearts, brains, what's the difference – where do I prep for surgery?
They went on. Cute brother and sister combos, precocious, parent-prepped kids and even those that clearly didn't read the email from 'Sesame Street' and went completely rogue.
Anders, 13, from New York, said he was lucky he lived in an area where he suffered no discrimination and hoped everyone else could be like that. You could hear the sound of a jaw dropping before the producer must have screamed, "How the hell did that kid slip through?"
Then, after nearly an hour of earnest children, their anxious parents, and head-nodding experts with their out-of-sync Skype links, one brief clip undermined the whole exercise by showing two young boys, Maxwell and Finnegan, spotting each other in the street and running to meet up arms outstretched, full of sheer joy at seeing one another.
It needed no commentary. It didn't need the introduction to their parents that followed. It was simply one little black boy and one little white boy sharing a bond, that they created themselves out of nothing into a friendship that, when it manifests itself in public, brings tears to the eyes of witnesses.
That unscripted moment sums up the best of children and also demonstrates why such a desperately apologetic piece of work loaded with slogans and platitudes like this show is ultimately a waste of everyone's time.
And in case you are wondering, there were no serving policemen or white males given any sort of speaking roles at this particular town hall. Bearing in mind it is the white community which was being targeted here over racial intolerance, CNN might have thought it balanced and fair – there's that word again – to do so.
But clearly not. Not arguin', just sayin'.
Think your friends would be interested? Share this story!
The statements, views and opinions expressed in this column are solely those of the author and do not necessarily represent those of RT.
You can share this story on social media: