The Times They Are A-Wailing. The NYT's descent into civil war over 'Send in the troops' op-ed shows what's wrong with MSM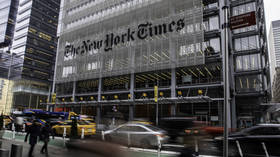 The liberal paper has turned itself inside out after publishing a piece by a Republican calling for soldiers to combat the riots over George Floyd's murder. You'd think opinion writers could cope with, er, different opinions.
The New York Times has apparently decided to very publicly disappear up its own editorial fundament following an op-ed by a US Senator. Tom Cotton, a Republican from Arkansas, penned a piece for "the paper of record" entitled 'Send in the troops'. In it, he called for the military to be deployed in cities across the United States to quell civil unrest and looting that has sprung up following the protests over George Floyd's death.
This is a position backed by Donald Trump, who retweeted Senator Cotton's op-ed in a complimentary fashion, which is not a common occurrence for content on the New York Times' op-ed page.
So far, so mundane. An elected representative has an article published in a mainstream newspaper expressing an opinion held by the leader of his party, the president, and a good number of American citizens. One would expect this to be an average day for a news organization, but no. The publication of this article has plunged the newsroom of the Times into internecine warfare and there has been much wailing and gnashing of teeth at 620 Eighth Avenue.
Journalists at the publication claimed that publishing this article "put them in danger" (by contrast, presumably the violence and widespread looting in New York City makes them feel perfectly safe). More than 800 staff complained and 160 threatened to walk out over the article and now the spineless imbeciles who run the place have now entered into an embarrassing climbdown. They have declared that the article "did not meet their editorial standards" and that they would be "reviewing their processes."
This supine action should not be misconstrued for editorial integrity or recognising past errors. They are just caving in to the mob that they helped create. What should really be the story here is the astonishing hegemony of views at the paper; more than 800 complaints over one article by people who are either journalists or work there is staggering.
Before the public climbdown, they published an article by Michelle Goldberg criticizing the publication of Cotton's article in which she called him and the president "fascists." In it, she praised her colleagues for tweeting, "Running this puts all black people in danger, including @nytimes staff members," saying "that took courage." Pull the other one. Saying "Republicans are racist" in the New York Times newsroom is about as controversial as shouting "Red Sox suck!" at Yankee Stadium.
Perhaps as objectionable as the Times' pathetic bowing to the mob is the disingenuity of this whole sorry affair. They were entirely right to publish Senator Cotton's article, but while they may not have anticipated a staff backlash, the editors knew full well that the piece was likely to provoke outrage amongst their liberal audience.
Indeed, they published it with this very intent in mind: they wanted the rage clicks, the hate shares, the arguing online and on the news networks. They equally knew they could guarantee more content and clicks with a follow-up article like the one mentioned earlier by Michelle Goldberg. All of that is fair play and that is where the dispute should have ended, one position put forward, then the other, debate had, and readers can make up their minds (as if they hadn't already).
Where they started to go wrong was when the op-ed editor, James Bennet, published an op-ed about why he published the op-ed. Aside from this being self-involved to the point of parody (do NYT journalists always just write for each other, rather than for their customers?), this did not assuage the rancour of the mob. It only meant that they smelled blood.
He wrote that "a reader encountering an atomized argument they profoundly disagree with can feel betrayed and appalled." So what? I imagine many Republicans are regularly appalled by what lefty writers publish in the op-ed pages of the New York Times and Mr Bennet never feels the need to apologize for offending them. None of the scores of pieces published in recent years lecturing white people on how guilty they should feel for being born white prompted any kind of mea-culpa, for example.
Also on rt.com
US police union disregards attack on Australian TV crew, says reporters were 'INDISTINGUISHABLE' from George Floyd protesters
I would accuse the New York Times of patronizing its audience by thinking that they couldn't handle reading an article in which they disagreed with every word, except the outcry seems to be showing they aren't being patronized, as a good many of them seem genuinely unable to cope.
Apparently, the way Cotton's views should have been expressed, so as not to offend NYT readers' sensibilities, was to report it in a news story, "in context." But we all know the way this "context" would be provided. Cotton would have been described as a right winger or a fascist and most of the article would have been devoted to listing the statements of those criticizing him. "Republican Senator provokes outrage..." is the "context" that would have been provided.
One lone voice of sanity in the newsroom appeared to be opinion writer Bari Weiss. She tweeted: "The civil war inside the New York Times between the (mostly young) wokes the (mostly 40+) liberals is the same one raging inside other publications and companies across the country. The dynamic is always the same."
She added: "Here's one way to think about what's at stake: The New York Times motto is 'all the news that's fit to print.' One group emphasizes the word 'all.' The other, the word 'fit.'"
This assessment of the situation seems patently obvious from the Times' actions, but she was quickly slammed on Twitter by other staffers at the paper, who apparently thought this was a good way to refute claims of a "civil war." Is a self-awareness administered on arrival at the paper or do you have to have already had one to get through the interview process?
The most worrying thing about this whole display is how readily journalists have equated Senator Cottons' article with violence. More than any other group, journalists should support the argument that the answer to bad speech is more speech. Op-ed writers in particular should welcome the challenge of refuting an argument, not blasting the fact it was made in the first place.
A cursory look through the op-ed page on RT will show you many wildly differing views amongst my fellow writers, but none of us would dream of suggesting that another shouldn't have been allowed to make their argument known. If that statement is true of a scribbler like me, surely it is even more important that we know the real views of an elected member of the United States Senate? It is a dire state of affairs when the New York Times feels more able to (rightly) stand by allowing a member of the Taliban to write a piece but cannot muster a defense of a Republican senator.
The irony of it all being that Senator Cotton is loving all of this, as is almost certainly his boss in the White House. With a few hundred words, he has managed to make the highest profile liberal paper in the United States eat itself.
James Bennet, the op-ed editor, is even claiming he didn't read the damn article before it was published, preferring to appear incompetent rather than guilty of wrong-think. It looks like Don Henley was right: everything really can change in a New York Minute.
Think your friends would be interested? Share this story!
The statements, views and opinions expressed in this column are solely those of the author and do not necessarily represent those of RT.
You can share this story on social media: