Goodbye Lenin? Ecuadorian president delegates powers as country slips further into chaos amid Covid-19 disaster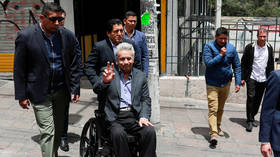 Ecuador's unpopular leader Lenin Moreno has never been so politically isolated, and might be readying his own departure as anti-austerity protests grow in the middle of the Covid-19 pandemic.
Thousands flooded the streets of Ecuador's main cities on May 26 in spite of strict Covid-19 lockdown measures that include a 2pm curfew. The crowds weren't out to defy the efforts to deal with the pandemic, but rather to protest the attempts by Ecuador's government to use the crisis to carry out an austerity program that mirrors one they had been forced to back down on just months ago.
President Moreno recently announced a series of cuts including slashing university budgets, scrapping seven state companies, liquidating a state-owned airline and the closure of the Andean nations embassies. The $4 billion package is strikingly similar to the one presented by his government in October last year, setting off weeks of unrest that left eight dead and over 1,300 injured.
From the outside, the indigenous led protests appeared to be the first signs that the country was edging closer to a precipice, with seemingly irreconcilable differences between a government determined to roll back its spending and its regulations and a population unwilling to shoulder that burden.
But this was a death foretold, albeit a slow and painful one, for those living the disintegration of a country that had been lauded as a successful model of development just a few years ago.
Almost immediately after winning the 2017 elections on the ticket endorsed by his leftist predecessor, Moreno has been steadily working to not only dismantle the programs and institutions created by Rafael Correa's Citizen's Revolution, but the state itself. He has dutifully parroted the neoliberal mantra of a minimalist state as the path to prosperity, despite the social and political instability that the nation was mired in during the 1990s and the first half of the 21st century which were a direct result of these types of policies.
Moreno and his allies, including those in the traditional right wing parties of the country, have continually alleged that overspending and corruption under Correa have made their economic and fiscal policies necessary, including the signing of loan agreements with the International Monetary Fund that forces the government to curb deficit spending.
The corruption allegations have also been the justification for Moreno's witch hunt of his former comrades, including his running mate, Jorge Glas, and Correa himself.
Having already jailed Glas under dubious proceedings and shaky evidence, and with his second pick, Maria Alejandra Vicuna having been forced to step down after claims surfaced that she was receiving kickbacks from her subordinates, Moreno is now on his third vice president, Otto Sonnenholzner.
Moreno appeared to have been grooming the previously unknown Sonnenholzner to take his place in the coming elections, having assigned him the task of leading the government's response to the Covid-19 outbreak which has put the country atop the list of deaths per capita in the region.
But as the brutal government response to the pandemic exacerbated rifts with the elites and political class on the coast – where Sonnenholzner is also from – Moreno could be ready to break with him also, and might even be readying his own departure.
Through a decree, Moreno has now delegated his responsibilities to his presidential secretary, thumbing his nose at both Sonnenholzner and the constitution (which says only the president can hold certain responsibilities like leading a cabinet).
Ecuador's US puppet "president" Moreno just delegated his powers to the general secretary of his cabinet.The regime denied this is significant, but he in effect gave away his powers, while remaining symbolically as president (and collecting his paycheck)https://t.co/i1yQ5lbCX8

— Ben Norton (@BenjaminNorton) May 25, 2020
The start of what could be another series of mass demonstrations combined with the ongoing pandemic seem to be an odd time for a sitting president to shirk responsibilities. But Moreno is no stranger to disappearing at critical moments, having left the capital during the October uprising and being largely MIA at the start of the Covid-19 pandemic in March.
However, never before has the unpopular Ecuadorian leader been so politically isolated, with his own parliamentary bloc now distancing themselves from the austerity package at the same time as his schism with right-wing leaders widens.
From even before he took office, rumors had circulated that due to health complications stemming from his paralysis, Moreno might be unable to finish his term – and now Ecuadorians are pushing hard to make this a reality. The protests were preceded by cacerolazos across the capital, and #leninChao – or Goodbye Lenin – has been trending for days in the county.
As many other corrupt and unpopular leaders, officials and businessmen from Latin America have done when their jig is up, Moreno might look to flee to the United States, possibly to join his daughter Irina who works in New York at the Ecuadorian Permanent mission to the UN.
Having faithfully aligned with US foreign policy objectives, it would be unsurprising to see Moreno join the likes of Peru's Alejandro Toledo and former Bolivian leader Gonzalo Sanchez de Lozada, who have also sought refuge in the north.
Those who would be best poised to inherit the mess in Ecuador include the very same people who oversaw financial ruin and turmoil in the 1990s and 2000s. It is unlikely that they will diverge from Moreno's program, even an austerity package that is nothing short of a powder keg.
Think your friends would be interested? Share this story!
The statements, views and opinions expressed in this column are solely those of the author and do not necessarily represent those of RT.
You can share this story on social media: