The joylessness of sex: AIDS caused a fear of intimate contact and Covid-19 could turn us into a world of w**kers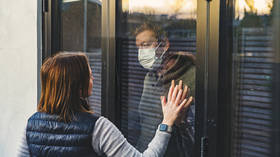 Coronavirus has conditioned us to social distancing. But we mustn't let it affect our bedroom behaviour in the same radical way AIDS did in the 1980s, and make us afraid of sex.
Bookmakers predicted that the lockdown would lead to a baby boom, but according to Laxman Narasimhan, the owner of Durex condoms, people are having less sex because of the coronavirus crisis. Is Covid-19 killing sex?
Epidemics of viruses have a nasty habit of not only impacting on our sex lives, but also of fostering a climate where we become scared of coming into physical contact with other people. As one psychotherapist, Dr Dana Dorfman, observed, "Humans are contaminating each other with something invisible, and we're being conditioned to not let anything penetrate us."
Also on rt.com
Robot sex dolls: The real winners in the coronavirus pandemic
What's at stake is not simply the fear of penetration. When people say 'no more hugging' they are not simply joking; they are also sending out the signal that any form of close physical contact is a threat to human health.
Some social scientists warn that the coronavirus pandemic "could spell the end of hugging and handshakes for years." Is it any wonder that some psychologists are concerned that fear around hugging and touching could be the long-term consequence of Covid-19?
Risk-averse fears
In the aftermath of a pandemic, when social distancing has become normalized, there is an awful danger that sensible precautions about managing human relations will give way to risk-averse fears toward physical contact and sexual relationships.
It is worth noting that anxiety about sex and physical contact pre-dates the current pandemic. The AIDS epidemic of the 1980s led to an explosion of concern about the health risks of sexual behavior. Public health messaging did not simply confine itself to offering advice for protecting sexually active people from becoming infected with HIV and other sexually transmitted diseases. It also communicated the message that by definition, sex with another person was an inherently dangerous enterprise.
Also on rt.com
Slavoj Zizek: Can Covid-19 remind us that SEX is an important channel for sprituality?
Since the AIDS epidemic, public health ideology has encouraged forms of safe sex activities that minimize physical contact between people. From this standpoint, masturbation is portrayed as the gold standard form of sexual activity. Phone sex, cybersex and sexting are also promoted as forms of safe sex.
Somewhere along the way, in the post-AIDS world, sex education has become risk-averse to the point that what it advocates negates the joys of physical intimacy.
Lack of enjoyment
The British Association for Sexual Health and HIV's guidelines on safer sex convey the impression that what's at issue is not an experience of pleasure, but something akin to a public health intervention. It is all about reducing the risk of infection rather than enjoying sex. So after reading the guidelines, if you still want a bit of fun, you are advised to consider "having non penetrative sex (such as body rubbing and mutual masturbation)."
Since the outbreak of the current pandemic, the post-AIDS diseasing of physical contact has become more and more prescriptive and expansive. "You are your safest sex partner" is the stark advice contained in the New York City Health Department's official guide to sex. Almost imperceptibly, the meaning of a partnership has become reconciled with the behavior of a physically isolated person and so the relational aspect of sex becomes an unnecessary option.
What I fear is that the transformation of sex into a medical matter in the post-AIDS era provides the precedent for the development of similar attitudes toward touching. It appears that society is in danger of becoming influenced by experts whose alarmist statements undermine our capacity to weigh up the risks we face.
Also on rt.com
Quarantined & lonely? Find a 'SEX BUDDY,' Dutch government advises
In fact, some experts are not only discouraging us from touching each other, but also warn us from touching ourselves! On BBC Radio4's World At One and in the mainstream press, Professor Susan Michie, the director of the Centre for Behaviour Change at University College London, has been lecturing the public about not touching their face. Her mantra is:"Do wash your hands, do stand 2 meters apart – but don't touch your face!"
I am all for protecting ourselves and others from the threat posed by Covid-19. But we are also human beings and touching one another and having sex is an essential part of our humanity. That is why when the current pandemic is over, we must re-learn the art of physical intimacy and reduce the physical distance between us.
Thankfully not all public health experts fear sex. "Sex is good. Sex is healthy," stated Soren Brostrom, director general of the Danish Health Authority last month. He added "we are sexual beings, and of course you can have sex," even during the pandemic.
Thank God for a bit of common sense!
Like this story? Share it with a friend!
The statements, views and opinions expressed in this column are solely those of the author and do not necessarily represent those of RT.
You can share this story on social media: