Washington Post suggests Trump would REJECT a lost election… just like it's been doing for YEARS!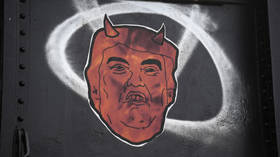 The Washington Post has warned readers they should "prepare for the possibility of Trump rejecting election results," should he lose in November. For a paper that's spent four years rejecting Trump's election, that's pretty rich.
"We don't know whether Trump will be reelected," the Post's contributor Brian Klaas wrote on Thursday, going on to suggest that should the president lose to Joe Biden, he will likely claim to "be the victim of a rigged election and a 'deep state' plot."
Klaas, who says he's studied rigged elections in the world's banana republics, claims that Trump's rants about alleged voter fraud in the 2016 election, his tirades against the "deep state" supposedly working to undo his presidency, and his supporters' fondness for guns all mean that he won't hand over power gracefully should Biden get the upper hand in November.
In short, we should worry that he'll cling to power like a Zimbabwean despot.
If Trump loses, there's a real possibility he will reject the results, absurdly claim it was rigged, and say he's the victim of the "deep state." And he will send that message to some people who are heavily armed, which could prove deadly. My column: https://t.co/YSoh8IApUs

— Brian Klaas (@brianklaas) May 14, 2020
What a breathtaking lack of self-awareness. While the Post wonders whether Trump might reject a hypothetical loss, the Post's journalists have spent four years rejecting his actual win in 2016.
A month after Trump's inauguration in 2017, the Post changed its masthead to read "Democracy Dies in Darkness." Note that Democracy didn't die. It merely didn't go the way the paper's editors wanted it to go.
As Special Counsel Robert Mueller's 'Russiagate' probe picked up steam in the coming months, the Post ran more than 7,000 articles on "collusion." It didn't matter that Mueller found no evidence of this collusion; the paper simply changed its tack, and implored readers to "read between the lines" to find the mythical conspiracy.
If it wasn't the Russians who handed Trump the presidency, it was "nonvoters," "whites," the outdated electoral college, and "collective narcissism," among a laundry list of excuses and bogeymen. From 'Russiagate' to impeachment, the Post proclaimed every new effort to remove Trump from office as the beginning of the end. Columnist Jennifer Rubin has declared "the walls are closing in" on Trump's presidency for three years straight. They've yet to budge.
With Russiagate dead and impeachment forgotten, the Post's writers have wandered further into delusion in recent months. Columnist Max Boot in particular has pumped out some truly pathetic pieces of fan fiction. "This wouldn't have happened if Hillary Clinton had won," he whined in March, as Trump struggled to respond to the growing threat of the coronavirus pandemic. Describing how he "wept in anger and frustration" over how Madam President wasn't sitting in the White House, Boot went on to pen another tantrum two weeks later, literally titled "The worst president. Ever."
Boot is a longtime warhawk who's in all likelihood just upset that he didn't get the war in Syria that Clinton promised on the campaign trail. However, he's not the only Post columnist to seek refuge in alternate reality.
Last month, politics professor and Post contributor Daniel Drezner wrote a hypothetical account of "President Clinton's" handling of the Coronavirus pandemic. Based on nothing at all, Drezner concluded that Clinton would have reduced daily infections down to 100 a month ago and saved Italy and Spain from the ravages of the virus, all while Republicans clamored for impeachment.
The hypocrisy on display is mind-bending, and should be apparent to all but the most blinkered 'Orange Man Bad' readers. But rather than asking whether Trump will nuke the moon if he loses to Biden, the Post's editors should be asking what they'll do if he wins again.
By all counts, it's a strong possibility. Trump is currently beating Biden by seven points in 15 battleground states. National polls say otherwise, but support for Biden has been steadily declining among crucial youth voters. Confined to releasing rambling videos from his Delaware basement, Biden's 'digital campaign' has been declared "a disaster," even by liberal news outlets.
If things go Trump's way, the Post will need to offer more than another four years of denial and delusion.
Like this story? Share it with a friend!
The statements, views and opinions expressed in this column are solely those of the author and do not necessarily represent those of RT.
You can share this story on social media: