Netflix's 'Tiger King' is putrid & amoral, little wonder it's become a genuine TV phenomenon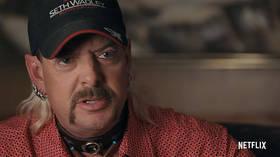 Commentators have poured scorn on the TV show charting the appalling exploits of jailed tiger breeder Joe Exotic. But its tales of outrageous excess form an ideal parable for the sorry state of US society in 2020.
Nobody ever went broke underestimating the taste of the American public. So said celebrated US journalist H.L. Mencken. In that sense, 'Tiger King' is a triumph for Netflix. 'Tiger King: Murder, Mayhem and Madness' is one of the most-watched reality series in the history of the planet.
The Tiger King of the title is a gay, polygamous – he has three husbands – 'zoo' owner who breeds tigers and presides over a dysfunctional Deliverance cast of characters.
There are felons, cult leaders, polygamists, wife abusers, animal abusers and malignant narcissists. Joseph 'Joe Exotic' Maldonado-Passage is the self-styled Tiger King.
Also on rt.com
Netflix's 'Hollywood' is a liberal fantasy that erases history and undermines progressive goals
He is currently serving a 22-year prison sentence for, among other offenses, trying to arrange the assassination of his nemesis, an 'animal-sanctuary' owner in Florida, one Carole Baskin.
His business allies include Bhagavan 'Doc' Antle, who allegedly coerces teenage girls into working 100-hour weeks. There's no medical or dental care, it seems, but there is a perk. You can reach his "level of enlightenment" by sleeping with him. The self-styled yogiraj in Myrtle Beach runs what appears to be a tiger-themed sex sect.
Appalling animal abuse
Joe Exotic uses the tigers to boost his ego. He crossbreeds lions with tigers. He sells and trades tigers and uses them as props and pawns. When he tires of them, he shoots them in the head. The appallingly cruel treatment these magnificent creatures are subjected to will make you gasp in horror.
But the so-called animal rights people featured in this docuseries are just as reprehensible as the exotic zoo owners and the folks who pay to pose while they are pawing a tiny tiger cub. Carole Baskin is guilty of the same cruelty as Joe Exotic. Yanking a tiger cub from its mother to "acclimate" it – as she calls it – to be mauled by humans and possibly contract coronavirus is to condemn it forever.
The taboo quality to the breach of natural laws separating humans and big cats apparently implies strength, virility and power. That is why the dating app Tinder features men who use a picture of themselves with a tiger as an avatar. This cliched trope has inspired PETA to urge #NoTigerSelfies.
Rewriting the rules for TV
'Breaking Bad' was Shakespearean. Oscar winner Sir Anthony Hopkins used that adjective when he congratulated the writers and the cast. But 'Tiger King' is a cultural Rubicon.
It proves conclusively the public sphere has degenerated into a stage for sensational displays of matters that people once would have considered unfit for public appearance.
Also on rt.com
'A problematic white savior flick': Starved & desperate woke mobs target Netflix's 'Extraction' starring Chris Hemsworth
The trend toward extremism is pandemic. The more unfathomable and ethically compromised, the better.
In search of virality, the more outlandish and vulgar, the greater the likelihood of spinning three lemons on the fruit-machine. Joe Exotic has attained cultural legend status. Hollywood is agog as to who will play the recidivist in the mini-series (The latest bets are that it will be Nicolas Cage).
What bemuses me is the snobbery that 'Tiger King' has unleashed. Why are people horrified?
Today's world is characterized by a ferocious competition for 'moral authority'. In today's media-driven society, even the most extreme behaviors, as well as bizarre, delusional declarations, are given equal rank with truth and beauty.
When people want to praise themselves, they describe themselves as 'non-judgmental'. For them, the highest form of morality is amorality.
Also on rt.com
The assassination of entertainment: 'The Last Of Us 2' leaks are part of a bigger problem
There is a ready acceptance of the grossest deformities of honesty. Society is now the arena for competition of self-proclaimed, aggrandized moral rectitude.
Moral superiority
So, the aggrieved attitude toward 'Tiger King' is adjacent to ridiculous. The moral superiority is conspicuous.
The media's disdain for the dentally-challenged, heavily tattooed and leopard-print-wearing characters is hilarious.
One scribbler writes about how he finds it wretched "the way Tiger King has managed to define a cultural moment in which empathy and communitarianism are so crucial. America right now, in the midst of a pandemic, is reliant on collective behavior, adhering to rules, and taking sensible precautions to avoid danger. Tiger King is the TV equivalent of licking the subway pole."
A female writer drones on about the existential loneliness that exists for "those of us who couldn't bear more than a couple episodes of Tiger King. We are all trapped inside our homes …"
Also on rt.com
'Sex scenes will be interesting': UK govt gives film & TV industry green light to restart WITH social distancing rules
She sneers openly about her neighbor, who she says "like the rest of the country, has been sucked into the sordid, rubbernecking allure of the Netflix true-crime docuseries about big cats and the human trash who keep them."
Human trash?
What we are seeing is class tourism at full throttle. There is a perverse pleasure in watching the customs, mannerisms and behavior of those of a lower social class. It makes one 'feel better about oneself'.
Society has allowed 'human trash' to grow and flourish.
The idea of outrageous exposure was once equated with shamelessness, impudence and impropriety. Now it is celebrated as the premier agency of 'enlightenment' and 'liberalism'.
The mean (sic) stream media, as our self-appointed moral authorities, sanction – nay adore – 'any and all' behavior.
Traitors are stoutly defended, and sedition is a praiseworthy lofty idealism. Impudence is treasured. When the Speaker of the House Nancy Pelosi theatrically tears up the president's State of the Nation speech as he is delivering it, it is not only impudent, it sends a clear message of scorn to the institution of government.
American society is irredeemably broken. Just as in 'Tiger King', there are no heroes. There is no shared sense of the sacred. It is this shared sense of the sacred that enables us to recognize a culture and to understand it.
What a people bows before tells us what it is. In the Tiger King world, money isn't everything. It's the only thing.
The most-talked about scene on social media was when animal keeper Saff, a transgender man, gets his arm mauled by a tiger. Joe Exotic's bizarre response is to throw on an EMS bomber jacket and then walk into the crowded gift shop and say casually, "Okay, I'm gonna be honest, a tiger just bit someone's arm off."
Then he offers them a gift shop discount and a refund for their tickets. Later he comments, "I'm never going to recover from this financially." It is difficult not to burst out laughing.
Anger, envy, thinly-disguised hatred and blame appear in all shades of the political spectrum. 'Tiger King' is about anger, envy, hatred, blame – and an utter lack of respect for boundaries and compassion.
Like this story? Share it with a friend!
The statements, views and opinions expressed in this column are solely those of the author and do not necessarily represent those of RT.
You can share this story on social media: