The BBC used to be gold standard, now it's losing public trust with political meddling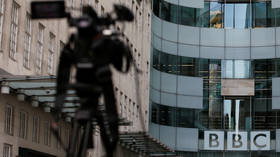 The BBC is regarded as the gold standard of journalism. This grand organization's members are fact-finding reporters, not political spin doctors – but it appears the dividing line is becoming increasingly blurred.
In years gone by, the explosive revelations from this week's Panorama would have been capitalized-on and turned into a satisfying victory for the BBC – this week, it was instead dubbed "a party political broadcast."
The documentary served up salacious and disturbing information about how the UK government has handled the Covid-19 crisis, from a chronic shortage of Personal Protective Equipment (PPE), to a disastrous plan to implement mass testing, to how pandemic warnings were blatantly ignored.
But the credits had barely rolled when it transpired the healthcare workers who slated the Conservative Party government in the documentary all had links to the Labour Party. One had even tried to represent the party in elections.
A self-described communist and union organizer spoke out to confirm that he had arranged all the witnesses for the production team, while the Panorama editor's sister-in-law is a Labour MP and a shadow minister.
The conspiracy thickened when it came to the show's promotion. Viewers were surprised at how little visibility it got.
In fact, the apparent non-promotion was called out enough for the BBC to issue a statement detailing it ran it in TV bulletins, had it up on its website and had issued a press-release.
However, normally, allegations of this scale would be cross-referenced across the BBC on its radio stations and TV channels, to delve deeper and discuss. What was done instead looks like the exact minimum necessary to keep the thing to a loud whisper while dodging accusations of "killing" it.
Nothing like what we saw in the recent newspaper scoops about Boris Johnson skipping important Covid-19 meetings, as well as the leaking of who was part of the government's secretive Scientific Advisory Group for Emergencies (SAGE). Their authors made sure to publicize and plaster them across all media platforms, thus getting maximum bang-for-their-buck.
The BBC's half-hearted approach rekindled the simmering feeling that the corporation's key figures are too cozy with the government. Political Editor Laura Kuenssberg is one such figure, about whom the rumors have progressed to continuous allegations. With her, the feeling is so strong that, during Boris Johnson's first Covid-19 briefing since leaving intensive care, it was not his but her name that was trending on Twitter.
Her position allows a great deal of power to shape what questions the PM and his ministers have to answer in the public arena. Instead of pressing them on a litany of issues around Britain being on course to have Europe's highest Covid-19 death toll, large swathes of the public feel she wants to act like an apologist, rather than a journalist.
My own view is that Kuenssberg's ego is a bigger priority for her than holding the government to account. That someone of her prominence is openly mocked and not trusted is a sad indictment of the position in which the BBC finds itself.
Those three letters used to represent the gold-standard of reporting. If the BBC broadcast it, it had to be true and it had to be objective. They had a noble and advert-free charter to provide nothing but the best of coverage.
Also on rt.com
'Trying every trick in the book': UK government changes rules to hit 100k coronavirus tests target – report
Well, how the mighty have fallen. This week's Panorama shenanigans show that second-rate fact checking and murky political meddling are now part of their modus operandi.
This cannot be allowed to continue. It should be trimmed down, reformed and focused on its core principle. And that doesn't involve slicksters brewing up political deals in darkened rooms or untrusted political editors earning £250,000. Britain deserves better.
Think your friends would be interested? Share this story!
The statements, views and opinions expressed in this column are solely those of the author and do not necessarily represent those of RT.
You can share this story on social media: