The 'It's OK to Drink in the Morning During Quarantine' movement is a dangerous trap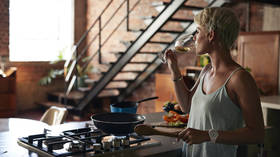 The rise of social media posts that claim the normal rules of drinking have gone out the window during quarantine may seem funny right now, but they can lead us down a dark road.
It would probably surprise no one to hear that alcohol sales in the US have spiked since mid-March. Unable to go to bars while in quarantine, many Americans have stockpiled their liquor cabinets and are enjoying happy hours in the comfort of their homes, and there's nothing wrong with that.
But, as someone who has covered the sober curious movement extensively over the last few months, I've been concerned about the increasing amount of tweets that I see telling people that it's "fine to drink in the morning in quarantine," because what are the rules anymore? A peak example of this is an Instagram video of Ina Garten that recently went viral, in which she humorously mixed up an absolutely gargantuan Cosmopolitan at 10 am and proclaimed "It's always cocktail hour in a crisis!"
Now, I'm not throwing shade at The Barefoot Contessa, and I realize this is all a way of saying everything is insane right now so normal societal standards don't apply, which I'm all for anyway. But it's a trend that concerns me nonetheless because I've seen it before and know where it can lead.
For those who haven't heard the term before, being "sober curious" means just that: a non-committal interest in what life would look like without alcohol. On a greater level, however, it means being mindful about the effect alcohol actually has on you as an individual instead of drinking just because that's what people do. For me, for example, it meant realizing that drinking on an empty stomach was a disaster, regardless of the quantity. It also meant realizing that the headspace and emotional state that I was in when I drank was much more critical than the amount taken. But the results vary from person to person.
In many ways, the sober curious movement was a pushback to "mom wine culture," which made it seem like it was "cool" and "fun" and totally not alcoholism for moms to drink lots of wine –together or not– because social media and TV shows and popular merchandise said so.
"You'd see cards in shops saying that wine is 'mommy's juice, then you'd watch shows like The Good Wife where the main character, who's a top lawyer with a family, always has a glass of wine in her hand," Sophie, a UK mom in recovery from alcoholism told me when I interviewed her for Best Life back in December. "So it just made it seem like moms need wine to get through the day."
For women like Celeste Yvonne, another mom who decided to opt for an alcohol-free lifestyle, it all got to the point where she felt ostracized for choosing not to drink.
"I read a meme yesterday that said 'I determine my kids' play dates by which mom I want to drink wine with," she wrote in a May 2019 Facebook post that went viral. "Time to change the narrative."
It's easy to write off tweets and Instagram videos as entertaining and meaningless fluff, but they can influence your behavior without you even knowing it, the way propaganda posters did in the past. Especially at a time like this when, more than ever, we want to feel like we're part of the collective.
Maybe every hour is cocktail in quarantine. But we don't know how long this will last, and when it does, we might find ourselves returning to the things that gave us comfort.
Think your friends would be interested? Share this story!
The statements, views and opinions expressed in this column are solely those of the author and do not necessarily represent those of RT.
You can share this story on social media: