Kapow! Coronavirus delivers a knockout blow to comic books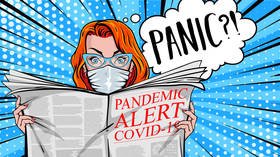 A distributor with a near monopoly of American comic books has been forced to shut down operations due to Covid-19, delivering a hammer blow to the already fragile comic book industry.
Diamond Comics Distributor founder Steve Geppi last week announced that the distributor would no longer accept shipments nor make shipments in North America and the UK. It has since delayed payments to creditors, signaling an industry-wide financial crisis. Even if comic book shops are not on lockdown, they now no longer have access to new products.
Brian Hibbs of the Comix Experience store in San Francisco described the Covid-19 crisis as "an extinction-level event" for retailers. Already driven to the brink of closure by falling sales of books, retailers are desperate. Image Comics has joined Boom Comics and Alterna Comics in offering buy-backs for unsold stock. Marvel Comics has offered deeper discounts to retailers but baulked at refunds on unsold items.
DC has offered returnability (ending June 24) and has announced it is "exploring a multi-distributor model to provide us with the flexibility needed during this crisis." This would allow distribution to non-specialist shops and supermarkets, both unaffected by non-essential-store shutdown orders. While this would end Diamond's effective monopoly, it might also undermine profits at surviving comic book stores.
Small publishers have already fallen victim to market conditions. Aspen, Boom and Vault have shut down production; Valiant has ceased work on new titles. Further actions are expected, including ones that lead to permanent closures.
Yet the malaise is not a recent one.
A significant number of comic book shops have closed over recent years. The causes are manifold. Interestingly, expanding digital media is not one of them. Reports are that long term, sales of comics in digital format have remained stable. There is still demand for printed books, as the huge popularity of printed manga demonstrates. The comic book industry was worth over $1 billion in the USA and Canada in 2018. The inclusion of manga, graphic novels and children's titles obscures the contraction of the American superhero genre, which was 9.6 percent of overall sales. That share has been declining yearly.
The problems of the American superhero comics are self-made.
A direct-selling model was adopted in the 1980s. It involved publishers no longer offering refunds on returns of unsold books. Thus corner shops, drugstores and newsagents refused to stock comics. Instead, publishers sold books wholesale to specialist comics stores on a no returns basis. Unfortunately, this allowed publishers to become complacent. No longer were readers the customers, the stores were. Diamond became the de facto sole distributor to retailers.
Detached from the impact of incompetent and unpopular books being returned, publishers began to come under the sway of political activists (interested in pushing identity politics and progressive values) and hired unsuitable writers, chosen because they represented surface-level diversity. The consequent decline in quality of stories (mainly from 2014 onwards) has reduced appetite among readers and became the basis for the consumer-resistance movement called ComicsGate.
An absence of strong titles appealing to children and teenagers has meant that few new readers have been introduced to comic reading. Prominent professionals have antagonised fans, using accusations of bigotry on social media to abuse swathes of consumers. Some executives and editors have evident disdain for the audience, which is (in the USA) predominantly white, middle-aged and male. Exploitative practices of the big two (Marvel and DC) – such as flooding the shelves, overshipping, multiple relaunches and variant covers – have financially hurt stores.
Also on rt.com
Coronavirus could be the best thing to happen to Hollywood
Recent launches of new properties (such as Marvel's New Warriors) seem designed to provoke derision. These moves caused fury and despair among retailers on the brink of closing their doors.
Diamond's move effectively breaks the distribution of new material even to those shops which are still permitted to open. Across economies, Covid-related restrictions will damage industries that are already suffering from underlying problems. In the case of the American comic book publication, political ideology effectively destabilised it from inside. The trust and respect that existed between producers and consumers was destroyed by activist editors and creators, with the consent of management. That meant that by 2020 the American superhero comic book industry was a house of cards ready to collapse; Covid-19 was just the gust of wind that toppled it.
Even if the major firms resume distribution of new books a few months from now, the retail network will already have been significantly depleted. Books will still be made but the future is in online sales (crowd-funded or through retail websites) rather than through shops. It was the error of company executives to have allowed activists to enter editorial, managerial and creative positions (something I have described as "cultural entryism"). These executives will move to new companies and never face the repercussions of their actions. Sadly, the ones who will suffer most are fans, who have seen their hobby defiled, and store owners, who will have lost their livelihoods and savings.
Think your friends would be interested? Share this story!
The statements, views and opinions expressed in this column are solely those of the author and do not necessarily represent those of RT.
You can share this story on social media: