Belarus' gamble: Lukashenko ignores Covid-19 warnings as the rest of Europe panics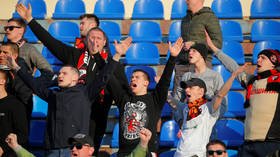 With most of Europe gripped by Covid-19 panic and in lockdown mode, Belarusian President Aleksandr Lukashenko sees no cause for alarm — and life has gone on as normal. But is it a level-headed response or a risky gamble?
Belarus has been lucky so far with less than 200 confirmed cases of the novel coronavirus. Yet, it was at this point, with the numbers of infected creeping into the hundreds, that the majority of other European nations began to take steps to mitigate the spread — and to follow the World Health Organization's (WHO) advice to 'flatten the curve' of infections to prevent an explosion of cases from overwhelming healthcare systems.
Also on rt.com
Sweden says no to quarantine – is this the most reckless or the most proportionate Covid-19 response in the West?
The warnings appear to have fallen on deaf ears in Minsk. The Belarusian leader summed up his approach to the coronavirus crisis at a hockey match on Sunday, telling gathered reporters that it is "better to die standing, than to live on your knees." Indeed, the Covid-19 crisis has been a boon for the Belarusian Premier League. It has managed to sign 10 new TV deals with sports channels around the world after they were left with little to broadcast, as most countries cancel their football leagues.
At the hockey match on Sunday, Lukashenko added that there were "no viruses" at the game because the ice rink is like a refrigerator. Perhaps he hadn't read the WHO's clarification which states that there is "no reason to believe" that cold temperatures can kill Covid-19.
Belarus has carried out more than 30,000 tests for the coronavirus infection and health authorities are "continuing to monitor" the situation, according to state news agency BelTA — but that appears to be where Minsk's efforts begin and end in dealing with the crisis that has triggered a global recession and forced Europe's biggest economies to impose draconian lockdowns on their populations.
And this has been enough — at least for now.
The stats do look good for Lukashenko, so far — but it is still early days. The country of 9.5 million people has recorded far fewer cases in comparison to nations with similar (or indeed far smaller) populations. Denmark and Ireland, for instance, with populations of 5.5 and 4.5 million people respectively, have both recorded almost 3,000 cases and both have taken drastic measures to curb the spread (closing schools, banning large gatherings and in Ireland's case, shutting all non-essential business).
There are a few potential reasons for the disparity when it comes to Belarus. For one, all of Belarus' neighbors have all shut their borders already, leaving little for Minsk to do in that regard, since travelers from Poland, Ukraine, Russia, Latvia and Lithuania will no longer be spilling over its borders and potentially bringing new cases of the virus in with them.
Also on rt.com
What coronavirus? Fans pack stadium to watch Minsk derby as Belarus remains lone league riding out Covid-19 storm
Then there's the fact that Belarus is not typically regarded as a hub of globalization or an international travel hotspot even in normal times — and less contact from the rest of the world naturally means less infection inside its borders.
Another country that has raised eyebrows and prompted criticism with its low-key reaction to the pandemic is Sweden. Rather than imposing strict restrictions on people's movements and activities, Stockholm is relying on citizens to exercise caution voluntarily to slow the spread — but authorities have hardly been as flippant in dismissing the virus as Lukashenko has. While Belarus's leader touted the healing powers of working tractors in the fields, Swedish authorities have still encouraged social distancing, advised people to work from home if possible and to avoid unnecessary travel.
The numbers might look good for now, but whether Belarus can continue on the same path for long remains to be seen. Time will tell if Lukashenko's response to the crisis — or lack of response, as it were — will have been a gamble worth taking or a mistake of drastic proportions.
If you like this story, share it with a friend!
The statements, views and opinions expressed in this column are solely those of the author and do not necessarily represent those of RT.
You can share this story on social media: