Lacking post-DemExit strategy, progressives could snatch defeat from jaws of victory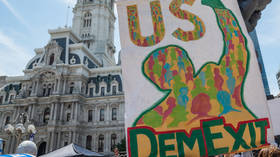 With the lack of a viable third party in the US and no strategy for how to build one, progressive calls to leave the Democrats may amount to little more than blowing off steam.
On last week's Super Tuesday 2.0, the #DemExit hashtag, urging a mass exodus from the Democratic Party, shot to the fourth most-trending topic on Twitter with more than 40,000 tweets. Yet, even as progressive voters grow frustrated with Joe Biden's surging campaign and what many suspect is a rigged primary process, there appears to be little agreement on how to move forward.
The reaction to the hint of progressives leaving the Democratic Party was as predictable as it was insufferable, with self-appointed vote police admonishing would-be DemExiters as future spoilers who will do nothing but syphon votes from the eventual Democratic nominee and ensure a second term for Donald Trump.
With accusations flying that this discontent is the work of a Kremlin-directed conspiracy, it is clear that some Democratic Party loyalists find it inconceivable that the progressive wing could be so genuinely disillusioned with their party and its presumptive nominee that they would be compelled to go their separate ways.
But the disillusionment is very real, and much of it stems from the reality that the Democratic Party is less of a political party with broadly shared values than it is the "lesser of two evils" in the eyes of many Democratic voters. Left-wing anti-war populists increasingly feel that they have no place in a party dominated by the likes of Hillary Clinton, Joe Biden, Nancy Pelosi, Charles Schumer, and Steny Hoyer.
Indeed, the desire to leave and try something new is palpable among the Bernie Sanders and Tulsi Gabbard wing of the party. But the lack of a shared strategy is clear by the varied ideas that are being bandied about.
"The DSA [Democratic Socialists of America] should become a political party," suggested one DemExiter. "Working Party of America," proposed another. "Please, we need to start this."
Nick Brana, the leader of the Movement for a People's Party, which was formed in the wake of the 2016 election, embraced the calls to break with the Democrats but offered no plans for launching a third party challenge.
Also on rt.com
Rigged US primaries aren't the problem – the rigged election system is
The Socialist Alternative, which has had some success getting independent socialists elected at a local level, has launched an online petition to start a new party.
Rather than focusing on an explicitly socialist or progressive agenda, popular YouTuber Kim Iversen argued that to be successful, populists on the left will have to unite with populists on the right. "There is just no way a progressive party can win breaking off from the Democratic Party and living on an island," she said. "The progressive movement has to coalesce with the populist movement of the right."
Considering the ideological disagreements that would inevitably ensue between left-wingers and right-wingers, this populist united front would obviously be difficult to hold together – even if they broadly agree on certain principles. But whether or not this coalition could merge on a set of unifying values, the more immediate impediment facing this sort of effort is the practical difficulty of launching a third party within a system that is set up by the Democrats and Republicans to prevent other challengers.
The first obstacle to overcome is getting recognized by the Federal Election Commission and ensuring that the party is on enough ballots around the country to be viable. Independents and third parties must meet a set of state-specific filing requirements and deadlines, all while working to build a nationwide campaign and competing with the two main parties for media coverage.
Also on rt.com
Fake JoeMentum: US media & Democrats are forcing a new pro-Biden narrative. Will it hold until November?
The US Green Party understands these challenges better than most, but of all the ideas and suggestions being offered for a post-DemExit strategy, remarkably few acknowledge the efforts of existing third parties such as the Greens.
Whether intentional or not, DemExiters' snubbing of existing third parties points to a lack of understanding about the realities of this type of organizing in the United States. While disillusioned Democrats fantasize about starting a new party, the Greens have been party-building for a quarter-century and are already hard at work this year. With its understanding of the practical challenges of navigating complex laws and procedures, the Green Party is actively securing its place on ballots for the November election.
"Because of the performance of our presidential candidates in 2016, state Green Parties have maintained ballot access in 21 states," the Green Party announced on its website. In order to ensure ballot access in enough states to be electorally viable, the party has started working to collect 800,000 signatures across the country.
With 50 different state deadlines to meet in coming months, with widely varied requirements by state – some of which are quite stringent – there are some obvious advantages to channelling DemExit energy into existing efforts such as the Green Party. But some progressives have expressed frustration with an internal Green Party culture that has been described as "distrustful of newcomers." Some long-time party leaders "are less than welcoming to the Berniecrats who could fuel growth in their movement," according to Carl Petersen, who tried working with the Green Party after leaving the Democrats in 2016.
So, while the Greens continue with their usual work of getting on ballots and mounting their perennial third-party campaign, other progressives seem unsure of how to proceed. Even with the surging DemExit momentum and calls for a new party, the 8-step plan of the Movement for a People's Party remains unchanged since it was established in December 2016. The program still includes such vague concepts as "inspire and empower" and "change hearts and minds," when the reality is that millions of people are already clamoring for a serious alternative to the two-party system.
Also on rt.com
Bernie or Biden – doesn't matter. Trump's election wasn't a glitch & the trends say he'll beat the Dems again
According to recent polling, upwards of 40 percent of Americans say the country needs a third party, with just one in ten saying that the two-party system "works fairly well."
But with the 2020 general election quickly approaching and ballot access deadlines just around the corner, time is running out. With no agreement on any practical strategy, no concrete plans to launch a new party, and no organized effort to consolidate the bloc of disillusioned voters into any of the established third party contenders, the #DemExit movement may amount to little more than a short-lived hashtag – progressives blowing off steam about a disappointing result.
If, on the other hand, progressives want to actually build a viable alternative to the Democratic Party, the time to commit to a game plan is now. Any successful effort would have to combine the new energy of disillusioned DemExiters with the wisdom and know-how of more seasoned third party activists, and must be infused with a sense of urgency.
Think your friends would be interested? Share this story!
The statements, views and opinions expressed in this column are solely those of the author and do not necessarily represent those of RT.