One year on from India's Balakot airstrikes: How MSM's targeting strengthened Modi at home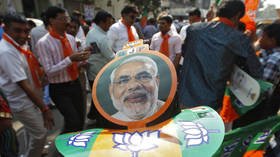 As MSM downplayed Pulwama terror attack and slated Modi's response, India rallied behind him, offering a massive mandate.
There was no way for India to ignore what it believes was Pakistan's macabre 2019 Valentine's Day gift.
Adil Ahmad Dar, 23, made a video in which he asked Kashmiri men not to fall in love and for women to cover themselves up fully, before blowing himself up at Pulwama, killing 43 Indian soldiers. Adil belonged to the Pakistan-headquartered terror group Jaish-e-Mohammed.
India's return gift was dispatched 12 days later, on February 26. Around 3 am, 12 Mirage-2000 jets carrying SPICE-2000 and Popeye precision-guided missiles flew deep into Pakistani territory towards Balakot, which hosts Jaish's main seminary and terror-training camp. The Mirages were supported by four Sukhoi Su30MKI, Netra and Phalcon airborne early-warning and control aircraft, an IAI Heron UAV and two Ilyushin Il-78 aerial refuelling aircraft. Four Sukhois were sent in another direction as a decoy.
When media bombed India
The impact of the bombings produced a thick smoke-ball of claims and counter claims between India and Pakistan, the former claiming to have inflicted extensive damage and the latter saying the airstrikes killed a few trees and nothing more. However, what became increasingly clear was the role of Western media.
While all the UN Security Council members, including China, were restrained and even Islamic nations steered clear of criticising India, Western media outlets seemed to treat cross-border terrorism like a naughty pussycat, targeting instead the nation that suffered the deaths of 43 of its soldiers.
First, international media did some conflict tourism to Balakot, 43 days after the airstrikes! After that guided tour by the Pakistan government, these channels and news agencies declared that the airstrikes had caused little damage.
Foreign Policy magazine called Indian media "war-crazy."
"India's decision to strike a target in undisputed Pakistani territory effectively signals that there are no longer clear territorial constraints if future retaliatory strikes become necessary," the Washington Post lamented, glossing over the Pulwama terror attack.
The Post then invited known India-basher Hafsa Kanjwal, an assistant professor in South Asian history at Lafayette College, to join the discussion.
'As India beats its war drums over Pulwama, its occupation of Kashmir is being ignored,' was the headline.
Then she launched into a tirade, justifying the terrible act of terror: "Battle cries are mounting; Kashmiris are simultaneously being targeted and punished in a number of Indian cities. In the midst of jingoistic fervor in India, the root cause of violence in Kashmir – the Indian occupation – is being completely overlooked."
WaPo followed this up by publishing a letter from Abid Saeed, spokesperson for the Pakistan Embassy in Washington.
Huffington Post's attack was also targeted at Modi. "Will Balakot Air Strike Help Modi Tide Over Farmer Anger In Elections?" one of its headlines read.
Late-night talk show host Trevor Noah mocked the war-like situation in a racist stereotype, calling it "most entertaining" and trivialising the conflict between the neighboring nuclear nations as a Bollywood "dance number". He later apologized.
Also on rt.com
Breakthrough or whitewash? Long-overdue punishment for a terror monster as Pakistan sentences Hafiz Saeed for 2008 Mumbai attack
Booster dose for Modi
This unjust international targeting achieved exactly the opposite result. Modi came back to power, with his Bharatiya Janata Party (BJP) getting 303 seats compared with 283 in the previous outing.
It was reminiscent of Vladimir Putin's action in Crimea after the revolution in Ukraine sought to marginalize its Russian-speaking people. Not only did Putin reunite Russia with Crimea and restored access to the region's only warm-water port, Sevastopol, sharp criticism by the West actually made the nation rally around him and strengthened his grip on power domestically.
Most Indians were thrilled that their nation sent planes across the border first time after 1971 to punish the enemy.
It sent out a signal to adversaries that India's response to provocation will no longer be 'soft' and only diplomatic. All options were on the table.
And finally, whether Western media values it or not, nations will put their sovereignty and security above everything else.
Think your friends would be interested? Share this story!
The statements, views and opinions expressed in this column are solely those of the author and do not necessarily represent those of RT.
You can share this story on social media: