Sorry, Western Media: Delhi violence is unlikely to upset Trump or Modi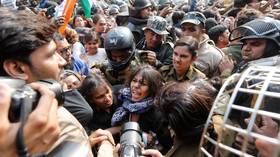 India feels the sideshow of violence in the capital, even as the United States president Donald Trump wraps up his two-day visit on Tuesday, is nothing but a manufactured tragedy.
Seven people, including a policeman, lost their lives on New Delhi roads, which coincided with the hours of the Trump's visit to India on Monday-Tuesday, eliciting a blunt quip from India's minister-of-state, home affairs, Mr G Kishan Reddy: "This violence is orchestrated with an eye on the US president's visit."
The purported projection is for this to be a clash between protesters and supporters of India's new Citizenship Act, where minorities from three neighboring Islamic states of Pakistan, Afghanistan and Bangladesh are being fast-tracked, but not Muslims, which the Indian government deems not to be a minority in these three Islamic nations.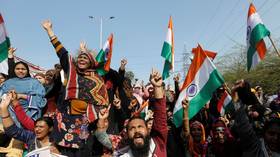 Yet, it's difficult to avoid the impression of this unrest being 'orchestrated' to take the sheen off Trump being feted by the Indian masses, as well as to project the Indian prime minister Narendra Modi in poor light in the Western media, who suffer a pathological hatred against these two legally elected leaders.
The so-called protests against the Citizenship Act have been on in India for nearly three months now, but this spike in violence has come from nowhere. All of a sudden, a few women protesters began squatting at a metro station of the capital on Saturday night, a few hours before Trump, along with First Lady Melania, his daughter Ivanka and son-in-law Jared Kushner, touched down on Indian soil.
While Trump was cheered by 100,000 people in the gigantic Motera Stadium in Ahmedabad on Monday afternoon, the capital was breaking into violence which grew to the extent that it became the lead story in many English dailies of the capital on Tuesday morning.
Also on rt.com
Forget substance, Trump gets the optics he craved in India
If India and the United States were looking for 'good optics,' forces lined up against them were intent on 'bad optics.' Both Trump and Modi are leaders of masses who are hated by the elites of their countries, the so-called globalists, who won't tolerate the dilution of 'global order' or 'country first' sentiments taking roots.
Even as India's Supreme Court is expected to take a call on the petitions against Citizenship Act this week, and it's implementation is due from April, the fresh row is seen as an attempt to press fire in the dying embers, freeze police to inaction, and 'sell' communal polarization as the horrific story emerging from India in Western media.
Also on rt.com
India's Supreme Court refuses to suspend citizenship act, gives govt 4 weeks to respond to petitions
This is an attempt to 'internationalize' the Citizenship Act among the religious and human right groups in the US Congress, bring in European Union parliament, kick-off debates in World Economic Forum — a la Kashmir — and bring India to its knees. It's a time-tested Western modus operandi which the free world has witnessed in countries as diverse as China (Hong Kong), Ukraine, Middle East, Africa and Latin America.
It's a mechanism which is not lost on India, and certainly not on Trump, whose contempt for 'orchestrated' news is well-known. The violence in the Capital is unlikely to sour the taste in his mouth, or upset Modi beyond a degree. Both are self-made leaders, even though one's road was paved with gold while the other took the hard climb to be where he is now.
Like this story? Share it with a friend!
The statements, views and opinions expressed in this column are solely those of the author and do not necessarily represent those of RT.
You can share this story on social media: