Beyond Modi-Trump hugs and promises: Why India must play hardball over US president's Delhi visit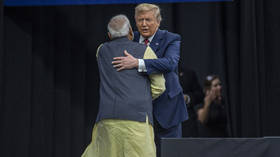 Eyeing the big and influential Indian-American community ahead of US elections, Trump needs India more than India needs him now. This gives Delhi a chance to rein in the cowboy.
It is not often that the world's most powerful person needs you badly. And when that person is an unreliable friend and an irresponsible motormouth, it is imperative that you use his moment of need.
India is ready to give US President Donald Trump a carnival-style welcome on February 24 served with cold interest.
This is America's election year and there are roughly 4 million Indian-Americans in the US. Besides the might of numbers, the community is increasingly influential both financially and politically.
Trump's redoubtable political instincts make him very keen to keep that vote in his kitty rather than squander it to the Democrats. But should India happily oblige?
Also on rt.com
Hiding slums ahead of Trump visit portrays him as EMPEROR & shows Indians' 'SLAVE MENTALITY' – newspaper
Not without driving a very hard bargain. Trump is tendentious and difficult to depend on as an ally. The only language he understands is transactional, his only currency is leverage. Right now, he needs India more than India needs him.
Which is why India should make sure Trump curbs his cowboy approach, keeps in check his loose tongue on sensitive matters like Kashmir, does not bully his way to one-sided trade deals or drag India into his often-irrational sanctions regime against nations like Russia and Iran, and genuinely commits to helping India beat the current economic slowdown.
India's leverage with Trump
Indian-Americans form a community rapidly growing in numbers and influence. They are getting more and more involved in politics as donors, voters or candidates. High levels of education, fluency in English and a long democratic tradition back home make Indians adapt much better to America's political culture.
The rise of Indians in the West's top corporations has been phenomenal. Sundar Pichai is the CEO of Google, Satya Nadella of Microsoft, Shantanu Narayen heads Adobe Inc, Ajaypal Singh Banga is CEO of Mastercard, Rajeev Suri heads Nokia, Jayashree Ullal leads Arista Networks and Arvind Krishna is CEO of IBM, to name a few.
To top it off, the Indian-American population grew by 38 percent between 2010 and 2017.
Also on rt.com
Friends or foes? As India gears up to talk to the West, meet the architect of its new 'India first' foreign policy
Indian PM Narendra Modi holds great sway over this diaspora. In the 2016 election, the Trump campaign borrowed Modi's 2014 poll slogan 'Abki baar Modi sarkar (this time, it will be Modi's government)' and modified it to 'Abki baar, Trump sarkar' to charm Indian-American voters. Last year, the US president joined Modi to regale a 40,000-strong largely Indian-American crowd.
Trump is eyeing these votes, presenting India with the opportunity to set its own terms and conditions.
What India wants from Trump
Last June, in a move that jolted the supposedly blooming relationship, the US ended its preferential trade treatment for India, removing it from the Generalised System of Preferences (GSP). The program allows duty-free entry for up to $5.6 billion worth of its annual exports to the US.
New Delhi promptly retaliated with higher tariffs on 28 American products including almonds, apples and walnuts.
Thereafter, 44 members of the US Congress urged Trump to restore GSP for India because Delhi's sanctions were hurting US industry. This trip, India must push for full restoration of duty-free privileges under GSP. It also wants greater market access for its products in the US in regards to agriculture, automobiles, auto components, and engineering.
Also on rt.com
Trump meets Khan, reiterates unwarranted offer to 'help' Pakistan & India over Kashmir
Trump has repeatedly let down India by breaching all diplomatic protocols and precedence and offering to mediate in Kashmir, which 'the league of nations' accepts as purely a bilateral issue between India and Pakistan. India firmly wants him to put a stop to this unsolicited and unwarranted interference.
New Delhi may also want to highlight anti-Indian demonstrations over Kashmir on US soil, and the Seattle and Cambridge city councils passing resolutions against India's new Citizenship Amendment Act which fast-tracks protection for persecuted minorities from Pakistan, Afghanistan and Bangladesh.
And lastly, India should take up for review US pressure to give up oil purchases from Iran citing Countering American Adversaries Through Sanctions Act (CAATSA) legislation and block India's defence acquisitions from Russia. India has been the second biggest buyer of Iranian oil after China, and Russian weaponry forms the backbone of India's defence systems.
To hold a powerful but erratic friend to his commitments is not easy. Luckily for India, Trump is in need and might be open to giving and not just taking.
Also on rt.com
Unpleasant surprise for Washington? US oil sanctions on Iran force India to look to Russia
Think your friends would be interested? Share this story!
The statements, views and opinions expressed in this column are solely those of the author and do not necessarily represent those of RT.
You can share this story on social media: