Keir Starmer is just Tony Blair minus the charisma & his leadership win will signal return to New Labour's warmongering ways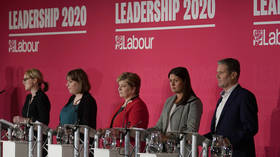 The reshaping of the British Labour Party back into the image of Tony Blair shows how little fundamentally changed during the brief interregnum called the Corbyn era. Not least on international issues.
Who will lead a British political party for the next decade is of limited interest to be sure, certainly to an international audience.

The outgoing Corbynites do of course have a candidate to replace him but scarcely anyone knows her name. Fewer still have any confidence that she could succeed amidst the attack dogs of British political life where Mr Corbyn failed.
The Corbyn candidate, Rebecca Long-Bailey, is reduced to claiming her gender should be persuasive. Labour has never had a woman leader while the Conservatives have had two.
But that pitch didn't work for Hillary Rodham Clinton and it's not working for Rebecca Long-Bailey. Not least because the two Tory women PMs were the most divisive (Mrs Thatcher) and most inept (Mrs May) in Britain's history.
Long-Bailey emphasises the differences between her and Corbyn. While she has "been to Amsterdam, that's all I'll say" – apparently the new code for "yes, I have taken drugs," – she has never visited Moscow, Beijing, Cuba, or Venezuela and… she has never visited Palestine! Not like Mr Corbyn.
While Corbyn crops up in the memoirs of all the Cold War actors, Long-Bailey is more Harry Potter than Harry Lime. She may have a good heart, but it is a tender one. Underneath an exterior as brittle as eggshell.
To paraphrase Senator Lloyd Bentsen in his immortal exchange with the callow youth Dan Quayle: "Miss Long-Bailey: I knew Jeremy Corbyn. Jeremy Corbyn was a friend of mine. Miss Long-Bailey, you're no Jeremy Corbyn."
In any case the Corbyn ship has sailed.
Tony Blair's facsimile found
It's back to the election-winning ways of Tony Blair for Labour. Mr Blair won three consecutive general elections albeit by promising, and delivering, the precise opposite of what a "labour" party is supposed to.
From the shredding of international law, bugging, burgling, bribing and browbeating the UN Security Council over the illegal invasion of Iraq, to the effective deregulation of the banks which turned the City of London into Grand Larceny Square Mile, Blair stood Labour politics on its head having forced his own party through a multitude of backbreaking somersaults first.
Also on rt.com
Ding Dong the EU is gone. Britain finally Brexits into an uncertain future (by George Galloway)
Whilst Mr Blair's bloodied reputation precludes his ACTUAL rehabilitation, a facsimile of sorts has been found. Step forward Sir Keir Starmer QC, the former director of public prosecutions.
So, wooden that birds have been known to try and nest in him, Sir Keir nonetheless LOOKS the part, in the way a Madame Tussauds waxwork occasionally does. A knight of the realm (a first for a Labour leader), a multi-millionaire (ditto at least before their term started), who did everything he could to aid the prosecution of Julian Assange on trumped-up, now discredited rape-charges in Sweden. Sir Keir can be relied upon.
And that's what counts for the state. The state is not a neutral body holding the ring of constitutional propriety, a faithful servant of the electorate. Mr Corbyn was spared having to find that out in perhaps terrible ways. Like two Kennedy's and a (Dr) King found out in the US.
It's business as usual coming up in British politics. Two parties as different as two cheeks of the same backside. The only thing certain about future British elections is who is going to lose them.
Think your friends would be interested? Share this story!
The statements, views and opinions expressed in this column are solely those of the author and do not necessarily represent those of RT.
You can share this story on social media: