Too flight-shamed to take a plane and can't afford a yacht like Greta? Hitch a week-long ride on a cargo ship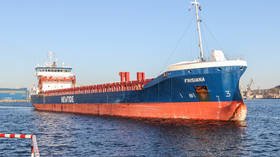 The things humans do to save the planet. We're ditching plastic straws, we're told to eat less (or no) meat, and now, instead of taking a plane, we're being flight-shamed into spending 15 times longer traveling by cargo ship.
According to Skyscanner, January is the best time to book a holiday as international flights are 36 percent cheaper this month than the rest of the year. But if the Greta Thunbergs of this world have their way, 2020 has different ideas. It's time for eco-warriors to forget flying – 'flight shame' is now a thing, powered by statistics predicting that air travel will generate 16 percent of global carbon emissions by 2050 (though at the moment the number is two percent).
Substitute travel choices are now in vogue – trains are the easy option for land routes, but sometimes you need to cross an ocean. And while Greta can borrow a multimillion dollar yacht for her trip, most of the rest of us are left with few options – one of them being passenger cabins on cargo ships. With a growing number of travelers abandoning air, Maris Freighter Cruises, Grimaldi Lines, New Zealand Freighter Travel and London-based Cruise People are a few companies that offer slow journeys on private ocean vessels around the world.
Every year, trillions of dollars worth of goods is carried by ships, amounting to 90 percent of global trade. It's not like that big an industry is going away any time soon, so why not hitch a ride and avoid generating additional emissions on dedicated passenger routes? The option has been around for over a century, but as with a lot of things of yesteryear, the climate fever of today has made it the stuff of headlines.
Also on rt.com
Party like it's 1299 with these medieval eco-innovations
Canadian blogger and environmentalist Will Vibert thought he would taste passenger life on a cargo ship. Traveling from Germany to Canada, he wrote in the Guardian that being on such a large freighter was a unique experience, and that every day his connection grew stronger with the outside surroundings. "Life on board was so immersive that after a few days I didn't even mind the food. As I soon came to understand, the luxury of being at sea is not about fine food or a plush mattress; rather, life at sea itself – the tranquil pace and intoxicating sense of adventure – is the true luxury," he wrote.
Ben Mack from New Zealand also wanted to test being a seaborne cargo passenger. Over nine days, he took a 1,199-foot vessel through the South China Sea alongside 7,500 containers and only a handful of crew members, and shared his similarly elated experience with the Insider.
A fifth of us are reportedly thinking about taking fewer flights, including for example Sian Berry, Green Party candidate for London mayor, who hasn't flown for 15 years. She has called on people to take no more than one flight a year and suggested a tax should be imposed on further flights. But how many of the common folk are really willing to extend their travel time from a few hours to a week or more, wasting valuable vacation days, missing opportunities, letting less-climate-conscious rivals get ahead of us? At least if you're Greta, it's your full-time job and you don't have to balance your expenses.
Some critics argue that this new flight-shaming narrative is a step too far and compare such greenhouse gas emissions from a handful of flights to how people drive cars, use heaters, waste food, or buy bottled water. No-plane pioneers might be a growing zeitgeist for 2020 – but the reality is that airport traffic has only continued to grow. But if you fancy traveling across vast oceans for days or weeks on end like Captain Cook while doing something for the planet, perhaps a cargo ship holiday could still be for you.
Just beware that Greta Thunberg could be on board too... oh wait, she'll just borrow another yacht.
Think your friends would be interested? Share this story!
The statements, views and opinions expressed in this column are solely those of the author and do not necessarily represent those of RT.
You can share this story on social media: