Brits' sexual health is dismal lately, but how much can you blame the government?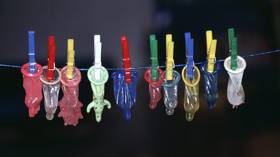 You would think Brexit is the top concern troubling the UK right now — but Brits are facing a somewhat down-to-earth problem that's causing more than just headaches: the nation's sexual health is in decline, a recent study shows.
Things aren't good between the sheets in Blighty. Research carried out by the University of Glasgow found that nearly a third of all women were found to experience difficulties and a lack of interest in sex. The report also found that men aren't doing nearly as bad: 83% of men were suggested to be in good sexual shape, while 48% of women had bad sexual health.
Why is a woman's lack of interest in sex 'poor sexual health'? Surely it's down to personal choice? She should be supported in her decision, not criticised. https://t.co/iXXFnzFhPq

— Diana Cameron 🐕 (@FlatCoatMama) January 9, 2020
Dr Alison Parkes, coauthor of the research, says the matter is complex: "We think the wider range of problems in women may boil down to women's general lesser agency when it comes to negotiating more pleasurable as well as safer sex with their partners," she told the Guardian.
Sexually transmitted diseases (STIs) have increased in the UK over 26 percent in two years, with gonorrhoea diagnoses rising by 249 percent between the years 2009-2018. The data collected by the team in Glasgow covered around 7,000 sexually active women and 5,000 men aged 16-74, without revealing cause and effect connections.
Many experts point fingers at austerity, central government budget cuts and lack of NHS sexual health services. Ruth Robertson from thinktank King's Fund, for example, says that spending on sexual health promotion and advice in the UK has fallen by over 35 percent to £47m a year between 2013/14 and 2017/18. As ministers continue to slash their public health grants, this means a lower presence in universities and less free contraceptives and STI testing kits in nightclubs and shops.
Also on rt.com
British uni students to examine 'censored, gay, feminist, amateur' PORN as part of 'illuminating' X-rated course
Reports of sexual health clinics facing record demand amid shrinking budgets have been making rounds in UK media.
It can't be denied that the government isn't doing enough to deal with what looks like a budding sexual health crisis — but are the citizens doing enough to prevent it?
Does it ultimately come down to the individual to control stress levels, mental and physical health, and libido? While the closure of sexual health centers across the UK are a sad sign of the times, fingers must be pointed at the UK's social behavior when it comes to its problematic binge drinking culture, frivolous sexual encounters and sexual habits.
With another recent poll in the UK stating that men in their 20s have become the most derided social group in Britain, social conformity isn't something the UK is best at, and with British society's historical obsession with class, lack of education to liberalism (meets laziness), this equals a cultural conundrum that means 'anything goes'.
These attitudes, amplified by the prevalence of dating apps, have been blamed for soaring STIs. "The thing that worries me is that we are just at a potential tipping point for HIV," the Telegraph has quoted Dr Peter Greenhouse of the British Association for Sexual Health and HIV. "Because if enough people change partners quickly, and they have untreated sexually transmitted infections, it might just start an explosion of HIV in the heterosexual population. Apps could do that."
With heavy workloads, bad weather, rising prices, stagnant wages and social and political division — throw in bad sexual health and not enough 'passion' to the mix, and life in modern day Britain has most simply frazzled.
In short, many working to upper class young people in the UK have an inner promiscuous mantra and raison d'être to drink till they drop, and "play" with the opposite (or same) sex. The possible result? A worrying array of sexual health issues plaguing UK society, women more so than men.
With the middle of January just approaching, perhaps a few healthy and conservative New Year's resolutions, might also bring such STI statistics down.
If you like this story, share it with a friend!
The statements, views and opinions expressed in this column are solely those of the author and do not necessarily represent those of RT.
You can share this story on social media: