Bayer-Monsanto's secret weapon: Ex-Green lobbyist to tell the world its cancer-linked weedkiller will save the climate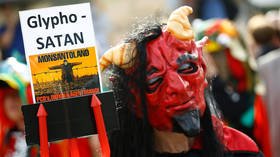 As Bayer sinks further into a morass of lawsuits centered on its deadly Roundup herbicide, the company is getting a much-needed makeover from a Green Party apostate determined to position it as the antidote to climate change.
The beleaguered corporation, plagued with lawsuits from cancer-stricken customers ever since it acquired Monsanto last year, hired former German Green Party MP Matthias Berninger as senior vice president for public and government affairs in January. The erstwhile environmentalist has wasted no time in his effort to save Bayer by positioning it as the answer to our climate change prayers. Pivoting the discussion away from Roundup's potentially deadly effects on humans, Berninger has been making the media rounds to promote the herbicide's environmental benefits.
What environmental benefits, you say?
"The data prove" that glyphosate - the chief chemical in Roundup - is good for the climate, Berninger told German outlet Handelsblatt last week, explaining that while "the production of glyphosate is quite CO2-intensive," its "use saves three times more CO2" compared to farming land with a tractor and plow, a process which he explains would spew out CO2 through its internal combustion engine and release the gas from the soil. In fact, Berninger really has it in for plows.
"It would be an illusion to believe that American or Brazilian agriculture would return to plowing," he said, setting up and knocking down his rhetorical straw-man with ruthless efficiency. Nor would organic farming sustain a meat-hungry world - to hear him tell it, humanity must either dramatically expand farmland at the expense of biodiversity, or put its faith in crop science, a.k.a. Bayer.
Also on rt.com
Epic cop-out! World's climate chiefs at COP25 decide it's just too complex, so they kick the carbon emissions can down the road
The benefits of glyphosate are far too great for both farmers and the environment.
Farmers stricken with cancer after prolonged RoundUp use might view the matter differently. While fewer living humans does mean a smaller carbon footprint for the species, and fewer living farmers in particular means less emissions produced by farming, it would take a real sociopath to stretch the idea of a "benefit" to include less market competition for farmers whose neighbors have died of Roundup-induced non-Hodgkins lymphoma. But whether this is what Berninger has in mind when he describes glyphosate's nebulous "benefits" to farmers and the planet is unclear - despite repeatedly referencing scientific evidence for glyphosate's virtues, the former politician has remained mum on specifics of how the chemical benefits the environment, merely insisting in various ways that "independent regulatory authorities" have rated glyphosate "safe around the world for more than 40 years."
Which independent authorities? Monsanto has been caught ghostwriting "independent" reviews touting the safety of its products in the past. The World Health Organization declared glyphosate was "probably carcinogenic" in 2015, while the state of California declared the chemical "known to cause cancer" in 2017. And the US Environmental Protection Agency, which recently reaffirmed "glyphosate is not a carcinogen" despite court verdicts piling up to the contrary, has long been accused of being "in bed with" Monsanto - even (especially) by scientists previously employed by the agency, who claim it bent the rules to greenlight the popular herbicide. Regulators haven't weighed in on whether glyphosate is toxic to plants because that's the whole purpose of an herbicide - indeed, Monsanto has made billions selling genetically-engineered "Roundup-ready" seeds so that farmers can grow crops that won't die when they're sprayed with the weedkiller. It would take serious logical gymnastics on Berninger's part to paint this absence of regulatory condemnation as a seal of approval.
But the ex-Green wants the world to know that Bayer is more than just glyphosate. Touting the company's "unique potential to help achieve the UN sustainability goals," Berninger hinted that "by promoting the comprehensive digitalization of agriculture," the company could eventually move toward the use of fewer "crop protection products." But not too few, he stressed - "we also hope that politicians are open to the approval of the next generation of crop protection products that are effective in even smaller quantities."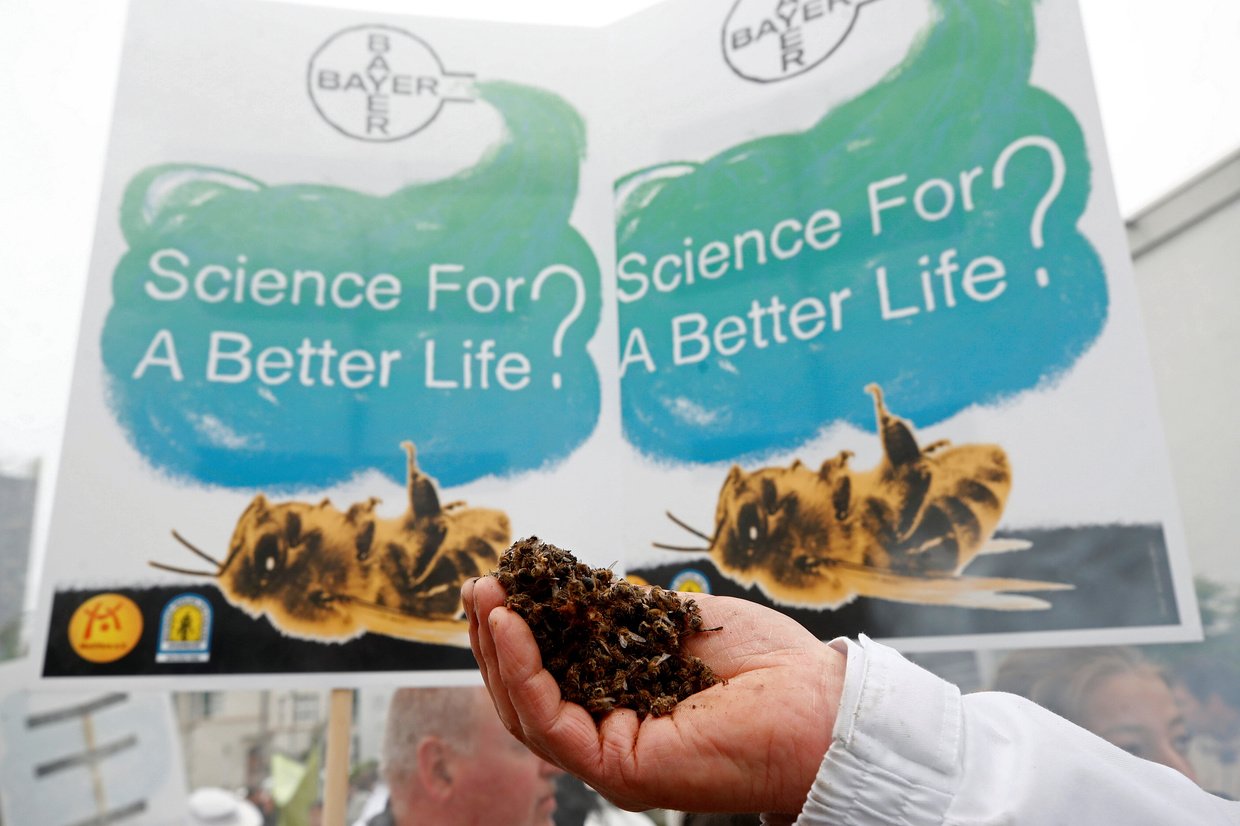 Making evil good again
"We don't have to apologize for making money," Berninger - once the youngest member of the Bundestag - told Germany's Kölner Stadt-Anzeiger earlier this month, insisting Bayer could expiate past environmental sins through achieving "sustainability goals." The company's presentation of those goals on its website is enormously vague, promising that environmental sustainability is a priority (its CEO will take on the additional title of Chief Sustainability Officer in January!) and pledging that Bayer will eventually achieve 100 percent carbon neutrality. The corporation has also pledged to provide 100 million "smallholder farmers in low- and middle-income countries" with "holistic solutions" to "grow crops more sustainably" and increase both yields and incomes.
That last bit sounds quite noble, but one must ask: where do the (carbon-neutral) agrochemicals fit in with sustainable or holistic farming methods? Smallholder farmers from India, where Monsanto has been blamed for hundreds of thousands of suicides triggered by debts incurred by the high price of the company's seeds and pesticides, to Brazil, where the company double-dips by collecting royalties from the sale of crops grown with its heavily-regulated seeds, are trying hard to move away from Monsanto products. Bayer might think its assistance will "help more people thrive within planetary boundaries," but even its PR people know the Monsanto name is as toxic as its products - "partnerships with public, private and local organizations are key to address smallholder farmers' needs holistically," it admits.
Under Berninger's direction, Bayer joined an alliance of over 200 companies called the Brazilian Coalition for Climate, Forest and Agriculture, wrapping itself in concern for the Amazon rainforest (perhaps as a distraction from the murmurs of discontent among Brazilian farmers, who lost out last month on a $2 billion payout after a court reversed a ruling to favor Monsanto). This heterogeneous group has appealed to the Brazilian government to seize control of the destruction of the Amazon, claiming some 90 percent of the logging is illegal - though their goal is less to end the devastation than to put Brasilia in charge. Indeed, Bayer isn't remotely interested in ending the clear-cutting of rainforest land to make way for the soybean cultivation that fuels the world's skyrocketing meat consumption. According to Berninger, Bayer's role will instead involve driving "innovation" in "sustainable intensification" - i.e. growing more soybeans per hectare on ex-rainforest land, presumably with the help of glyphosate, in the hope that less land is ultimately needed.
Rainforests aren't the only thing Bayer has pledged to rescue in its own special way. After getting caught secretly financing two German studies on glyphosate in October, the company flipped the script and announced it had begun campaigning for transparency in lobbying. Berninger has since called for a lobby transparency law "such as those that exist in the US" - the country where lobbying is so disastrously unregulated a novice congresswoman exposing the industry's lawlessness can go viral - repeatedly - and where a long-running joke calls for politicians to wear the logos of their biggest sponsors on their clothing in the manner of race-car drivers.
Also on rt.com
Canada launches major class-action lawsuit against Monsanto's Roundup & owner Bayer
Tasked with the seemingly-impossible task of greenwashing a company widely considered one of the most evil on the planet, Berninger is nevertheless rising to the occasion, framing Bayer as a defender of the rainforest and a standard-bearer of modern farming practices. But it's anyone's guess whether the corporation currently being sued by farmers from Canada to Australia
 will be able to pass itself off as their savior, especially with entire countries - Austria recently became the first in the EU - kicking its star glyphosate weedkiller to the curb. And even if Berninger is able to summon enough climatebabble to convince the relevant authorities that Roundup is a noble soldier in the fight against global warming, Monsanto has enough skeletons in its closet to keep even the slickest PR man running in circles until the glaciers melt.
Like this story? Share it with a friend!
The statements, views and opinions expressed in this column are solely those of the author and do not necessarily represent those of RT.
You can share this story on social media: