UN women's rights agency tweet depicts motherhood as a 'penalty' – at CHRISTMAS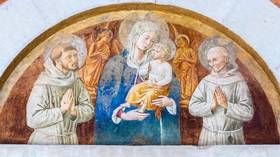 Unless those in charge have lost their marbles, it seems the Christmas break at UN Women started a little early thanks to an entirely avoidable row about, of all things at this time of year, motherhood.
As the 1.3 billiion Catholics all over the world reflect on the miracle a lowly young girl giving birth to the Savior just over 2,000 years ago, UN Women, ironically in charge of gender equality and female empowerment, tweet out a message detailing the disadvantages of motherhood as some sort of political point.
In a message of the kind usually sighted on the office feminist's coffee mug in the communal kitchen, the note lists the penalties of motherhood, as if those women with children needed any reminding. So there's "more unpaid care and domestic work," which usually goes by the term of 'parenting' but hey, it's Christmas, so we'll accept the cracker-level joke.
Next on the list is "irregular work," then "reduced employment" (see irregular work). Again, these are the compromises that millions of people around the world make in order to raise their children. The choices are, either don't have kids (which is a non-argument), or pay for childcare, which in most cases makes the whole point of working irrelevant as the money earned is simply paid out to the carer.
The essence of this argument is one of priorities, which is up to the individual to decide, not the welfare state or employers looking for a stable and reliable workforce.
And then we have further impositions, "limited maternity benefits" (arguable, country-to-country), and the juicy issues of "gender-based occupational segregation" and "gender pay gaps."
Also on rt.com
Harry Potter author JK Rowling gets burned by own fans as she steams into latest UK gender scandal on the wrong side
Excuse me, but what have those two things got to do with motherhood? It would most likely be argued that all women, regardless of whether or not they have children, face issues here. As for the final suggestion of 'higher rates of poverty in old age," well, yes, this is an issue, but again, highly variable among the nations of the world.
A single African mother with four children will have a hard time building a future, not just for her family but for herself, once those children become adults with dependent families of their own. But these women are not those concerned with "gender-based occupational segregation." To them, that language and the concept it expresses would be utter nonsense.
How does the UN square this sort of political posturing with those things it should be looking at, like reducing infant mortality rates in the developing world, or ensuring that women are not dying through the natural act of childbirth?
Motherhood is not an issue that needs some post-ironic message shared by UN Women with its first world social media followers. Sure it has its minuses, but as any mother - or father - will tell you, they are far outweighed by the pluses.
So, to pick Christmas Day, of the other 364 available, to insult the Catholic belief in the sanctity of the Virgin Mary and everything that she as a mother sacrificed is not only tin-eared, it is ignorant, foolish, and a sackable offense.
Just wait until the grown-ups return to work from their holiday break.
Subscribe to RT newsletter to get stories the mainstream media won't tell you.
The statements, views and opinions expressed in this column are solely those of the author and do not necessarily represent those of RT.
You can share this story on social media: