Trump's insults put NYT reporters in DANGER, cries editor of paper that puts reporters in danger by cheering on war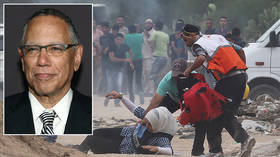 US President Donald Trump is putting reporters' lives at risk by calling them names, NY Times executive editor Dean Baquet laments. If only he felt the same concern for the reporters – including his own – actually in harm's way.
Trump's (verbal) attacks on reporters are "appalling," Baquet whined to the Guardian, likening the name-calling to "abuse" and warning that the president's designation of the "fake news media" as "enemies of the people" has a "deep history."
I think personal attacks on journalists, when he calls them names, I think he puts their lives at risk.
Also on rt.com
Mainstream news makes Democrats mad as hell, but they keep coming back for more - poll
Baquet tells the Guardian he prides himself on keeping the New York Times neutral despite the urging of ideologically-driven young writers, and the outlet marvels at his ability to restrain himself from calling the American president a racist – a restraint they admit they do not share. Clearly, the definition of "neutral" has shifted in the "Orange Man Bad" era to mean anything short of direct insults.
Nowhere is the connection drawn between the media calling Trump names – racist, sexist, homophobe, even antisemite – and Trump delivering insults of his own. While Baquet insists he's never called the president a racist or a sexist, his op-ed writers have taken up the challenge many times over. The Times – saved from its death spiral in part by the renewed interest in journalism following Trump's 2016 election, which has boosted subscriber numbers to almost five million – would seem to owe Trump at least a morsel of gratitude. But one doesn't expect kind words from the #Resistance, and this mainstream media lovefest could be quietly ignored if Baquet didn't insult actual reporters who put their lives on the line to get the story by holding up Trumpian insults as the equivalent of bombs and bullets.
Moath Amarneh, a Palestinian journalist covering protests against Israeli settlement construction in the West Bank, lost an eye on Friday when he was shot with an Israeli soldier's rubber-coated bullet. Amarneh is far from the only clearly-marked member of the press, protected under international law, to be wounded by the Israeli military – six reporters were shot in just the first two months of the Great March of Return protests in Gaza.
Not only did the New York Times not praise these journalists for their bravery, or blame Israel for failing to abide by international law – except for a few lonely voices on the opinion pages, its coverage of the Gaza protest seemed to blame the dead Palestinians for their own demise.
Israel is far from the only country where merely covering protests has become dangerous - multiple reporters have been attacked by "pro-democracy" protesters in Hong Kong since the violent demonstrations, championed by the Times and its fellow American media, began this summer, and reporters have been attacked by police while covering Yellow Vests demonstrations in Paris. The New York Times doesn't seem to care about these journalists – when was the last time they wrote a scathing piece on Trump?
But surely the Times has championed its own war correspondents, allowing them to speak from their hearts about the ongoing disaster in the Middle East? Dozens of journalists have died or been kidnapped during the US' 'War on Terror', and the least the Times could do is let their colleagues speak. But all Middle East Bureau Chief Chris Hedges had to do to be pushed out of the Times in 2003 was to give an anti-war speech at a college, sending a signal to other war reporters on staff – be a team player, or else.
Also on rt.com
US mainstream media worships superficial 'diversity,' but diversity of thought is forbidden
It's understandable how Baquet, safe in a room with his British counterparts, might forget that there are journalists risking everything to cover the never-ending war that forms the backdrop to the entire 21st century, minus one year. The Times' own role in turning a two-nation conflict into the forever-war we have today by opening a second front in Iraq – still a hotbed of conflict 16 years after Times reporter Judith Miller sold credulous readers tales of Iraqi weapons of mass destruction – all but destroyed the outlet's credibility in covering war. This was before Baquet's time, and he can't be blamed for it.
But journalists are still putting their lives on the line to get the story in the conflict zones of the Middle East, where the US has spent trillions of taxpayer dollars to turn functioning societies into dust, cheered on the whole time by outlets like the Times. War reporters sometimes die in these conflicts, and increasingly risk their lives just to cover local unrest. The least the executive editor of a once-great paper can do is honor them by not comparing whatever bomb or bullet does them in with a dime-a-dozen presidential insult.
By Helen Buyniski, RT
Think your friends would be interested? Share this story!
The statements, views and opinions expressed in this column are solely those of the author and do not necessarily represent those of RT.
You can share this story on social media: