'Nanny knows best': EU facing pressure of its own as it awaits Romanian Commission post candidate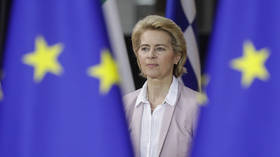 Having rebooted its government, Romania is seeking an EU Commission candidate who will be acceptable to Brussels. Meanwhile, the pressure is on the new Commission President Ursula von der Leyen to get to work.
With a new prime minister in Bucharest, the Romanians are hoping it's fifth time lucky as they present not one but two candidates this week for its European Commission post.
They hope the Brussels powers-that-be will finally find acceptable either the preferred offering of Siegfried Muresan or the reserve candidate Adina Valean, both sitting MEPs.
The Commission has already knocked one candidate back and a second was never formally nominated before the Romanian government collapsed and its people went to the polls.
They weren't alone in having a candidate rejected. Those other bad boys on the bloc, Hungary, were also sent back to the drawing board. They, too, are used to the often high-handed treatment of Brussels.
Now that new Romanian PM Ludovic Orban is in office, he has quickly selected a pair of candidates for the EU to consider. With a fair wind, this should take place next week, and that means the successful candidate could be on board before the end of the month.
Also on rt.com
Greeks march against migrant policy as govt takes in 40,000 refugees in last 4 months (VIDEO)
Ursula von der Leyen could finally start her new job as Commission president on December 1, a month later than she was supposed to begin a much-heralded EU transition.
You would think the whole process of finding the right man or woman for the job would be pretty straightforward, but 12 years after joining the bloc, the Romanians are still treated as second-class citizens with their EU masters often demonstrating a 'nanny knows best' approach.
When they, and Bulgaria, first became members of the EU they were told that special monitoring of their judicial systems was a condition of acceptance and would be put in place on a temporary basis. Progress, measured by Brussels, must be made before they were allowed to join the Schengen zone.
They never thought 'temporary' would be 12 years.
In that time, Brussels has maintained that monitoring as though corruption within the Romanian judicial system was a permanent fixture and a fact of life.
But that didn't stop them installing Laura Codruta Kovesi, the former government-appointed anti-corruption tsar in Romania, as the first head of the newly created EU Public Prosecutor's Office in October – albeit against the wishes of Bucharest.
She was very successful in her role at home, and accordingly very unpopular with those former prime ministers and ministers she had jailed for corruption. Surely, that must show things moving in the right direction in a big way?
Also on rt.com
Tyranny of the minority: The Сatalonia litmus test proves European elites ignore referendums
After all, if the condition of joining the Schengen zone was that Romania make headway with its corruption problem then, logically, the EU appointment of Ms Kovesi would be evidence of that being achieved.
And doesn't this year's successful six-month presidency of the European Council count for progress too?
Maybe this would be a good time to finally let Romania into the Schengen zone, which would mean that its citizens and its trucks would no longer have to go through the tedious border controls that now complicate its participation in the single market.
Allowing access to the Schengen zone might also address that Romanian feeling of being treated as second-class citizens.
But no, it's not over yet. There is still another hurdle to jump as Romania has to find another candidate who will reach the standards set by Brussels to join the European Commission.
One thing going in Romania's favor this time around is that the Commission is starting to look a bit silly itself. This was meant to be a big year for the EU and after, May's European election, promised to listen to the people and take on the big global problems like climate change and migration.
So far, they are a month late, the clock is ticking and they haven't even started work yet. Maybe the situation with Romania's candidate is evidence of one certainty: if you overreach you face the reality of falling flat on your face.
Think your friends would be interested? Share this story!
The statements, views and opinions expressed in this column are solely those of the author and do not necessarily represent those of RT.
You can share this story on social media: