Against Call of Duty's Russophobia, gamers are the voice of reason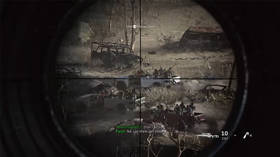 'Call of Duty: Modern Warfare' makes a weak attempt at rewriting American military history and placing responsibility for a real-world war crime on Russia, and gamers have made it clear that they're sick of the propaganda.
Infinity Ward's latest first-person shooter has made 'realism' a selling point, featuring landscapes and missions that strongly resemble conflicts of the real world. Throughout the game's campaign mode, the bad guy is clear: the Russians.
In its most egregious attempt at washing American militants' hands, the game features a 'Highway of Death' scene, where Russian forces are blamed for an attack on fleeing invaders, but the Highway of Death is not a work of fiction—it happened in 1991, and it was American forces who attacked fleeing Iraqi personnel.
Fortunately, gamers have not been shy about letting it be known that they're fed up with the disinformation and Russophobia.
In what some are calling a "review-bombing campaign," Call of Duty: Modern Warfare's Metacritic page has been swarmed by unfavorable reviews. Its User Score currently sits at a 2.7 out of 10, with over 2,400 reviews.
While not every negative review is critical of Infinity Ward's ill portrayal of Russia, many are.
Also on rt.com
White Helmets and 'Russian' nerve gas: New Call of Duty trailer is modern propaganda at its finest
Despite the narrative from American media, there are just as many (if not more) reviews written in English that express outrage over the game. "The solo campaign is the worst piece of propaganda this world has ever witnessed," writes one. Still, media outlets such as NBC News paint a picture of only "Russian gamers and bloggers" expressing concern.
Through social media, fans have continued to speak out.
While gamers continue to condemn Activision, a particular group has been eerily silent: journalists who were highly critical of Modern Warfare's use of white phosphorus.
Also on rt.com
US jets strike Syrian town with banned white phosphorus bombs – Russian Defense Ministry
It's interesting that the same (often American) writers who published how inexcusable it was to include this self-igniting weapon in the game are now nowhere to be found on this issue. The explanation is plain and simple: The majority of Western video game journalists are left-leaning and, due to what they've been fed about the 2016 US election, anti-Russian.
Modern Warfare's developers see no problem, either. Taylor Kurosaki, Modern Warfare's narrative director, adamantly defends the scene: "I think you could probably find many instances of the words 'highway of death' being used in a lot of cases… We don't portray any one side as good or bad."
As Kurosaki explains, it's a simple coincidence that Modern Warfare's Highway of Death emulates that of 1991 in every way imaginable… apart from who led the attack. It'd be a complete happenstance if the next Call of Duty title featured Russians flying over a fictional Asian country and dropping two atomic bombs, right?
This is all just an effort from American developers and publishers to advance a 'bad Russians' narrative at a time when it's popular and convenient. However, it's promising that the same teenagers and young adults that they're trying to brainwash are the ones taking a stand.
Gamers are often depicted as screaming children behind a headset, but they've been the adults in the room on this issue. Russophobia in video games isn't marketable.
By Craig Snyder, writer and journalist specializing in politics, tech, and gaming
Like this story? Share it with a friend!
The statements, views and opinions expressed in this column are solely those of the author and do not necessarily represent those of RT.
You can share this story on social media: