In the billion-dollar battle for the skies, Boeing is struggling to restore its reputation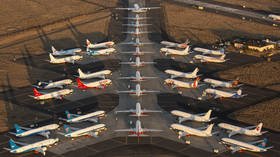 After two plane crashes and now new safety concerns, aircraft manufacturer Boeing faces a battle to restore passenger and industry confidence, as its embattled CEO, Dennis Muilenburg, faces a grueling inquiry on Capitol Hill.
When flying 37,000 feet above the earth's surface in a pressurized metal tube along with 200 fellow airline passengers, it is best not to overthink how this is actually possible, unless you have a very clear understanding of aviation engineering.
We just trust that it works. We see planes on the ground, we hop on, we take off, we maybe spend a few hours airborne and then we land. Easy. Nothing more to think about.
Unless something goes wrong mid-flight; then, there are problems. For instance, those sudden thuds at take-off or landing can unnerve even the seasoned traveler. There is no need for the climate changer tactic of 'plane-shaming' when the thought of flying is simply terrifying to anyone in their right mind.
Also on rt.com
Profits over safety: US plane maker Boeing accused of building 'FLYING COFFINS'
Boeing Chief Executive Dennis Muilenburg has tried to weather the storm of a US Senate Commerce Committee inquiry this week but, when Senator Richard Blumenthal said Boeing had fudged its certification process and effectively designed "a flying coffin," then the extent of the reputational damage was evident.
And it got even worse Thursday when, in a true Halloween horror story for Boeing, Australian airline Qantas revealed that it had found cracks in a 737 Next Generation plane.This development led to a growing number of airlines reporting the same issue, so that 50 of the planes have now been grounded worldwide.
They join the 387 737 MAX aircraft already grounded since March this year, after one crashed in Indonesia last October and another in Ethiopia last March, killing a total of 346 people.
The latest find is a body blow for Boeing, particularly as there are concerns that the scale of this new 737NG problem may have been underestimated. When alerted to the wing crack issue initially, the US Federal Aviation Authority ordered checks only on planes that had logged 30,000 flights.
Qantas responded that it had found the fault in planes that had flown much less, with one recording fewer than 27,000 flights.
So, someone has looked at a benchmark and decided that was where checks should start and finish when, surely, you should check every plane as a matter of routine? There are only 1,000 in service, according to Boeing, so the process shouldn't take that long.
Boeing clearly sees the whole 737 MAX issue in terms of the bottom line. In development, it was desperately trying to get the jump on its competitors and rushed things as a result.
It boasted in its marketing to customers that pilots would not need simulator training to fly the new jet and pushed the regulatory authority, the FAA, not to force it to mention its anti-stall system in the manual for the new aircraft. That is the same anti-stall system implicated in both crashes.
While the financial hit for Boeing and its 737 MAX is $9.2 billion so far and counting, it is the hugely significant matter of public trust that could be damaged beyond repair.
Also on rt.com
Up to 50 Boeing planes grounded globally after wing-related cracks discovered
For most, that is a trust that the plane your company has manufactured will actually take you from point A to point B without malfunctioning when it is seven miles up in the air. One member of the Senate committee told Muilenburg: "Right now all my internal warning bells are going off. And, for the first time in my life, I'm sorry to say that I'm hesitant about putting my family on a Boeing aeroplane."
What Muilenburg must be realizing, as he looks for some way to rebuild confidence, is that there is no point making aircraft that passengers are too scared to fly on. Even he was forced to concede that he could not remember ever flying on a 737 MAX before the accidents.
Executives at rival aircraft manufacturers, like Airbus, could be forgiven for thinking Christmas has come early.
Like this story? Share it with a friend!
The statements, views and opinions expressed in this column are solely those of the author and do not necessarily represent those of RT.
You can share this story on social media: