Unashamedly intolerant: Veganism promotes a religion of hate, attempts to guilt-trip & ridicule meat eaters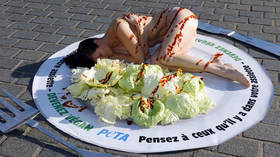 You've probably heard of transphobia or xenophobia or islamophobia. Well, welcome to the latest invented fashionable phobia, vegaphobia!
Vegaphobia refers to meat-eating purveyors of hate, who dislike and fear vegans. Veganism loves to present itself as a brave progressive doctrine fighting off hordes of uneducated angry carnivores.
In reality, it is the ideology of veganism which promotes a religion of hate. Veganism is unashamedly intolerant. Anti-meat campaigners are not prepared to allow others to decide for themselves what they should eat. That is why activists upholding the ideology of veganism feel entitled to invade supermarkets and prevent people from gaining access to the meat counter. They are zealously intolerant towards people who choose to adopt a diet that is at variance with their ideology.
Veganism has become an unpleasant and sanctimonious ideology that directs its energies towards imposing its lifestyle on society. This is an ideology that is not confined to the objective of eliminating the consumption of meat! Veganism is inextricably connected to a wider project of social engineering. It dislikes consumerism and looks down on people who enjoy driving their cars and taking their family on overseas holidays.
Also on rt.com
GQ magazine's 'new masculinity' is men in make-up and dresses (VIDEO)
The ideology of veganism has become increasingly expansive and plays an important role in the culture wars that dominate Western societies. That is why a Guardian essay, sympathetic to veganism, declares that the "consumption of meat is visibly aligned with a certain kind of conservative alpha-masculinity."
The association of masculinity with conservatism is a caricature close to the heart of advocates of identity politics. Add meat eating to this mix and it is only a matter of time before the sight of men eating their burgers becomes a symbol of a culture crime.
Veganism attempts to guilt-trip and ridicule meat eaters. It has successfully encouraged fellow social justice propagandists to embrace its crusade. The use of the word 'gammon' has become part of their woke vocabulary. The term gammon is hurled at supposedly conservative middle-aged English nationalists who still possess the 'disgusting' taste for meat. From their standpoint meat eating is marker for nationalism, racism, xenophobia, homophobia, and heteronormativity.
Also on rt.com
I am a trans woman – but I think this woke world has gone too far
Veganism embodies all the worst features of identity politics. Identity politics regards criticism of its lifestyle as a threat to its very existence. Consequently its response to criticism is to shut down discussion. That is why it is not surprising that last week, veganist activists attacked the BBC for failing to challenge the supposedly 'fatuous propaganda' put forward by food writer Joanna Blythman. Blythman's sin was to claim that a vegan diet "cannot compare in nutrient density" to meat-based diets.
If veganist zealots have their way soon criticism of their lifestyle – vegaphobia – will be declared a hate crime.
Let's be clear. It is OK not to eat meat. People are entitled to adopt a vegan lifestyle. Everyone is entitled to live according to their inclination but no one has the right to impose their consumption preferences on others. Unfortunately, veganism has become a censorious and coercive dogma that encourages its followers to impose their lifestyle on others. And that is not OK.
Think your friends would be interested? Share this story!
The statements, views and opinions expressed in this column are solely those of the author and do not necessarily represent those of RT.
You can share this story on social media: