Davos In The Desert: Saudi Prince Salman wants to bond with India's Modi, his 'elder brother'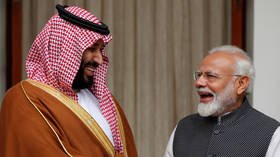 Saudi Arabia's crown prince Mohammed bin Salman has called India's prime minister Narendra Modi his elder brother, though such bonds are easily forged when big money is in the air.
Saudi Arabia has plans to invest $100 billion in India in the next two years and the latter is licking its lips at some $500 billion-worth of futuristic infrastructural projects in the desert kingdom in the coming decades, and the two, it seems, can't get enough of one another.
Now, Prince Salman is planning a red-carpet welcome for Modi next Tuesday in Riyadh, at what will be the third edition of its Future Investment Initiative (FII), the 'Davos In the Desert.' But the pow-wow between the two leaders in bilateral talks is the real deal in the backdrop.
The Saudi Arabia of today would hate to remember that it once stood against India over the Soviet Union's presence in Afghanistan in late 1970s, or that it had sided with Pakistan during the 1971 War which helped create Bangladesh. It has also locked horns with India on Jammu and Kashmir on more than one occasion.
Also on rt.com
Saudi Arabia to invest $100bn in India to strengthen ties & diversify own economy – envoy
Now, Saudi Arabia looks the other way as India flexes its muscle in the troublesome northern state, promises to share intelligence to boost India's fight against Islamic terrorism, and grants observer status to India in the Organization of Islamic Cooperation (OIC). In between, it has conferred Modi with Saudi Arabia's highest civilian honour, the King Adbulaziz Sash, for good measure.
Saudi Arabia has, for some time now, been looking for new friends in the East. The disappointing response of the United States after half of the kingdom's oil production was knocked out by drone attacks last month, or when the West cornered Riyadh on the murder of journalist Jamal Khashoggi last year, has only driven it into the arms of India, and of China.
For this second iteration of FII, France, Australia, New Zealand and the Netherlands have pulled out, as has the US treasury secretary Steven Mnuchin along with IMF head Christine Lagarde. The chief executives of JP Morgan, Siemens, Blackrock, etc., had all turned their backs and so did leading names in Western media. Most of them –the likes of the Fox Network, CNN, the New York Times and Bloomberg Media– are bearing their grudge even this year. The personal wooing of Google, Apple and Amazon by prince Salman himself has, apparently, had no effect.
Also on rt.com
Modi-Xi informal 'summit' to unfold in the shadow of Kashmir
Now Saudi's Aramco is investing over $44 billion in India's massive Ratnagiri oil refinery in Maharashtra and it's close to buying a 50 per cent stake in a $4.6 billion petrochemicals plant in Gujarat, Modi's home constituency. A quarter of India's oil needs today are met by Saudi Arabia and that it may overtake China in its exploding energy demands by 2024 is a mouth-watering prospect. The Saudi Arabia of today doesn't want to export just oil alone, it has ambitions of being the leader in the refinery business, as its investments in Texas and Ratnagiri suggest.
India is also achieving its strategic goals alongside trade with Saudi Arabia. Its economic heft makes it a very attractive proposition for the US, the Middle East, Russia and China. It's a great position to be in. It has a population of 200 million Muslims for a majority of whom Saudi Arabia remains the seat of Islam, as the holy cities of Mecca and Medina are within its borders.
Also on rt.com
New India lauds Mahatma Gandhi on all but one important matter
Modi pulled off a great PR coup with India's biggest minority group when it persuaded Saudi Arabia to increase India's Haj pilgrimage quota to 200,000, the second highest of all pilgrim quotas this year. Over three million Indian workers constitute the largest labor force in the kingdom and send a sizeable annual remittance of $11 billion back home. Above all, Saudi Arabia and the entire Gulf that is so enamoured of India, acts as a great restraining hand over Pakistan.
The India of today fits perfectly into Saudi Arabia's project, called Vision 2030, which is to open up the Kingdom and diversify its economy. It's as good a time as any to harp on Arabia's ancient links with India, which dates back to the third millennium BC, and to offer reminders that Arab traders once held a monopoly on spice trade between India and Europe. Good times of-old have a way of refreshing pleasant memories between two long-lost friends.

By Ashish Shukla, a senior journalist and geopolitical analyst based in India, author of 'How United States Shot Humanity,' who also operates a website, NewsBred.
Like this story? Share it with a friend!
The statements, views and opinions expressed in this column are solely those of the author and do not necessarily represent those of RT.
You can share this story on social media: