Paper beer bottles & wooden cutlery: Do eco-moralists care more about the environment, or turning people's lives upside down?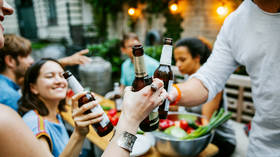 At first I thought my friend was joking when he told me that Carlsberg, the beer maker, is planning to develop paper beer bottles made from what it calls 'sustainably-sourced wood fibres.'
Drinking beer out of a paper carton does not sound very appealing. I can't imagine myself clinking a beer carton before saying 'cheers.' But then I should have known that gaining a reputation for being Green was far more important for Carlsberg than improving the quality of its beer.
It is not just Carlsberg who is threatening to get rid of beer bottles. Coca-Cola, Swedish vodka maker Absolut, and the cosmetic group L'Oreal have all jumped on the paper bottle bandwagon.
It is not yet clear whether Carlsberg's rebranding exercise will meet with the approval of the Green eco-crusaders. Eco-crusaders are continually looking to find targets to criticise, and products to ban. Carlsberg may well find itself being told off for using wood fibres on the grounds that it causes deforestation!
Recently, Greenpeace announced that it is not happy with people who have heeded its call to avoid using disposable plastic only to embrace disposable wooden cutlery. Apparently, the use of anything that is disposable constitutes a 'green sin.' In its usual sanctimonious tone, Greenpeace denounced users of wooden cutlery and warned that their action is 'dangerous'.
Also on rt.com
Who are Extinction Rebellion — the 'eco-activists' grounding planes & shutting down cities
Referring to companies "swapping single-use plastic for other throwaway items," Fiona Nicholls, ocean plastics campaigner for Greenpeace UK, stated that their action is "grotesque."
Greenpeace and other eco-crusading groups have developed a formidable reputation for guilt-tripping the public. Their alarmist rhetoric has a quasi-religious tone. Their warning about climate change often mutates into a moral exhortation to change the way we live. They don't just want to get rid of plastic straws and beer bottles, they demand that people sign up to 'veganism,' 'carbon rationing,' and a puritanical lifestyle.
These professional scaremongers have succeeded in convincing governments and the public to actually believe that plastic straws, cotton buds and drink stirrers constitute an existential threat to the environment! Like Carlsberg, governments are desperate to gain a reputation for possessing green virtues.
That is why plastic straws, cotton buds, and drink stirrers will be banned in England from 2020.
Also on rt.com
Is political correctness killing fashion? Designers are speaking up against the 'tyranny' of the woke
Banning disposable products will not make any significant contribution to improving the environment. The principal objective of targeting disposable product is not so much to improve the environment but to change how people live their lives.
The effective solution to the waste caused by plastic and disposable goods is to develop effective technologies of waste management. However Green crusaders are far less interested in developing such technologies than in guilt-tripping the public. They are obsessed with changing the way people lead their lives and developing technological solutions for the problems of the environment stands in the way of their moralistic mission.
Like this story? Share it with a friend!
The statements, views and opinions expressed in this column are solely those of the author and do not necessarily represent those of RT.
You can share this story on social media: