Trump's tweets, ticks or terminators – which will look most important to historians?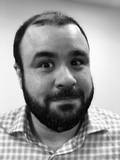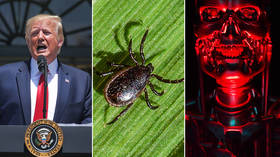 I don't want to get carried away, there's enough hyperbole around already, but I think this last week could go down as one of the most pivotal weeks in human history.
My worry is that no one noticed because Donald Trump's latest, racism tinged, tweetathon has been monopolising the attention of the media and its rent-a-rant commentators.
READ MORE: '4 horsewomen of the apocalypse': Trump renews attack on 'Dem Squad'
So put yourself in the place of a future historian, and with perfect 20/20 hindsight decide which of the following three stories deserved global attention:
Donald Trump sent a controversial tweet which he does quite regularly. This week he decided racism would be his method to dominate the news agenda.
The US House of Representatives calls for an investigation into whether the Pentagon 'weaponised ticks' (yeah, the little bitey insects) anytime between 1950 and 1975 and caused the spread of Lyme Disease.
Future global overlord Elon Musk unveils the Neuralink, technology which will be implanted into human brains allowing them to control machines with their minds.
Also on rt.com
Congress investigating possible secret 'bioweaponization' of insects by the Pentagon
Because look, Trump sending out a tweet telling four congresswomen of colour to "go back" to wherever they're from is unpleasant, but he's only trying to distract. Trump knows he can control what the media talks about just by tweeting, so that's what he does. You know what my mum would say? Just ignore him or you'll encourage him.
....and viciously telling the people of the United States, the greatest and most powerful Nation on earth, how our government is to be run. Why don't they go back and help fix the totally broken and crime infested places from which they came. Then come back and show us how....

— Donald J. Trump (@realDonaldTrump) July 14, 2019
If Trump's 280 character diatribes weren't allowed to set up a week of pained debate about issues we already know the answer to, then we could get on to the much more important matters of how weaponised ticks killed your grandparents and human-robot hybrids will kill your grandkids.
The truth is, since that race-charged tweet went out, the issue that sparked it has been pushed out of the headlines as well. The terrible conditions of immigration centres on the southern border get forgotten while debate rages over whether there's a racist in the White House. Next week he'll drop a sexist tweet and repeat the whole tiresome process.
The targets of his rant, Congresswomen Ayanna Pressley, Ilhan Omar, Alexandria Ocasio-Cortez and Rashida Tlaib (also known as 'the Squad') took the political opportunity to bask in the spotlight. I'm not saying Trump doesn't use race as a political strategy, but I'd say it's a useful tactic for 'the Squad' as well.
Trump's tweets have been allowed to become so powerful, that they move politics far beyond US borders.
In Britain, the two men hoping to become prime minister next week had to give their views on it. They thought the tweet was racist, but no, they did not think Trump was racist (because he's the man in charge of future trade deals). No one asked them for their views on Elon Musk's plans to create a race of superhumans that could change the very fabric of our existence.
And sticking with the race-hate theme, in the weekly question and answer session in British Parliament, outgoing Prime Minister Theresa May called the opposition Labour party anti-Semitic, while Labour's leader Jeremy Corbyn called the Tories Islamophobes. No one gave their opinion on insects being deployed as bioweapons. Not one.
Also on rt.com
'Monkey controlled computer with his brain': Musk reveals brain-reading Neuralink implant
So yes, Trump's tweet was racist, he does it on purpose, don't encourage him and let's try and focus on the ticks and Musk the Merciless' robots instead.
Or at the very least, keep talking about the conditions illegal immigrants are being kept in.
As long as Trump can divert attention with a controversial tweet, he's going to keep sending them.
The statements, views and opinions expressed in this column are solely those of the author and do not necessarily represent those of RT.