May pitching the people against parliament is a new low in Brexit mess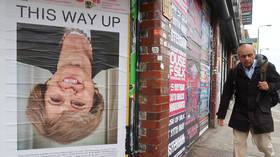 Just when you think Brexit can't get any more chaotic or confusing, the UK prime minister goes on TV to stoke a confrontation between parliament and the people by blaming MPs and telling voters "I'm on your side."
I don't think you'll find anyone who will argue MPs aren't to blame for what we're all seeing in British politics, but Theresa May's timing does appear, and I'll choose one of the kinder adjectives that spring to mind, reckless.
May, whose tenure as PM is coming to an end, has chosen to try and stand with a public that has been disgusted by parliament for some time.
Also on rt.com
'Determined to get on with it': May doesn't want 2nd referendum, regrets Brexit delay (VIDEO)
On the one hand you've got the 17 million people who voted to leave the EU who are angry that their country are still very much part of it. On the other you have the millions of remainers who are disgusted that historic splits in the Conservative Party, far from being repaired by trying to leave Europe, have instead spread across the entire political spectrum and doomed membership of the world's largest trading bloc.
May choosing to blame elected MPs could, I suppose, look courageous if the timing was right, but frankly speaking, it is not. May doesn't need to win over voters who have had their say, she needs to win over MPs who keep rejecting the deal she's cut with Brussels.
At least one MP has suggested May's national statement placing the blame on MPs could leave them in physical danger. People in danger tend to lack sympathy for those who put them there. The prime minister's powers of persuasion have been exposed again.
I've thought long and hard before saying this, but @theresa_may knows that MPs across the House are subjected to death threats - some very credible. Her speech was incendiary and irresponsible. If any harm comes to any of us, she will have to accept her share of responsibility.

— Wes Streeting MP (@wesstreeting) March 20, 2019
At the very centre of this whole debacle is a simple binary vote held in June 2016 where the British people were asked if they wanted to leave the EU. Whether an issue of this complexity should be settled by a simple yes or no question is neither here nor there, the simple fact is that a democratic decision was made and those in charge of making it happen to have completely failed to carry it through.
Due to the way the mainstream debate is framed in Britain, the good guys are widely presented as those pushing for a new referendum, what they call the 'People's Vote', or what they secretly mean, 'the right kind of people's vote'. Another vote though would simply be the rejection of a democratic decision because the first result was deemed unacceptable.
The damage to Britain by undermining its democracy would be far greater than that posed by leaving Europe. The reports that the EU backs the idea of another referendum is a fair indicator of why so many Britons wanted to leave in the first place.
The ineptitude of parliament to make Brexit happen has been even worse because the whole world has been able to watch it fail so publicly over a two year period.
The time given to come up with a decision, or at the very least a compromise, has instead been used by all sides to become entrenched. The two main parties are so divided, they now boast parties within parties which have paralyzed the process.
Also on rt.com
Recipe for civil war? 17.4 million voted for Brexit & are being denied it (by G. Galloway)
The balance of power lies with minorities like the anachronistic and right-wing Tory faction the European Research Group, or even worse… with the EU.
The British prime minister is asking the EU for even more time to fail to make a decision, putting the ball back in Brussels' court. The spectre of leaving without a withdrawal agreement in 8 days time, the so-called 'Hard Brexit', is sold as a doomsday scenario.
For much of the British public though, the difference between a hard or a soft Brexit looks more like a decision on how to remove a band aid from a hairy arm, both are going to hurt, but the pain lasts much longer if you do it slowly. The majority just want to get this over with.
My foreign colleagues ask for explanations about what is going on because, as a native of Britain, surely I should know, but I don't. No one does, literally no one.
Anyone you see speaking with certainty about what will happen next is lying to you, they're just expressing their personal position, which usually has very little to do with the national interest. At least the look of bewilderment and anger on the faces of EU technocrats like Guy Verhofstadt and Donald Tusk are genuine.
Brexit has become like an unexplainable modern art installation; it's surrounded by people staring and frowning, and from any perspective it looks like a complete mess.
Like this story? Share it with a friend!
The statements, views and opinions expressed in this column are solely those of the author and do not necessarily represent those of RT.
You can share this story on social media: