'I assumed I was a target of MI5, but I didn't have secrets & wasn't too worried' – K. Livingstone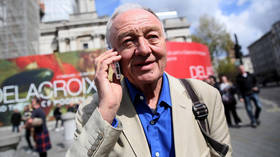 Britain's conservative newspapers are obsessed by claims of Russian intelligence interfering in UK and US elections and Skripal allegations, but they have no interest in exposing the illegal activities of MI5 and MI6.
The Undercover Research Group worked with the Guardian newspaper to expose the fact that in the last 50 years 124 organisations have been infiltrated and spied on even though many of these were anti-war and anti-racist activists, environmentalists or animal rights groups – a total of 144 spies targeted them. Whilst I would expect our intelligence services to infiltrate terrorist groups planning to bomb and kill, it's hard to see what threat people campaigning for equal rights posed to Britain.
A total of 24 agents infiltrated the Socialist Workers Party, a small Trotskyist group with a couple of thousand members, even though London's police recorded that the SWP did "not have a recorded propensity for violence," the Guardian wrote.
It was also revealed that many of these undercover agents seduced women in the organisations and left them pregnant. The government has been forced to set up a public inquiry headed by a retired judge, Sir John Mitting, who will investigate the last fifty years of these activities. I have been approached by lawyers working on this inquiry who wanted to know if I was aware of the identity of any agents who had been spying on me. I'm really looking forward to going to the public hearings when they start.
The second biggest organisation targeted was the anti-Vietnam war campaign (which I was a part of) which had nine spies allocated to it between 1968 and 1972, even though all we ever did was go on demonstrations.
Altogether ten environmental campaigns and nine anti-racism organisations were spied on as well as twenty-two left-wing groups. Oddly, those campaigning for animal rights were also penetrated, along with the campaign against apartheid. Some trade unions had undercover agents working in them and even families who were campaigning against police misconduct towards their family.
Mitting's inquiry has revealed that the police have data on over a thousand political groups from those years.
I'm hoping that his inquiry will also reveal the full extent of racism in MI5, where senior officials did not believe that black people could be recruited to any high-level role in the organisation because they could not be trusted. This has been revealed by Dr Dan Lomas of the University of Salford, who has investigated MI5 files from the 1960s. Those files reveal opposition amongst Whitehall officials to the Labour government's plans to make it illegal to discriminate against workers on the grounds of their race.
Lomas reported that MI5 had a deep distrust of Jews and that in the 1950s discrimination against homosexuals and anyone with mental illness permeated MI5. As the Labour government in the 1960s continued to recruit black people they were not allowed access to secret documents and still today MI5 is being criticised because of the absence of racial minorities in top posts.
At a meeting at the Cabinet Office in 1967, MI5 warned of their concerns about members of the Windrush generation. Officials recorded that "coloured staff" had to be resident in Britain for ten years before they could be vetted. MI5 warned that "simply from the colour of a man's skin which gave him a chip on his shoulder," this posed a risk to Britain. But Lomas has made it clear that there are no MI5 files recording any instance of a black British person spying for our enemies.
When I became leader of the Greater London Council in 1981, I would finish a phone call at home and put the phone down, but if I picked it up to make another call I could hear a recording of my previous conversation being played back. So I assumed I was a target of MI5, but as I didn't have any secrets I wasn't too worried about it. I only really got interested in MI5 during the 1987 general election when I was standing as a candidate. The Tory press had reporters following me throughout the campaign and attending every public meeting I held. At a meeting in Kilburn just a week before polling day, the other speaker was Captain Fred Holroyd, an ex-intelligence officer who was a critic of the methods MI5 used against the IRA in Northern Ireland. The moment he started to express his doubts he was immediately accused of mental instability and dismissed as an intelligence officer.
I found Fred's speech amazing. Although he was right-wing, loyal to Britain and had been army-barmy as a child, he genuinely believed that MI5's dirty war against the IRA was increasing their support.
The audience was most shocked when he revealed that he worked in the same corridor in army intelligence in Northern Ireland as Captain Robert Nairac, who had illegally crossed the Irish border to allegedly assassinate a senior IRA member John Francis Green on January 10, 1975. On his return Nairac showed Fred photographs of Green's body but the gun he allegedly used to kill Green was also used on July 21 1975 when three members of Ireland's most popular pop group, the Miami Showband, were murdered.
Fred told the audience that Nairac had led a group of loyalist Ulster Volunteer Force members over the border, stopped the coach carrying the band and planted a bomb in the minibus. Because of a mistake the bomb went off killing two of the UVF members in his team. The other UVF members, along with two British soldiers, then shot the three band members in cold blood. Their plan, he claimed, was that this outrageous killing would wreck the ceasefire which the Labour government had negotiated with the IRA. Holroyd told us that this had been organised by rogue elements in MI5 who feared Wilson's government was pro-Soviet Union and wanted Wilson out of office.
According to Fred, this campaign was called Operation Clockwork Orange and these rogue officers in the army and MI5 had worked with Airey Neave, who was Thatcher's closest confidante and shadow Northern Ireland secretary. He was absolutely clear that Neave knew about these dirty war killings.
I didn't automatically believe that all this would be true, but I was shocked the next day to see that not a single journalist reported what he had said in their papers. This made me deeply suspicious and so I raised these issues in my maiden speech in the House of Commons shortly after the election. Two Tory MPs intervened to stop my speech which was the first time ever a member's maiden speech had been interrupted.
I put down dozens of questions to the government and challenged Margaret Thatcher directly during the Prime Minister's Question Time. Her response convinced me that the allegations were true, but the government consistently avoided answering or investigating my accusations. I also got help from Colin Wallace, another former intelligence officer in Northern Ireland, who was part of the Clockwork Orange project, but once he was considered unreliable he had been framed with a dead body put in the boot of his car and was convicted of manslaughter, although this decision would be overturned by the courts years later. The journalist Paul Foot was also investigating this and produced an excellent account in his book 'Who Framed Colin Wallace?'.
I continued to get two years of abuse from Tory MPs and Tory newspapers, until civil servants searching files at the public records office in Kew to find an answer to one of my questions, found the only Clockwork Orange file that had not been destroyed. Alan Clark, who was then a minister of defence, wrote in his diary about the panic in the ministry now that this had all come out. He said: "Two crises occupy the department… the first is something to do with the dirty tricks campaign… as far as I'm concerned dirty tricks are part and parcel of effective government".
Think your friends would be interested? Share this story!
The statements, views and opinions expressed in this column are solely those of the author and do not necessarily represent those of RT.
You can share this story on social media: