If a death threat isn't a 'violation' of Twitter's rules on abuse, what is?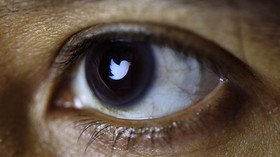 Yesterday, I received a death threat. I reported it to Twitter Support, but they said there was no violation of its rules on abuse.
It's another example of the double standards of the social media giant and how, if you don't have officially-approved 'victim' status, you won't get protection.
The account's name is 'ironstowe'. His Twitter title is 'Not My President.' At 22.40 on December 10, he sent me the following tweet from New York, USA.
The message was quite clear. Saddam was killed. Bin Laden was killed. Putin will be killed and then it'll be the turn of 'the likes' of me.
The tweet came in response to one of mine in which I reminded people of what we were told about Iraqi WMDs in 2002/3, and compared the hysteria then with the anti-Russian hysteria today. It had quite impact, getting over 1,170 retweets and almost 2.5k likes.
But clearly 'ironstowe' didn't like it, despite the politician he claims to be a 'big supporter' of, Barack Obama, being a critic of the Iraq War.
His tweet spoilt what should have been a happy day for me as it was my wedding anniversary. Receiving it caused me great distress and made me very angry.
But as shocking as the communication was, it's the response of Twitter that is the most outrageous part of the whole story. I reported the tweet, as indeed did many of my followers, but Twitter said, just a couple of minutes later, that having reviewed my report "carefully", they found that "there was no violation of the Twitter Rules against abusive behavior". I wrote back to appeal, but their response was the same. They weren't interested.
Also on rt.com
'Twitter gives green light to death threats against anti-war voices,' claims journalist Neil Clark
Yet, the Twitter rules they linked to in their email to me clearly states, in the section marked 'Violence,' that "You may not make specific threats of violence or wish for the serious physical harm, death, or disease of an individual or group of people."
This is exactly what ironstowe did. But he escaped censure and is still tweeting today as if nothing had happened.
Just imagine if an account holder from Russia had sent such a tweet to a journalist from CNN. I've absolutely no doubt that they'd have been suspended within minutes. Think of all the so-called 'Russian bots' who have been culled in recent months just for being Russians. Think of the anti-war commentators who have been suspended or banned from Twitter, for doing far less than 'ironstowe'.
It's not the first time I've been sent threats via Twitter and the company has failed to act. Less explicit, but no less chilling was one I received from 'HoagsObjects'/America 1st' on September 24. I had tweeted earlier that day in support of Russia's decision to supply S-300 air defence missiles to Syria to protect it from Israeli attacks. 'HoagsObjects' menacing response was "I hope to meet you in person one day."
I reported the tweet, but again, Twitter said there was no violation. 'HoagsObjects' pinned tweet, by the way, declares "Truth! Palestine never existed."
In the summer, I was the subject of another disturbing tweet from Idrees Ahmad, a lecturer at the University of Stirling, tweeting under the handle @im_PULSE.
It read: "It's July 2018, Neil Clark hits his head against a sharp object, and sh*t oozes out".
Among those who 'liked' the tweet was the shady black-list compiling 'PropOrNot' organisation, who also retweeted it, and the Kent-based troll account Don Quixote's Horse' @Quixote's Horse, which smears foreign policy dissidents while courageously blocking them so they can't respond.
Again, Twitter did nothing. It's clear that its rules are only applied selectively. Narratives are the important thing.
Ahmad is a strong supporter of Western-backed regime change in Syria. I oppose intervention. If an opponent of Western policy had sent Ahmad the same tweet, I've little doubt they'd have been booted off the platform post-haste. Just imagine too if a left-wing supporter of Jeremy Corbyn had sent such a disgusting tweet to a Blairite Labour MP. It would have been all over the newspapers. But I'm not a member of the officially-designated 'victim' groups. I am a critic of Western foreign policy, a socialist and a regular on RT. So I'm fair game.
Political censorship appears to be taking place under the guise of 'implementing' Twitter rules, while genuine offenders are given a free pass.
Asa Winstanley reports that the Electronic Intifada was ordered by Twitter to delete a tweet linking to a story about Israel's commando raid into Gaza last month.
"In its notice to The Electronic Intifada, Twitter asserted that The Electronic Intifada's tweet violated the Twitter Rules, but provided no specific explanation of how it did so," writes Ali Abunimah.
In August, the anti-war writer Caitlin Johnstone had her Twitter account temporarily suspended for violating the rules "against abusive behavior" for a tweet about the pro-war Senator John McCain. Her tweet read: "Friendly public service reminder that John McCain has devoted his entire political career to slaughtering as many human beings as possible at every opportunity, and the world will be improved when he finally dies."
You might agree/disagree with the sentiment Caitlin expressed, but it was clearly not a death threat, unlike ironstowe's tweet to me.
Another person to be banned permanently from Twitter recently is Peter Van Buren, a former State Department whistleblower. He tweeted: "I hope a MAGA guy eats your face" to journalist Jonathan Katz, who had called him "a garbage human being". Katz reported him for "promoting violence."
But was van Buren's tweet any worse than the one ironstowe sent to me, and for which he escaped with impunity?
Twitter loses credibility if its rules are not applied equally across the board. Politics should not come into its policing policies.
Being a supporter of US Empire, Israeli military actions, or regime-change operations in Syria shouldn't mean you're exempt from disciplinary procedures. And being an anti-war activist who opposes neocon policies shouldn't mean you get no protection or are given a 'red card' when you've done nothing wrong. I would welcome a discussion with Jack Dorsey on these important issues.
Think your friends would be interested? Share this story!
The statements, views and opinions expressed in this column are solely those of the author and do not necessarily represent those of RT.
You can share this story on social media: