Amnesty strips Aung San Suu Kyi of its highest honor; Obama's Nobel Peace Prize should be next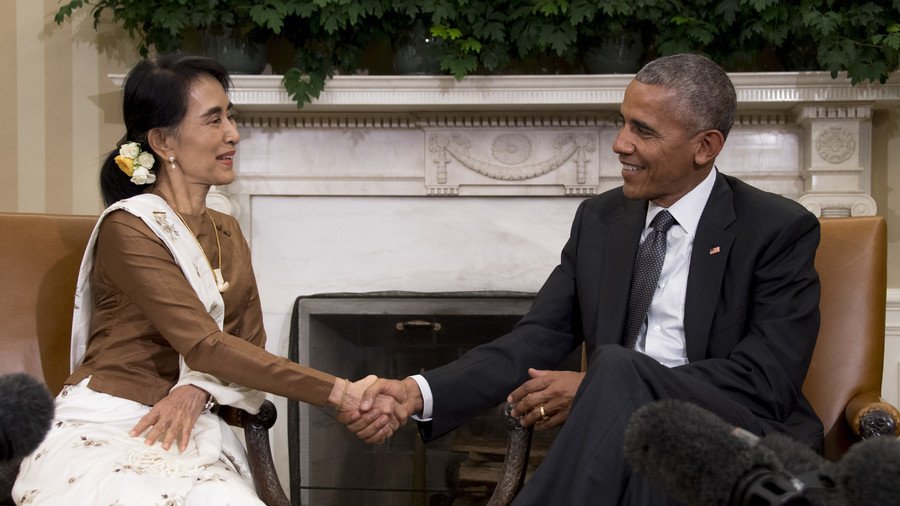 Amnesty International announced it would strip Myanmar leader Aung San Suu Kyi of its top award, saying it was "profoundly dismayed" at her failure to acknowledge the full scale of atrocities against the Rohingya people.
Before you are tempted to view this as some kind of principled, honorable move on Amnesty's part, stop yourself and check out its dubious government and corporate funding sources, its selective support for the concept of free speech and the fact that it spends quite a bit of time soft-pedaling Western imperialism and its atrocities while magnifying the wrongdoings of the West's adversaries.
Amnesty's attempt to win plaudits for its decision to revoke Suu Kyi's award has come after mounting calls for the controversial figure's 1991 Nobel Peace Prize to be stripped from her. Nearly half a million people have signed a Change.org petition calling for the Nobel Committee to take back the award.
Given that the committee has been, shall we say, less than picky, about who it bestows the honor on, we can probably assume Suu Kyi will remain on the recipients list. Not to mention, the committee has already confirmed that worrying about what recipients do after the award ceremony isn't part of the job. You see, the rules regulating the Nobel Prize, apparently, do not allow for the award to be withdrawn, which is fairly convenient.
I say convenient, because if they started taking Nobel Prizes back from all the people who (oops!) didn't actually deserve them, the list of remaining recipients would shrink very quickly indeed.
The first unworthy awardee that springs to mind is, of course, former US President Barack Obama, who, rather inexplicably, was presented with his Nobel Peace Prize a mere nine months into his first term as president on the basis that it seemed like he might do something worthy of the honor at some point in the future. Sadly for the Nobel Committee, which clearly had high hopes for the man, Obama went on to bomb seven different countries over the course of his two terms.
How interesting, by the way, that the committee rules won't provide for an undeserved award to be taken back, but they have no problem giving an award to someone for things they haven't even done yet.
Asked in 2016 by comedian Stephen Colbert why he received the prize, Obama said "To be honest, I still don't know" — so at least even he seems to know the whole thing is a bit of a joke.
The farcical nature of the so-called prestigious prize was compounded again in 2012 when it was award to… the European Union.
But well before any of that, in 1973, we had infamous war criminal Henry Kissinger who somehow managed to win the Nobel Peace Prize for his efforts to negotiate a ceasefire during the Vietnam War, while at the same time he was secretly orchestrating the devastating carpet-bombing of Cambodia. Kissinger's peace prize was a decision which satirist and songwriter Tom Lehrer said "made political satire obsolete."
If the Nobel Committee was, however, in the business of taking back awards, it's easy to imagine that Suu Kyi's might be one of the first to go. Come on, it would be fine to take back an utterly insignificant and meaningless award from Myanmar's out-of-fashion leader, but highlighting Western hypocrisies or crimes by swiping an award from Obama? Let's not get ahead of ourselves!
Now, not to be too much of a stickler here, but since we're engaging in wishful thinking, I'd also like to suggest that the committee take back Malala Yousafzai's award. There is no doubt that Malala's activism on behalf of girls' education, before and after her near-fatal 2012 shooting by the Taliban, is admirable.
READ MORE: UN's 'genocide' report not good enough for Nobel Committee to strip Myanmar's Suu Kyi of peace prize
But, awarded at 16 years old, Malala had become a poster child, a pawn and propaganda tool of the West. While she was being showered with praise and concern in the West — which was portraying itself as a savior to the poor unfortunate Pakistanis — the Obama administration was ramping up its drone bombing of that country, killing plenty of children who weren't so lucky as Malala. Death by American drone is obviously a far superior and more justifiable way to go than meeting a Taliban bullet.
Anyway, maybe the Suu Kyi case could serve as a reminder going forward that very often, international awards bestowed on flavor-of-the-month political leaders and activists are actually an utter farce — and that perhaps we should do away with them or at least stop paying so much attention to the whole charade.
Oh, and Bob Dylan's Nobel Prize for Literature? That's definitely got to go.
Think your friends would be interested? Share this story!
The statements, views and opinions expressed in this column are solely those of the author and do not necessarily represent those of RT.
You can share this story on social media: