Keeping in with Murdoch – why Boris has joined the RT-bashers club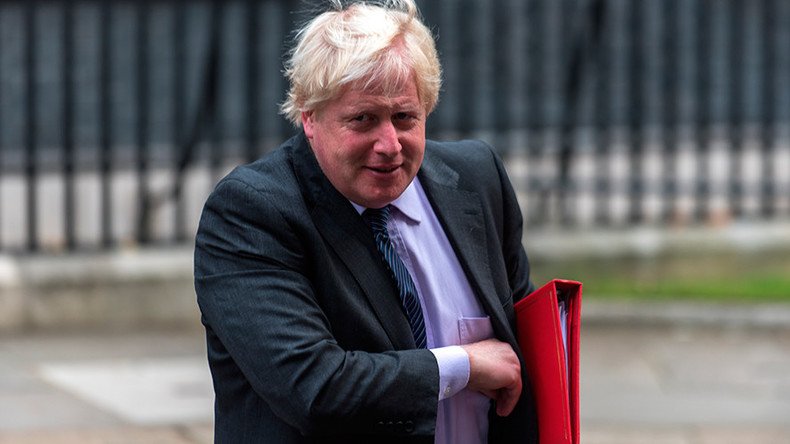 Just when you thought the campaign by the NeoCon Thought Police against RT couldn't get any nastier, it did.
In the US, RT has come under pressure to register as "foreign agents" under legislation designed to deal with Nazi propaganda in the 1930s. In Britain, the campaign is now personally targeting MPs and other public figures who agree to go on the channel – and also trying to apply pressure on bodies such as Transport for London (TfL) not to carry RT's wonderfully sardonic adverts.
Speaking in Parliament on Tuesday, Boris Johnson, the Foreign Secretary, called it an 'absolute scandal' that Labour MPs have been appearing regularly on RT. What made the intervention all the more embarrassing was the fact that Johnson's own father, the former MEP Stanley Johnson, had appeared on Going Underground the previous month to promote his new book.
You can just imagine the conversation at Johnson Towers over this weekend's Sunday lunch, can't you:
Johnson jnr: 'I say pater, I think it's an absolute bally disgrace those awful Corbyinte Labour chappies are going on RT'
Johnson snr: 'But I go on RT. Went on it to flog me latest book. Met that very nice man Afshin Rattansi'
Johnson jnr: 'Er, but that's different, pater.'
In similar vein Douglas Carswell, a former Tory MP who defected to UKIP – and then left them as well – called for whips to 'wake up' to MPs who go on RT, not mentioning that he too had been a guest on Going Underground. Repeat After Me (By orders of the NeoCon Thought Police): 'Do as I say, not as I do, do as I say, not as I do…'
The hypocrisy on display is quite hilarious – or rather, it would be if the campaign against RT (and Sputnik too) were not so vicious.
The fiercely censorious Times newspaper, as I detailed here, has been at the forefront of the anti-RT McCarthyism.
The Murdoch media empire has a very obvious financial interest in wanting to damage a commercial rival to Sky – and of course RT's factual and unbiased reporting on Syria won't have gone down too well with the serial regime changers who wanted air strikes on Damascus.
That's important in helping us understand Boris's latest outburst. When he was writing for the Daily Telegraph, Johnson lauded Russia's anti-terrorist actions in Syria.
He had no track record of being a foaming-at-the mouth Russophobe. (A buffoon, yes; a Russophobe, no).
But last year his bid to become Tory leader was effectively derailed after Michael Gove, a key ally, withdrew his support at the crucial moment. Gove – a former Times columnist and comment page editor (with whom your reporter actually enjoyed a quite amicable relationship as a journalist), is widely regarded as being the MP with the closest relationship to Murdoch. The word was that the 'Kingmaker' of British politics had grave misgivings about the prospects of Boris Johnson as PM – so Gove acted accordingly.
Johnson will have learnt one important lesson from what happened last summer – namely that Murdoch's support will be absolutely crucial if he is to get the top job after Theresa May. That would explain why he's now coming out so strongly against RT – and joining in with the Times' spiteful vendetta.
It's surely noteworthy that the furore about Labour MPs going on RT began to pick up traction after Gove tweeted about it last week.
It's not just Johnson though who's on the warpath. Tom Watson (that's Labour's pro-war deputy leader, not the gentlemanly veteran American golfer) this week wrote to Ofcom urging them to investigate RT's adverts on the London Underground. Watson ludicrously claims that RT's jocular adverts have 'caused significant alarm'. To whom, Tom? Only members of the 'Inner Party' who are terrified of people seeing the ads and then tuning in to get a different perspective on world events from what they'd get in Establishment-friendly media.
Another New Labour figure linking arms with rabid anti-RT neocons is one Lord Adonis.
The unelected peer, appointed by former Chancellor George Osborne to be the chair of Britain's National Infrastructure Commission, on a salary of £85,000, for just three days a week work, is absolutely fuming that RT has been advertising on the London Underground. On Wednesday, his Lordship – like a holier-than-thou school prefect – announced to the world on Twitter he was going to take up the issue with 'the Commissioner'. Then on Thursday he declared that he would ask the 'Committee of Standards on Public Life' whether Parliamentarians should take money from 'Putin's RT Channel'
Who does Adonis think he is to tell MPs what they can and can't do? This is a man who was given his peerage by Tony Blair and whose only elected office was as an SDP/Liberal Democrat North Oxford local councillor in the early 1990s!
It's clear that what we are facing is an attempt- by members of NeoCon/New Labour Establishment aka 'The Inner Party', to silence a media channel which asks us to question more – at a time when those in power want us to question less.
Ironically, the people making the biggest noise about 'Putin's propaganda channel' and the 'dangers' it poses to 'our democracy' (no sniggering at the back, please), are those who like to boast about their 'unwavering' commitment to 'free speech' – and who get on their moral high horses if television stations or other media are threatened in any way in countries where the government does not have US approval. The double standards are, I'm sure you'll agree, right off the scale.
Jesus, as was mentioned on Twitter, likened hypocrites to whitewashed tombs, which are "filled on the inside with dead people's bones and all sorts of impunity". That simile is particularly apt when you consider there is a 100% overlap between the McCarthyites who want RT to be taken off air and cheerleaders for the Iraq War, which has led to the death of hundreds of thousands and caused the rise of ISIS.
Follow Neil Clark @NeilClark66
The statements, views and opinions expressed in this column are solely those of the author and do not necessarily represent those of RT.
You can share this story on social media: