Sam Adams Associates: The unique club that lists Manning, Snowden & Assange among awardees
Annie Machon
is a former intel­li­gence officer for MI5, the UK Secur­ity Ser­vice, who resigned in the late 1990s to blow the whistle on the spies' incom­pet­ence and crimes with her ex-partner, David Shayler.
is a former intel­li­gence officer for MI5, the UK Secur­ity Ser­vice, who resigned in the late 1990s to blow the whistle on the spies' incom­pet­ence and crimes with her ex-partner, David Shayler.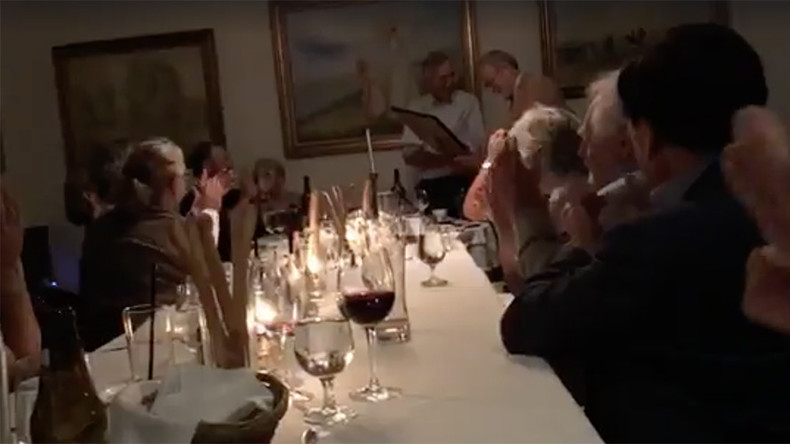 Since 2002 the unique Sam Adams Award for Integrity in Intelligence has been given annually in either the US or Europe. This year the awards took place in Washington DC, and the prize went to veteran journalist and Pulitzer Prize-winning journalist, Seymour Hersh.
Why unique? Well, the group comprising the Sam Adams Associates is made up of former Western intelligence, military and diplomatic professionals, many of whom have spoken out about abuses and crimes committed by their employers. For their pains, most have lost their jobs, and some have also lost their liberty.
Laureates include US army whistleblower Chelsea Manning, NSA whistleblower Edward Snowden, FBI whistleblower Coleen Rowley (Time person of the year in 2002 and the first SAA laureate), publisher Julian Assange, UK Ambassador Craig Murray, and coordinator of the US National Intelligence Estimate on Iran in 2007, Dr. Tom Fingar.
The common theme that binds this disparate group together into a rather weird, wonderful and very informal global club is that they have all attempted to shine a light on the dark corners of government, to speak truth to power and expose wrongdoing and "fake news" for the greater good of humanity. It is appalling that they have to pay such a high personal price for doing this, which is why the Sam Adams Associates provides recognition and presents its annual award - a candlestick, the "corner brightener."
The Sam Adams Award has, in recent years, gone to bona fide whistleblowers such as Tom Drake, Bill Binney, Jess Raddack and Chelsea Manning, while publishers, such as Julian Assange of WikiLeaks fame, have also received recognition. Seymour Hersh is the first mainstream journalist to receive the accolade.
Hersh has a long and illustrious career, beginning with his exposure of the My Lai massacre in the Vietnam war in 1969. It was an article he wrote about the April 2017 chemical attack in Syria that won him the award this year.
To remind people, on 4th April this year a chemical weapon was reportedly used against the civilian population of Idlib Province in Syria and civilians were reportedly killed. Ahead of any possible investigation, the international media unilaterally declared that the Assad regime had attacked its own people; President Trump immediately ordered a retaliatory strike on the Syrian Air Force base from where the alleged attackers launched their fighter jets and was lauded by the military-industrial complex for firm and decisive action.
Except – this was all based on a lie, as Hersh established. However, despite his journalistic reputation, he was unable to publish this story in the American mainstream media, and instead had it published in Germany's Die Welt.
The event in Washington this year was a game of two halves – the first was the dinner where Seymour Hersh was presented with his award, lauded by both former intelligence professionals and fellow investigative journalists for his work. It was recognition of the value of true journalism – speaking truth to power and attempting to hold that power to account.
The second half of the evening, which Mr. Hersh was unable to attend because of prior commitments, was the more general annual SAA celebration of all things truth-telling and whistleblowing. I had the honor of serving as emcee of the event, which included a speech from Edward Snowden, Daniel Ellsberg, SAA founder Ray McGovern and many more.
Between us all, we have decades of service and experience across different continents. Despite this geographical spread, common themes continue to emerge as they always do at Sam Adams events: official obfuscation, spy spin, media control, illegal war and more.
What to do? We shall continue to speak out in our work around the world – I just hope that the awareness spreads about the fake news that is daily peddled in the mainstream media and that more people begin to look behind the headlines and search for the truth of what is going on.
Whistleblowers, as well as their enablers in the publishing and media world, remain the regulators of last resort for truth and for justice.
The statements, views and opinions expressed in this column are solely those of the author and do not necessarily represent those of RT.