Rumor of deal between Trump & Dems on immigration sparks 'deep suspicion in Conservative wing'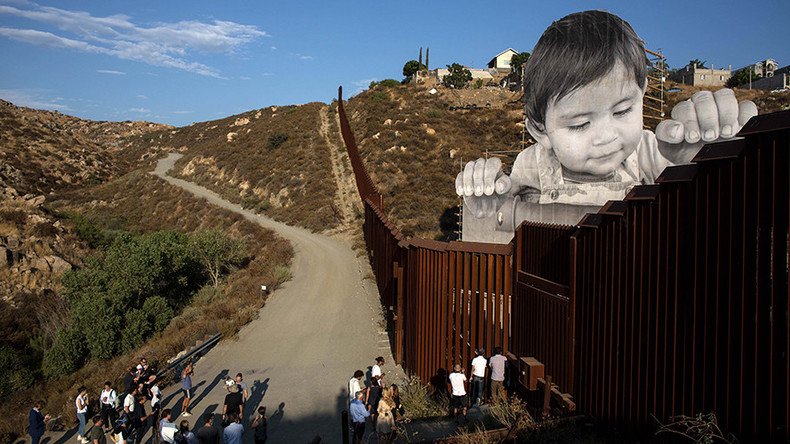 People are growing frustrated among his supporters and obviously there is seething anger and resentment among his opponents, private investor and writer Charles Ortel told RT.
US President Donald Trump's critics were giving him a hard time even before his presidency began.
At this point, however, many of his supporters are turning away from him because of his failure to deliver on key policies, such as building his border wall with Mexico.
On Thursday, Trump tweeted that building is underway and that "existing fences" are being renovated.
The WALL, which is already under construction in the form of new renovation of old and existing fences and walls, will continue to be built.

— Donald J. Trump (@realDonaldTrump) September 14, 2017
Private investor and writer Charles Ortel told RT that "Donald Trump supporters expected him to actually accomplish significant pieces of legislation."
"After all, the House of Representatives and the Senate are both controlled by Republicans," Ortel pointed out. "Now here we are, in the middle of September, there is not a lot concrete to show for Donald Trump's time in office."
He then recited a long list of those shortcomings.
"He hasn't managed to get a lot of people confirmed in key positions in the Department of Justice; he has the Mueller investigation, which seems to be an unforced error; he hasn't changed the head of the IRS. And now we hear this rumor about this immigration deal possibly being cut with the Democrats - with Chuck Schumer and Nancy Pelosi."
It is for these reason, Ortel believes, that an increasing number of Americans across the political spectrum "distrust the process we are in," which more often than not occur in "smoky back rooms" where deals get made and "jammed down the throats of the American people."
One of the major issues on the campaign trail that Trump promised to put right was the immigration problem; he said one of his first tasks in office would be to build a wall the porous Mexican border. There is now a "deep suspicion in the Conservative wing" that this bold pledge will go unfulfilled.
"We have a large number of illegal residents here in the US," Ortel noted. "I think on the narrow question of what to do with children who were brought over, the so-called DACA question, I think there is a lot of good spirit and good heart on that."
However, there remains "deep suspicion" that the Democrats will "roll over the Republican position" and provide amnesty to thousands of illegal immigrants "without actually curing the problem of having a porous southern border," he said.
The long and the short of it is that the American people who voted for Donald Trump want to see change, and they are growing very impatient.
"People are growing frustrated among his supporters and obviously there is seething anger and resentment among his opponents… Trump basically went into Washington campaigning against Washington, fat cat Republicans and fat cat Democrats and lobbyists – all these people stand to lose a tremendous amount if the tax system is simplified, if real peace is forged around the world, if there is less of a need for a deep state," according to Ortel.
"I think it is high time to actually see concrete bills that address the core structural problems inside out country which households address, humans address, but for some reason our Washington DC crowd doesn't want to address. That is what we want to see, people are becoming impatient; there is a lot of talk: where is the action, where are the results?"
The statements, views and opinions expressed in this column are solely those of the author and do not necessarily represent those of RT.
You can share this story on social media: