Team work: 'Syrian spirit & Russian air cover lift ISIS siege at Deir-ez-Zor'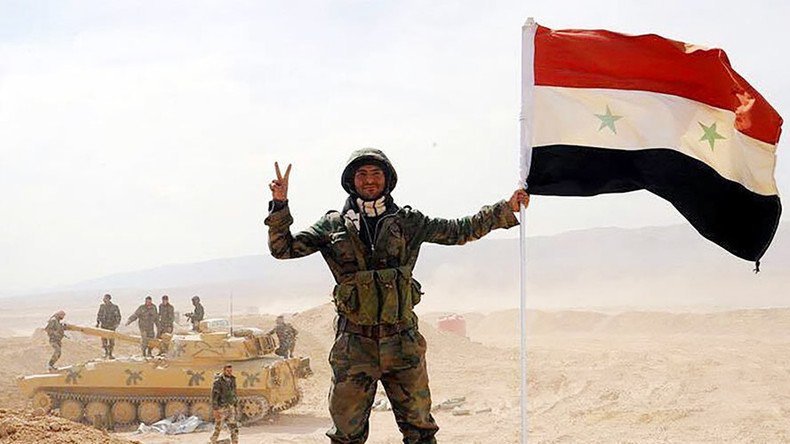 The Syrian people stuck with their government, they stuck with their army, they stuck with their allies and now their suffering has been vindicated, says Ammar Waqqaf, founder and director of Gnosos consultancy. Abdel Bari Atwan joins the discussion.
Syria's President Bashar Assad has congratulated his country's military on breaking ISIS' three-year-long siege of Deir ez-Zor in eastern Syria.
Government forces managed to fight their way into the embattled city, and link up with a brigade trapped there. The breakthrough by the Syrian Army was made possible by a Russian cruise missile strike on Islamic State militants, the Russian Defense Ministry confirmed in a statement.
RT: The siege of Deir ez-Zor has now been broken, and the Syrian president has congratulated the country's military. How big a victory is this? What is the strategic or symbolic importance?
Ammar Waqqaf: This is in Syrian terms a historic day. There are many aspects to why this is hugely significant. The first aspect is that there is a group of Syrians, a segment of the Syrian population, who refused to say at a certain moment in time when all the omens said something different – that the government in Damascus is going to collapse imminently and so on. They refused to succumb to the incoming forces of Islamic fanatics, unlike other places. They stuck with their government, and they stuck with their army, and now their suffering has been vindicated. This marks a huge shift in the whole set of choices that have been made by various segments of the Syrian population throughout this crisis.
Another aspect of significance is that the government of President Bashar Assad will receive a huge boost in legitimacy, because of this victory. They are allying themselves with the right people, they are making good on their promises, and now when President Assad, for example, speaks that he will fight to get back every single inch of Syrian territory, people will believe him, and people will give him the necessary mandate to continue doing so. In both aspects, and there are other issues as well, but in these two aspects – this is a very huge and significant day.
RT: Would you expect then the full liberation of the city to follow on pretty quickly?
AW: We've seen the images that are coming out of there, and we saw the Russian government probably - depending on the type of the aircraft flying very low - greeting in a sense the soldiers out there. And that tells you there aren't many ISIS fighters or units fighting anywhere near. So yes, we would say that at least on the western part of this city, which is the main part of the city, it should be liberated pretty soon.
Whether the Syrian army can develop the offensive and break through to the eastern Euphrates is something to see, but we've just heard as well the Syrian army official statement – they did say that this would give a platform to develop the operations and develop the offensive. So should the Syrian army be able to develop the offensive to the eastern part of the Euphrates, that would also be very significant, because then it could develop the offensive to link up with Iraqi forces trying to liberate western Iraq from ISIS, and link up the Syrian- Iraqi border. Again that would be a big game changer. And everything that is happening in the eastern part of Syria – either the American presence, the Kurdish aspirations, and so on, and so forth.
Syrian liberation of Deir-ez-Zor
Abdel Bari Atwan has written extensively on the Syrian conflict
RT: Russia's Ministry of Defense says ISIS' defeat in the Deir ez-Zor region would be a major loss to them. Is there no way back for ISIS?
Abdel Bari Atwan: No, I don't believe there is a way back at all. This is a huge setback for ISIS. I believe that to lose Deir ez-Zor it will be a springboard to lose Raqqa very soon and I believe most of the eastern provinces of Syria will be under the Syrian army. It is a huge morale boost to President Assad of Syria, also to the Syria people – to liberate about 70,000 people, who were under siege. I think it is a huge success.
We know that Deir ez-Zor, in particular, is very important strategically because it is on the border of Iraq. Also, the oil and gas fields are situated in Deir ez-Zor. So it means the Syrian government will enjoy huge reserves of this oil and this gas and it will relieve a lot of economic problem for the country that remains under siege.
This kind of victory wouldn't be achieved without Russian air cover. We know that Russia warship launched cruise missile to destroy ISIS command bases, and also its communication centers in Deir ez-Zor. So this is a victory for the Russian coalition, for the Syrian government, for everybody in Syria, and as I said – it is a morale boost needed at this time in particular.
RT: If ISIS is defeated, does that mean the end of the war in Syria?
ABA: It could be the end of the war in Syria or the beginning of the war in Syria. Because still there is Idlib, which is where the other organizations, like Al-Qaeda, Al-Nusra are situated. I believe…the preparation to recapture Idlib is on its way. So it could be a matter of weeks, maybe days to recapture Idlib again. So yes, this could be the end of ISIS.
They lost Mosul, which is the biggest city in Iraq. They lost also Ramadi there; they lost Tal Afar. Now I believe it could be the time to lose Raqqa in a few days to the Syrian Democratic Party now in the heart of Raqqa. So I am not surprised if actually the Syrian army will advance to Raqqa – recapture it again, liberate it and raise the Syrian flag on the top of its building. I think it is a turning point now, and I believe ISIS in on the way to lose its presence in most of eastern Syria.
The statements, views and opinions expressed in this column are solely those of the author and do not necessarily represent those of RT.
You can share this story on social media: